Cover Story: Brown Bag It: Emo Edition
BFF Charm: Natalie Imbruglia
Talky Talk: Sci-Fi Lite, Part Deux
Bonus Factor: Fear, Itself
Relationship Status: You're Not My Mirror
Cover Story: Brown Bag It: Emo Edition
Nothing says angsty teen like a kid with a hoodie, glaring at me from the depths of its cotton hood. The wavy title reminds me of the logo for the old Universal Studios ride, Earthquake. I don't think any of this accurately reflects (heh) the book inside.
The Deal:
One day, aliens attack. They weaponize reflective surfaces to enshroud the world in a heavy mist, leaving only small pockets of land clear for unknown reasons. If you stare into a reflective surface for too long, dark, monstrous shapes materialize and try to eat you, so I'm sure it will come as no surprise that most reflective things have been banned by those still left alive. Marty Callahan lives in one such area still free of the mist, a tiny island off the coast of Florida. He's desperate to leave to find his older brother, who is in another safe haven: London.
To earn enough to bribe his way onto a flight, he deals in contraband: glasses, compact mirrors, telescopes. But when he gets caught by the Mayor's son, Elliot, they get exiled together, which usually means certain death. Now Marty has more immediate concerns: figure out what the aliens want so he and Elliot can stay alive long enough for Marty to reunite with his brother.
BFF Charm: Natalie Imbruglia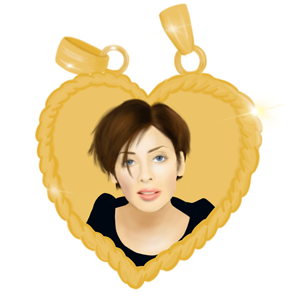 Marty is constantly telling us he's not the best person, mostly because he will do anything in order to find his brother. He knows the contraband mirrors and such hurt people, but he's willing to take that risk. I wouldn't say he's necessarily a bad person, just an opportunistic one. He also has OCD—like, an actual OCD diagnosis, not the kind that anal-retentive people say they have. He's previously been able to keep it under control—mostly—but being tossed out into the mist, where monsters can lurk around every corner, well…you can't blame him for being extra scared. I felt for him as he got these urges he couldn't control.
Swoonworthy Scale: 0
It definitely took me until the last few pages of the book, when it ended and there was zero kissing, for me to conclude that Marty and Elliot probably aren't destined to be a couple. I don't know if I'm just primed to assume that all secondary major YA characters are automatically assumed to be love interests, and thus promptly expected a romance to happen where there wasn't one, OR if there were some obvious vibes I picked up on but the author chose not to go there. Perhaps a little of column A, a little of column B?
Talky Talk: Sci-Fi Lite, Part Deux
When I read Refraction's premise, I knew this was going to come down to execution. It could be really intriguing or go horribly wrong. I reviewed Hughes' first novel and liked the premise but felt the details were lacking. After finishing this book, I decided, in the words of Randy Jackson, that it was still just a'ight. As a reader who doesn't mind reading more complex sci-fi elements and concepts, I would've loved more detail than what we were told. If you're not a huge fan of sci-fi but still want those elements while reading more of a character study, then you may be okay with that.
There was a bit of a twist, which I was sort of expecting but the twist itself wasn't WHAT I was expecting. For me personally, I think the author missed an opportunity to focus that part of it, which I felt was more interesting than the survival portions that made up the majority of the storyline.
Bonus Factor: Fear, Itself
The creatures that emerge from reflective surfaces are always different depending on who looked into it, as they reflect your innermost fears. That can make for some creepy-crawly nightmare fuel.
Relationship Status: You're Not My Mirror
Justin Timberlake once described love as "making two reflections into one", Book. As we stand side-by-side, I just don't see our reflections gelling together. I think we're better off as friends.
FTC Full Disclosure: I received my free review copy from Page Street Kids. I received neither money nor peanut butter cups in exchange for this review. Refraction is available now.