Cover Story: Kaleidoscope
BFF Charm: Natalie Imbruglia
Talky Talk: Magic and Mystery
Bonus Factor: Extravaganza
Anti-Bonus Factor: Awful Grownups
Relationship Status: Regular
Cover Story: Kaleidoscope
Kudos to this cover designer for giving this cover a true uniqueness that speaks to the complexity of the magic within the book. But I'm not sure who the male figure is supposed to be, after reading—the love interest, or the villain? This face is definitely giving sexy evil dude vibes, and that's throwing me off completely.
The Deal:
Luxe Revelle is the shining star of her family's magical circus, the most famous of the many magical entertainment options one can find on the island of Charmant, just outside of New York City. Her family has the gift of enchantment; give them a gem and they will make your wildest dreams a temporary reality. But for all the Revelle family's glitter, they're barely making ends meet—although alcohol is legal on Charmant, the mainland's prohibition laws are hitting them hard—and Luxe feels like she's the only one who can save them.
Her idea is simple: Charm the island's most influential bootlegger into giving her family a deal on his booze. Putting it into action, however, isn't going to be simple at all.
BFF Charm: Natalie Imbruglia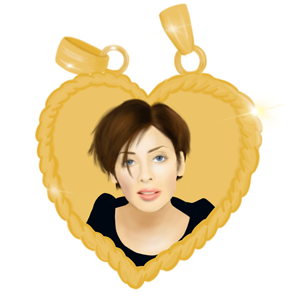 Luxe is a sweet girl who puts family before everything, even her own health. I get that and I admire that, as much as I am objectively aware that it's really not a good trait to have, putting everything before one's self. I definitely Big Sistered her more than once while reading, even while I was avoiding thinking about how I do similar things in my own life. Her magical gift is what gives me pause, however, about wanting to be close to her. She can change people's emotions and influence them however she wishes, whenever she wishes. She tries not to do it to her friends, but I'd always have a "what if" niggling at the back of my mind. (Her cousin's "revenge stockpile" of gems from friends and enemies alike, to use in "just in case" situations, also had me side-eying the idea of being friends with anyone in her family.)
Swoonworthy Scale: 6
There's a case of mistaken identities in Revelle that leads Luxe into a love triangle in a very non-equilateral sort of way. But the chemistry between Jamison Port and Luxe is based on her initial charming of him, which—as I outlined above—has a distinct ick factor. Smith goes to great lengths to tell readers that their chemistry isn't magically driven, but because of the way it started, it always seems a bit sus.
Talky Talk: Magic and Mystery
There is a lot going on in Revelle, and much of it is behind the scenes. The book kind of defies classification; it's a fantasy, sure, but there are mystery elements peppered throughout that make it a unique experience. Smith's characters are well-rounded and fascinating, and the general idea of Charmant and the various magical families that live there is such a fun one. But the world-building of this book is a bit lacking. I wanted to know more about the "why" and
"How" of Charmant—the Revelles aren't the only family with magical gifts, there are time-travelers, mind-readers, healers, people with horns (?), and more—the little information we get about these other families serves the story's progression, but wasn't fleshed out enough to not feel like they were only created/included because Smith needed a way out of a situation. The resolution of the plot and the effects of the reveal of the book's main secret, too, were quite sudden and a little underwhelming.
Bonus Factor: Extravaganza
I'm not sure of the correct term for the Revelles' show—it's not a circus, not a musical, not entirely an acrobatics display. It's an event that was more commonplace in the 1920s, but sadly doesn't really exist any longer. Smith's descriptions made it sound like a spectacular thing to witness, even without the Revelles' magical gifts influencing viewers.
Anti-Bonus Factor: Awful Grownups
Luxe's family isn't purposefully neglectful or mean, but they "let" her do things that are extremely detrimental to her health, both mental and physical. They see her gift as something to benefit from and never think to look into the toll it might be taking. And they expect Luxe to do the things she does for the benefit of the family above all else, even if that means she's forced into terrible situations. They really need to get their heads out of their butts and actually take care of the people they're taking care of.
Relationship Status: Regular
I'd go see your show more than once, Book, even if I was always left with a bit of a hollow feeling afterward. The excitement of the moment would be too tempting to resist. (I've never been into drugs or alcohol, but I have a very obsessive personality.)
Literary Matchmaking
The Night Circus
If you, too, wanted more magic from your circus, check out Erin Morgenstern's The Night Circus.
The Lost Carnival
Michael Moreci and Sas Milledge's Robin graphic novel, The Lost Carnival, also features acrobats and forbidden love.
FTC Full Disclosure: I received a copy of this book from Balzer + Bray, but got neither a private dance party with Tom Hiddleston nor money in exchange for this review. Revelle is available now.