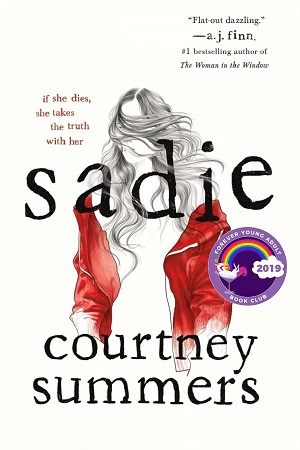 Cover Story: Montell Jordan
BFF Charm: Let Me Love You
Talky Talk: "One Story, Told Week By Week"
Bonus Factors: True Crime Podcasts, Revenge
Anti-Bonus Factor: The Dan Scott Award for Awful Parenting
Relationship Status: Addicted To You
Trigger Warning: Careful, folks. This is a book about sexual assault and pedophilia, both of which are portrayed indirectly through the effects they have on victims. If you are easily triggered by either of these topics, proceed with extreme caution. But also know that this is a phenomenal and powerful book, and if you are able to read it, you absolutely should.
Cover Story: Montell Jordan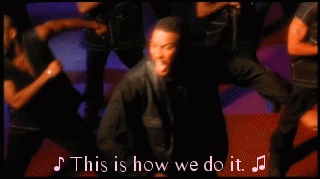 This cover is the perfect visual depiction of this book. It's pared down and powerful, and reminds me of artwork for a podcast, which is fitting.
The Deal:
When radio journalist West McCray showed up in Cold Creek, Colorado, he had no idea that the trip would alter his life completely. It was a chance encounter that he happened to overhear some people at the gas station talking about a13-year-old girl named Mattie whose body had been found just outside of town. At his boss' suggestion, West returns to Cold Creek a year later to record a podcast about the murdered girl and her 19-year-old sister, Sadie, who disappeared not long after Mattie's death. What happened to these girls? Who murdered Mattie? Why was the police investigation so botched? And where is Sadie? West's interest turns into obsession as he pieces together each tiny bit of information he can find in the hopes of finding Sadie before it's too late.
Sadie's life was never easy. Her mother disappeared when she was still a kid, and Sadie was left alone to raise Mattie with only the help of a woman named May Beth, who managed the trailer park where the girls lived. Sadie dedicated her life to making sure that Mattie never had to suffer any more than necessary, so when Mattie turns up dead, Sadie's world collapses around her. She knows who murdered Mattie, and she knows exactly what horrors he is capable of. With nothing but a photograph to lead the way, Sadie sets out on a journey to find Mattie's murderer and kill him herself.
BFF Charm: Let Me Love You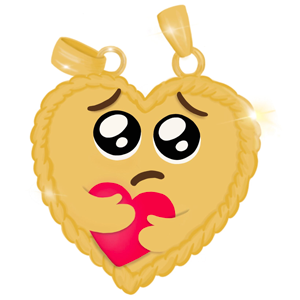 I have never wanted to hug a character as much as I wanted to hug Sadie. At 19, she has survived more horrors than most people will experience in a lifetime – if ever. But she doesn't quit, she doesn't whine. She takes all that anger, all that rage and sadness, and she channels it into something productive: justice. While this might make her sound like someone you'd want to keep at arms' length, Sadie also allowed herself, in quiet moments when she was alone on the road, to be heartbreakingly vulnerable. She speaks with a debilitating stutter that has forced her to learn how to listen, to others and herself. She's incredibly smart and brave, and there were times when she indulged herself in wishing life had been different for her. COME HERE, BABY GIRL, LET ME LOVE YOU.
Swoonworthy Scale: 2
As you've probably guessed, this is not a swoony book. Sadie's on a mission, and that mission doesn't involve romance. Besides, Sadie's got Capital-I Issues with the male sex for good reason. Romance may never be in the cards for her. That said, her journey brings her into contact with a handful of attractive young people, and Sadie can't help but imagine what her life might be like if she'd ever had the opportunity to be a normal teenager with crushes and dates and first kisses. The longing for that injected a tiny modicum of swoon into a book that otherwise feels the opposite of swoony.
Talky Talk: "One Story, Told Week By Week"
Sadie alternates chapters between a transcript of West's podcast, The Girls and Sadie's POV as she searches for Mattie's killer. I'm a huge fan of true crime podcasts, and I found myself grinning at the way Summers absolutely nails the tone of those podcasts. A journalist weaving his own storytelling between clips of phone calls and interviews with townspeople – you can even listen to the first "episode" of West's podcast The Girls via Macmillan's website. It was also the perfect balance to Sadie's narration, which you know from the first moment is going to be dark and devastating. Sadie's chapters are heavy with building tension. They get your heart pumping, make you grit your teeth, and by the time they end – frequently on a cliffhanger – you're practically holding your breath. I found myself physically and mentally relaxing a little during the podcast chapters, like I was taking a much needed break before diving back in to Sadie's story.
Sadie's narration is like her: tough, blunt, not wasting words on frivolity or sparing judgment on anymore. But not without a dark, wry sense of humor:
"Calm down" is what people who don't know any better tell me to do, like the difference between having a stutter and not having one is a certain level of inner fucking peace.
But she was also capable of completely ruining me with a single sentence, over and over again. Just one example:
Girl with a busted face, torn-up arm, begging for the opportunity to save other girls. Why do I have to beg for that?
Bonus Factor: True Crime Podcasts
Murderinos, what up! This book should be on the to-read list of anyone who loves true crime podcasts.
Bonus Factor: Revenge
Do you Hate Men™ and want to read about a teen girl hunting down and getting revenge on the worst possible version of a man? Yes, yes you do.
Anti-Bonus Factor: The Dan Scott Award for Awful Parenting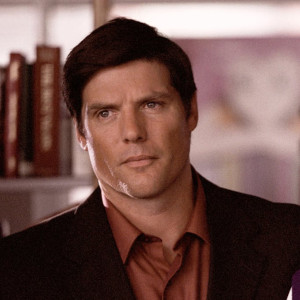 Whoo boy, is Sadie's mom the worst. Addiction is a terrible disease, do not get me wrong, but I couldn't find a whole lot of sympathy for a woman who left her children alone with her string of awful boyfriends their entire childhoods, only to disappear on them for good when they became teenagers. And Sadie's mom is not the only bad parent in this book by a LONG SHOT. It's filled with awful grown ups.
Relationship Status: Addicted To You
This was the first book of Courtney Summers' that I've read, and thank GOD this woman has, like, six other books, because I now have to excuse myself to go read all the rest. I was riveted from the first page to the last, had goosebumps for most of it, and cried multiple times. And let me tell you, hunny, I have a cold dead heart and crying is not a thing I do often. Sadie is wonderful and terrible and devasting and beautiful, and a reminder again and again of how society fails to protect its girls.
Literary Matchmaking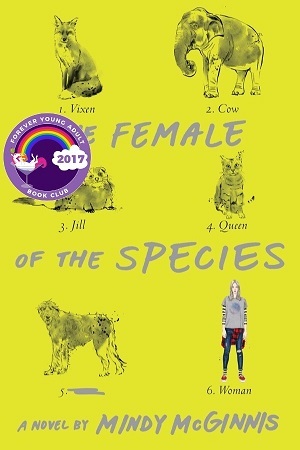 The Female of the Species
For another dark and devastating tale about a girl seeking revenge on the man who murdered her sister, you have to read The Female of the Species by Mindy McGinnis.
The Sacred Lies of Minnow Bly
And if you're just really in the mood for dark, twisted stories of girls who do bad things, check out The Sacred Lies of Minnow Bly by Stephanie Oakes.
The Impossible Knife of Memory
If you're in the mood to read more about struggling family dynamics, pick up The Impossible Knife of Memory by Laurie Halse Anderson.
FTC Full Disclosure: I did not receive money or Girl Scout cookies of any kind (not even the gross cranberry ones) for writing this review. Sadie is available now.