Cover Story: Overboard
BFF Charm: Yay x 3
Talky Talk: Four Way Party Line
Bonus Factors: Forgotten History
Relationship Status: Trauma Bond
Cover Story: Overboard
I like this cover for the story: the empty life preservers in the stormy sea are haunting, and set the tone for a book you know is going to break your heart.
The Deal:
The sinking of the Wilhelm Gustloff during World War II is one of the biggest maritime disasters in history, but hardly anyone knows about it. (9,400 people died, including an estimated 5,000 children.) In this story, World War II is slowly ending, and people are traveling through East Prussia to board a ship that promises safe passage to Germany.
Getting to the ship is an ordeal in and of itself, a trek through snow, dodging bombs, scavenging for food, and making uneasy alliances. Salt to the Sea tells the story of the tragedy through the distinct viewpoints of Florian, an art forger, Joana, a young nurse, Emilia, a pregnant teenager, and Alfred, a Nazi sailor. It's a heartbreaking story of pain, hope, love, and the lies we tell ourselves.
Trigger Warning: Since this is a book about war, you should expect that there will be references to, if not outright depictions of all the horrors of war, including rape.
BFF Charm: Yay x 3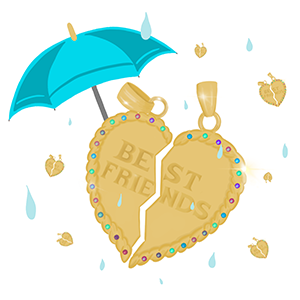 Three of the narrators in this story are exactly the sort of people I would be friends with, and hope to be like in real life—the girl who manages to doggedly cross Prussia even in advanced stages of pregnancy, the art forger who tries to take small acts of revenge against the Nazi regime and their pillaging of priceless masterpieces, the young nurse who never thinks twice about putting herself in harm's way if she can save someone else.
Swoonworthy Scale: 6
There's a love story in this book, but it's woven throughout the rest of the tale in a subdued and appropriate way. It's completely believable that these two characters would fall for each other, and there are a couple of really lovely scenes between the two of them, but understandably, their focus is more on survival.
Talky Talk: Four Way Party Line
Aside from the subject matter, the most distinctive part of this book is the fact that Sepetys has written four narrators with completely distinct voices. Joana is practical and warm, Emilia is dreamy and naïve, Florian is haunted and hunted, and Alfred…well, Alfred is the sort of self-righteous, self-important petty tyrant that one encounters on a particularly hellish day of dealing with bureaucracy. (Alfred composes letters to his lady love, Hannelore, boasting of his prowess and importance in the navy while everyone else laughs at him; in this day and age he'd be an MRA.) Each main character's back story is slowly revealed, and it is to her credit that they all turn out to be complex personalities.
Even with the distinct voices, Sepetys writes beautiful, lyrical prose that's so evocative I found myself shivering as if I were anywhere near as cold, hungry, and tired as her characters. As in Between Shades of Gray, she vividly paints a picture of the horrors and aftermath of war.
Bonus Factor: Forgotten History
There's a certain narrative we're all familiar with when it comes to studying World War II, I think, depending on where you're from. In America, it has sort of become a black-and-white, remember Pearl Harbor, Rosie The Riveter, rationing and cute dresses, handsome sailors kissing nurses, Nazis-Bad-Allies-Good myth. It's easy to forget the extent of the devastation and civilian torment in Europe (and Japan), the priceless art that was lost, and the lives that were completely upended. And when you do dig deeper, it often focuses on concentration camps.
So I really loved getting to learn about this forgotten piece of history, which I had never even heard of despite taking an entire upper division college class on Hitler and the Nazi era. The loss of life is staggering and almost too much to comprehend; the way Sepetys chooses to frame it makes it digestible. (There is one striking image she creates, during the sinking of the ship, that had never occurred to me and made me want to vomit in horror.)
Casting Call:
This was really hard, but this is generally how I pictured the characters (with period-appropriate hair and clothing, of course).
Matthias Schweighöfer as Alfred
Nicola Peltz as Joana
Elle Fanning as Emilia
Logan Lerman as Florian
Relationship Status: Trauma Bond
Book, I expected a heartbreaking and ultimately hopeful journey with you, and you didn't disappoint in the slightest. I wouldn't call it a feel-good date, but your beautiful prose, introduction to a new-to-me aspect of WWII history, and sobering realities of humanity made me feel like I had bonded with…well, three out of four of your main characters. If you had to make me ugly cry, well, you did it with sensitivity and style.
FTC Full Disclosure: I received a free review copy from Philomel Books. I received neither money nor a pet unicorn for writing this review, despite how hard I wished for one.  Salt to the Sea will be available February 2.