About the Book
Title:
Save Me, Kurt Cobain 
Cover Story: Blue Jean Grunge-Rock Queen
BFF Charm: Natalie Imbruglia
Talky Talk: About A Girl
Bonus Factors: Grunge
Relationship Status: I Like It, I'm Not Gonna Crack
Cover Story: Blue Jean Grunge-Rock Queen
I like this cover a lot (although not as much as the cover for The Carnival at Bray): it hits all the right notes. Right away you're hit with denim, flannel, and the writing on the jeans (which says "YA" without a wispy, sad-looking teenage girl looking over her shoulder at you).
The Deal:
It's 2006, and Nico's mother has been missing since Nico was four years old. Her mother promised to return, but never did, and the police have long since given up the search. Teenage Nico is obsessed with her mother's life—especially her musical taste. Her mother was at one of the seminal Nirvana shows, right before they hit it big, and to this day, Nico finds a lot of comfort in the band's angsty sound. When she finds a box of her mother's stuff, including a photo of her mother at the show with Kurt Cobain, Nico starts getting suspicious. Did her mother know Kurt Cobain?
While visiting her aunt in Seattle, Nico is struck when she sees someone who looks exactly like Kurt Cobain might look now, down to the slight frame and piercing blue eyes. On a whim, she follows him. Now the question is not only "did her mother know Kurt Cobain," but also, "is Kurt Cobain still alive?"
And maybe, if her hunch is right—could Kurt Cobain be her father?
BFF Charm: Natalie Imbruglia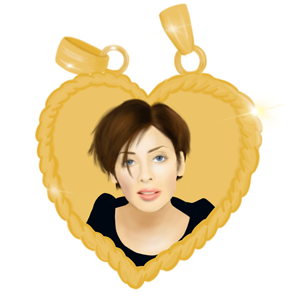 I've got to cut Nico some slack here, because it must be hard to grow up thinking your mother abandoned you (because in her world, either her mother abandoned her…or she's dead. Neither option is great). I so get the obsession with Nirvana, and on a broader level, all those feelings you get when a band perfectly expresses what's happening inside of you.
On the other hand, Nico is a teenager, and sometimes teenagers are total jerks to the adults in their life. She is no exception. I felt sorry for her dad and aunt, who get the brunt of her distress. While her dad makes some mistakes with the way he handles her mother's disappearance, Nico acts exactly the way an angsty teen with somewhat minimal supervision would: selfishly, irresponsibly, and sometimes downright insane.
I think adult Nico and I would get along, though!
Swoonworthy Scale: 4
Romance isn't the point of this book, but there are still a couple of cute moments throughout.
Talky Talk: About A Girl
Here's where the book shines. Nico is so obsessed with Nirvana that she collects every single fact about them that she can find—it's bittersweet because I remember doing the same thing with other bands, but in her case, knowing everything there is to know about Kurt Cobain is also her way of creating a link to her mother.
If this book were just about a girl who thinks Kurt Cobain is her father, it wouldn't work. Sure, it's interesting for the adults in the crowd who remember Nirvana and still love them (who wouldn't? They're awesome). Luckily, Jenny Manzer has written a story where Nico's grief shines through every time she justifies why Kurt Cobain could still be alive, and pieces together his personality from what other people have said. She dreams about having an insta-sister in Frances Bean and the idea that her "real" father totally understands her in a way that the man who raised her (assuming Kurt's her bio dad) simply does not. She's obsessive and sad in a way only a teenager looking for answers can be, and I thought this part of the book really worked.
There were a few off-notes for me, including the fact that Nico explains the meaning and lyrics of "Sliver" multiple times in the same way. I know that many of The Kids These Days don't know much, if anything, about Nirvana, but it stuck out in an otherwise well-written book.
Bonus Factors: Grunge
It's no secret that I grew up on grunge and still love it, from Nirvana to Alice in Chains to Stone Temple Pilots (RIP, lead singers from all of the above). Grunge captures a very specific zeitgeist for a lot of us, but not necessarily for the teens who will read this book. I think Manzer did a pretty good job of laying it out there in a convincing way, although hearing it described as "retro" still makes me shudder. Damn you, inevitable march of time!
Relationship Status: I Like It, I'm Not Gonna Crack
Book, I wasn't sure what I was in for when we went on our date, but I was pleasantly surprised by the nostalgia you created. There were a few moments where adult me wanted to shake you and ask WHAT WERE YOU THINKING, but overall, your portrayal of grief and your search for answers was a little heartbreaking. Come on over and listen to my ancient cassette and CD collection anytime.
FTC Full Disclosure: I received a free review copy from Delacorte Press. I received neither money nor a pet unicorn for writing this review, despite how hard I wished for one. Save Me, Kurt Cobain is available now