Cover Story: Montell Jordan
BFF Charm: Big Sister
Talky Talk: Cine-Matson
Bonus Factors: Comic Strips, Waffles, Weddings
Relationship Status: Till Death Do Us Part
Cover Story: Montell Jordan
While I'm usually against any book cover that features a person's face (let me imagine my own characters, why don't cha?), Morgan Matson's book covers are always fun and fitting. They make me so excited to read the book! And bonus points for any book cover that features a pupper. 14/10 would pluck from the shelf.
The Deal:
For her entire life, Charlie Grant and her four older siblings have been the inspiration for their mother's famous newspaper cartoon, Grant Central Station (think Peanuts meets Family Circus). But now, after 25 years, Grant Central Station is coming to an end—the same weekend that Charlie's older sister Linnie is getting married in the Grant's backyard. She and her siblings will all be back together one last time for a perfect wedding weekend, topped with a Good Morning America interview about the cartoon's end, before her parents put the house on the market.
But Charlie's plans for a perfect weekend are quickly foiled when the wedding turns out to be a total disaster. The groom's suit goes missing, the security alarm won't stop going off, and the local animal shelter has dropped off an adoptable Beagle named Waffles who has to stay in the house until Sunday's Good Morning America interview. Not to mention family feuds, drunk bridesmaids, and the alarmingly cute assistant to the wedding planner. All Charlie wants is a perfect weekend to be with her siblings like the good old days, but she quickly learns that no matter how hard you try to keep things the same, change is bound to happen whether you're ready for it or not.
BFF Charm: Big Sister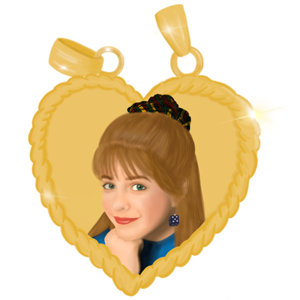 Maybe it's because she was already the youngest of five siblings, but the entire time I was reading, I felt very protective of Charlie, as if she was MY little sister. I wanted to steer her in the opposite direction when she was gearing up to make a bad decision. I wanted to sit her down and have a heart-to-heart when I could see that her expectations weren't in line with reality. I wanted to gush with her about boys. Charlie was cool, and fun, and smart—she'd been accepted to Northwestern!—and all the things I look for in a BFF, but she had a few life lessons still to learn and triggered all my big sister impulses to teach, protect, and then reward with ice cream.
Swoonworthy Scale: 6
Phew boy, does Matson start this one off with a bang from the very first chapter—heck, from the very first sentence! We meet Charlie when her dream of kissing her life-long crush, Jesse, is coming true. Jesse is her brother Mike's best friend, and when he's home for college, he and Charlie have a hot hook-up situation happening. And anyone who remembers crushing on an older dude in high school knows just how swoony that can be, especially if that crush was reciprocated.
But then Bill, the wedding planner's assistant shows up. He's no Jesse, but he is tall, lanky, adorably sweet, remarkably organized, and doesn't look too shabby in a tux. Charlie and Bill find themselves thrown together for a weekend of wedding-related misadventures, and though their time together is short, it is sweet and swoony enough to get your stomach butterflies a'fluttering.
Talky Talk: Cine-Matson
Historically, Morgan Matson's books have earned her a place in the School of Sarah Dessen, and while Save the Date still has that Dessen-y sweetness you know and love, it also felt like a departure in tone from her previous books. As a matter of fact, this book didn't remind me of other books—it reminded me of movies. The entire book felt cinematic, like those 80s and 90s action-packed, family comedies-of-errors you've watched on cable a million times—think Father of the Bride, Sixteen Candles, the beginning of Steel Magnolias (there's even a newspaper delivery kid subplot that reminded me of Better Off Dead). Despite the entire story taking place in a single weekend, Matson does a masterful job of creating a cast of characters that felt layered, flawed, and never two-dimensional. The Grants reminded me so much of the Stone family from The Family Stone; I wanted so badly to be a part of this big, crazy family, while also recognizing that they could, at times, be exclusive jerks—to outsiders AND each other.
Bonus Factor: Comic Strips
I LOVED that the Grant family is sort of D-level famous for starring in their own newspaper cartoon, and that the way their mother portrayed them in the comic could sometimes cause friction at home. The book even includes a few cartoon examples!
Bonus Factor: Waffles
The only member of the cartoon version of the Grants who never existed in real life is Waffles, the Snoopy-esque family dog, so the Good Morning America production team thinks it will be a great idea to have an adoptable Beagle named Waffles present for the interview. Waffles was one of my favorite characters—a total weirdo dog who I am VERY glad is fictional, or else I'd have adopted him on the spot. I <3 Waffles.
Bonus Factor: Weddings
If you love weddings, you will love this book. You will relish the wedding-planning details, feel the stress when everything seems to be turning to disaster, and most of all, you'll get misty eyed and emotional during the ceremony.
Relationship Status: Till Death Do Us Part
Book, you're the youngest of five Matson novels, and I think you might be my favorite of your siblings. You were so much more than just a fluffy summer romance, and I plan to keep you around for the long-haul. Will you marry me?
FTC Full Disclosure: This review was originally posted on Kirkus Reviews in exchange for monetary compensation, which did not affect or influence my opinions. Save the Date is available now.