About the Book
Title:
The Secret of a Heart Note
Cover Story: Behold, The Field In Which I Gather My Scents
BFF Charm: Yay!
Talky Talk: Parsley, Sage, Rosemary, and Thyme
Bonus Factors: Gardening, Diversity, Bay Area
Relationship Status: High School Sweetheart
Cover Story: Behold, The Field In Which I Gather My Scents
I'm not a huge fan of this cover. The lettering and decoration are gorgeous, but they're at odds with the stock photo. I personally would have either gone with just the lettering and flowers, something with greenery, or maybe antique perfume bottles. It is the only thing I don't like about the book.
The Deal:
Mimosa is an aromateur, meaning that she has a highly sophisticated sense of smell that can "read" people and duplicate their personal scents. The women in her family have, for generations, created magical scents that attract love and make matches. The only catch is—and there's always at least one—none of the women in her family can fall in love, or they will lose their preternatural abilities.
Mim is resigned to this fact, and the lifetime of facilitating others' happiness that it requires, but she's not exactly happy about it. Her mother is strict; Mim is walking a thin line between being allowed to go to public school and shirking her duties to the family tradition. If her strict mother senses (scent-ses? HA) that Mim can't handle both – or worse, that she wants to date – it's all over.
Mim manages to juggle all this…until the day she accidentally gives a potion to the wrong woman. That woman just happens to be the mother of an extremely crush-worthy, very pretty, and genuinely sweet classmate, too. She's got to keep her nose clean, if you will, and sort this mess out…but how can you stop yourself from falling for someone?
Stacey Lee departs from her historical novels to write a rich, sensual novel full of magical realism and complex relationships.
BFF Charm: Yay!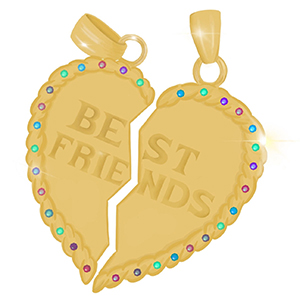 Mim, like Stacey Lee's other heroines, is a good-hearted kid with a sense of humor and the desire to do right by her overly-strict mother. She handles her own screw-ups with grace (and a bit of panic!)—the sort of kid who should make her stubborn mother proud.
Swoonworthy Scale: 8
The relationship between Mim and Court, a star athlete with an easygoing attitude and an openness to Mim's talents and restrictions, is adorable—just the sort of romance you wish you'd had in high school. (If you did, I'm jealous.) They're both wildly interested in each other, so the only thing keeping them apart is the curse that affects Mim's family. Mysterious Loner Dudes can make for some steamy drama, it's true, but the romance here is refreshingly sweet and without pretense.
Talky Talk: Parsley, Sage, Rosemary, and Thyme
Mim can smell emotions as well as an individual's "scent print," which makes for some extraordinary descriptions. (In fact, the sheer volume of scents described is overwhelming, sometimes—how does Mim keep from throwing up when jealousy smells like "rancid kumquat?" Makes you wonder how the poor girl survives being in public school.)
As usual, Stacey Lee's prose is seemingly effortless, making Mim's world come alive with well-chosen descriptions and her signature warmth.
Bonus Factor: Gardening
I don't often see gardening described in YA novels. It's a grounding hobby that requires patience, skill, a willingness to get dirty, and maybe even a fair bit of luck—which describes Mim pretty well, now that I think about it. Her mother's garden is enviable, apparently overflowing with all number of blooms and greenery. Meanwhile, I struggle to keep my orchids alive, making me wish once more that I could write myself into some real gardening talent.
Bonus Factor: Diversity
By my estimation, Court and his family might be the only white people in this novel—which seems about right for the Bay Area.
Bonus Factor: Bay Area
There are many other places in the Bay Area besides San Francisco (as far away as they seem for those of us without cars): this book largely takes place in the South Bay, near San Jose. Fellow residents will recognize several locations in the book, all shaded with a little bit of Mim's family magic.
Relationship Status: High School Sweetheart
Book, our date was exactly what I needed after a long line of much darker fare. From the setting to the premise, we hit it off, and I wasn't exactly surprised to find that you had sweet depths and a magically hopeful outlook on the world. I might prefer your author's historicals, just because that's where my heart is (what does a history nerd smell like?)—but you proved that her talents aren't limited to one genre.
FTC Full Disclosure: I received my free review copy from Katherine Tegen Books. This review was originally posted on Kirkus Reviews in exchange for monetary compensation, which did not affect or influence my opinions. The Secret of a Heart Note is available now.