Cover Story: Déjà vu
BFF Charm: Platinum
Talky Talk: Satisfyingly Solomon
Bonus Factor: Time Loops, College, Physics, Second-Chance Friendship
Relationship Status: College Roommates
Cover Story: Déjà vu
It's simple and cute, and not as objectionable despite being another in the "drawn covers" trend. I like the nod to one of Solomon's previous books while I question: why link them in that way? Are they in the same "universe"?
The Deal:
It's Barrett Bloom's first day of her freshmen year in college, and she's put a lot of pressure on college being the place where she can reinvent herself. See, Barrett was on her high school newspaper and blew up a cheating scandal about the tennis team back in her sophomore year, which in turn made her a social pariah—because apparently tennis can be just as serious as football to rich, Pacific Northwest communities—and culminated in a truly heinous hazing post-prom. She comforted herself that her journalistic integrity was paramount and she'd have a chance for friends and fun when college rolled around.
Unfortunately, the day doesn't go as Barrett hoped. She wakes up to her ex-friend, Lucie, becoming her roommate, a jerk in her physics class gives her attitude, she bombs her interview with the college paper, and she accidentally commits arson. Second day of your freshmen year can't be as bad, right?! Except when her alarm goes off the next day…it's not the next day. It's Wednesday all over again. And again. And again. Barrett has no idea how she got stuck in a time loop, but soon she starts to realize she may not be the only one noticing it…
BFF Charm: Platinum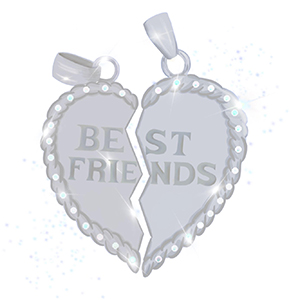 Barrett's mom got pregnant her sophomore year in college, so she and Barrett grew up together in a very Lorelei/Rory way, only a lot more chill and with two fewer rich grandparents. Barrett's convinced herself it's fine that her mom is her best (and only) friend (because her mom is actually cool), but she totally deserves more than just one friend! So please accept one-half of my BFF charm, Ms. Bloom! Like a lot of Solomon's heroines I've read thus far, Barrett is proudly Jewish, a lover of journalism, up on her pop-culture, and not afraid to say what she thinks, even with the crippling self-esteem issues barely hidden underneath the snark. I loved that her favorite part of journalism is deep dives on personal profiles because she curious about how people tick. Time loops and high-school issues aside, I think college-Barrett is going to be a force to be reckoned with.
Swoonworthy Scale: 8
So that flannel-shirted jerk from Barrett's physics class turns out to be an enigma. Everyone else keeps doing exactly the same thing with every new dawn of the loop, but not flannel-shirt guy. It takes a minute, but finally Barrett realizes Miles is in the same situation she's in, so they band together to work it out. Initially, they are complete opposites, as "let's anything she thinks slip out of her mouth" Barrett tries to rile buttoned-up, half-smiles-only Miles out of his nerdy shell. The way their friendship into something more unfolds felt organic and adorable. I don't know if Miles is necessarily my personal type, but he's a perfect foil for Barrett.
Talky Talk: Satisfyingly Solomon
We were graced with two RLS books in 2022, and I had some mixed feelings on the first one. So I was crossing my fingers as I cracked open the metaphorical (because I only ever read on my tablet anymore) cover on this book that I wouldn't be disappointed. And it was a great success! Everything I have enjoyed about Solomon's writing was there, and in a New Adult, time-travel, romance wrapping to boot! I love timey-wimey nonsense! I love college! I love love!
Okay, to give some actual critique: this is a book about learning how to stop hiding from past trauma and your own hang-ups so you can heal and become a person you're happy to be, and just so happens to give its characters the space to do so via a nifty time loop they can't escape. Solomon touches on a lot of heavy topics but the story thankfully never veers too heavy, which is thanks to her conversational writing style. We are in Barrett's POV, so all her observational humor blends in well with the self-discoveries she's continually making. And I know she's using her humor as a defense mechanism, but part of her personality is that she's just a sassy chick, and I adore that.
Bonus Factor: Time Loops
I've seen many allusions to surprise romantic hit Palm Springs from last year, and I'd say there are definite tonal similarities. (It also had me thinking of the equally surprisingly decent Happy Deathday horror-comedy franchise, too.) I enjoyed Barrett and Miles' conversations about how and why this time loop is happening, especially as Miles is coming from a very scientific viewpoint ("stop personifying the universe!") and Barrett is basing her guesses off all the time travel-y pop culture we've consumed as a society ("maybe we just need to learn how to be better people!").
Bonus Factor: College
Barrett goes to the real University of Washington (go Huskies), and while I can't verify the veracity of the setting, Solomon gets all the trappings of being new in college and living on your own for the first time right, from the broken down dorms to the all-you-can-eat pasta from the cafeteria. A strong sense of location—and more specifically, Seattle and its surrounding areas—is always very important to her stories.
Bonus Factor: Physics
Miles' mom is Barrett's Physics 101 professor, and she only teaches the intro to physics class once a year because she's way over-qualified to do it but yet she loves trying to convince people to get excited about the wonders of science. I was not science-minded, but I learned a lot in my own college physics class and, as a current college advisor, I still think it's so important to take a variety of general education courses, because you never know where a passion will strike or how it will influence you in being a well-rounded person. (My eye gets very twitchy any time someone comes in my office and scoffs at having to take "useless" classes like humanities or math on their way to their very important and very serious business management degree.)
Bonus Factor: Second-Chance Friendships
For me, friendship was such an important part of my college experience, and while I loved reading about Miles and Barrett getting closer, I also appreciated we took some time for Barrett to sort through her issues with ex-friend-turned-roommate, Lucie.
Relationship Status: College Roommates
Bunking together in the same room for four years straight is a big commitment, but from what I've seen of you, Book, I think we'd be great together despite being around each other 24/7. You bring the hot plate and I'll bring the twinkle lights, cool?
Literary Matchmaking
One Last Stop
For a different kind of time travel (more Sliding Doors than Palm Springs), try out Casey McQuiston's One Last Stop.
Opposite of Always
This time loop isn't limited to a single day but rather gives its protagonist multiple ways of playing out a relationship in Jason A. Reynolds' Opposite of Always.
What's Not to Love
What's Not to Love has more of an antagonistic romance done by some of my other favorite contemporary authors of today, Austin Siegemund-Broka and Emily Wibberley.
FTC Full Disclosure: I received my free review copy from Simon Schuster Books for Young Readers. I received neither money nor peanut butter cups in exchange for this review. See You Yesterday is available tomorrow, May 17, 2022.