About the Book
Title:
Seven Faceless Saints (Seven Faceless Saints #1)
Cover Story: Ominous
BFF Charms: Eventually, Let Me Love You
Talky Talk: Faith-full
Bonus Factor: Mystery Solving, LGBTQ+ Representation
Relationship Status: Just Begun
Cover Story: Ominous
This cover gives me serious Nevernight vibes (which is an apt comparison since if you liked that book, you'd likely like this one, too). The statue might have been lovely before it was broken, but the dark eye sockets (and, you know, the blood) give me serious heebies. They should have made the title look more etched/carved into the stone, though, to really drive the whole thing home.
The Deal:
Rossana Lacertosa and Damian Venturi used to be friends. Or, really, more than that. But three years ago, Damian was sent to the front lines of a war, Roz found out she had magical powers, and Damian's father killed Roz's—then sent his head to them in a box. They pretty much stopped talking after that, and neither are all that willing to break the silence.
Until people start showing up dead, and they're forced to work together to find the killer before they can kill anyone else.
BFF Charms: Eventually, Let Me Love You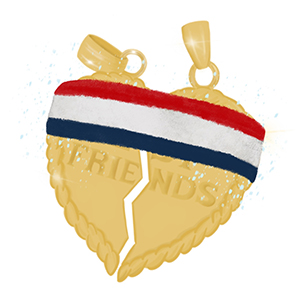 Roz is … prickly. Mostly when it comes to dealing with Damian, but also to other folks in her life. She fully admits that she doesn't like relying on anyone, and is OK with being on her own; she pushes people away before they can get too close. Deep down, however, she wants to be loved and needed. But it would be hard to break through those walls. And I'm not sold, yet, if it would really be worth the effort.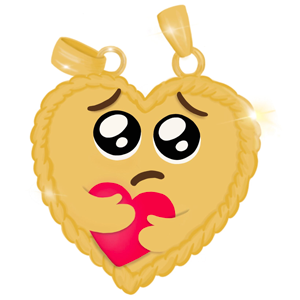 Damian is broken. The front lines of the war were horrifying and he doesn't like the man he was while there. His father's also a horrible human being who's long treated Damian like a thing, not a son; although I don't think there was ever physical abuse, the mental and emotional was certainly brutal. And yet, Damian wants so badly to prove himself to his father and other authority figures. I'd love to try to help him see that he only needs to prove himself to himself.
Swoonworthy Scale: 7
Roz and Damian were each other's first loves, although they never used that word out loud. The war and Roz's father's murder took a serious toll on their relationship, and neither are who they were three years ago. But the chemistry is still there—perhaps even hotter, thanks to them being older. There are A LOT of roadblocks to navigate, though …
Talky Talk: Faith-full
The universe Lobb created for Seven Faceless Saints is one of disparate social classes and ruthless religious figures. The city of Ombrazia is divided into disciples, people with magical, "saints-decended" gifts, and the unfavored, those without any magical power. This is the way the world has always been since the time of the seven saints, and the disciples are in power with no end in sight. No one truly questions this way of life, although there is a rebel faction bubbling under the surface. And even then, folks are still inclined to worship the various saints as deities.
As a non-religious person, I find that religion makes a great base for stories about divided societies (because, um, *gestures around at the real world*). Lobb's society is particularly fascinating because of the way the saints' descendants have very specific gifts that might not seem obvious at first glance. For example, Roz, who's descended from Patience, can manipulate metals and spends a lot of her days creating parts of weapons for the war.
Bonus Factor: Mystery Solving
Roz and Damian have to work together to find the person or persons responsible for killing the citizens of Ombrazia and they go about it in a very detective-y manner, interrogating suspects, searching for evidence, talking to the coroner, etc. It was fun to try and solve the mystery alongside them. (I did not see the reveal coming, but I'm notoriously terrible at figuring that sort of thing out in books.)
Bonus Factor: LGBTQ+ Representation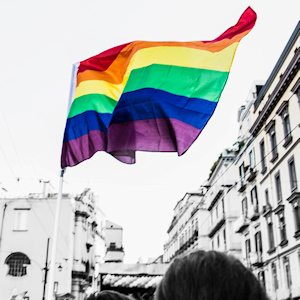 Although she doesn't label herself, Roz has had relationships with both men and women; she's not picky when it comes to attraction. (Have her relationships been healthy? That's a different question.) But the bit of representation that really stood out was Damian's suggested demiromantic nature.
But she wasn't done. "I have to say, I'm surprised. I didn't think you were the type to have a crush. You've never seemed interested in anyone."

"I'm not," Damien admitted. "Not usually. I don't know how to explain it, but … I don't feel anything until I know someone well. Really well."
More power to authors for including all shapes of queerness in their books!
Relationship Status: Just Begun
There's so much more to the story, Book—both yours and ours—and I look forward to walking that road together. Just keep the murdery business to a minimum, yes? I don't enjoy fearing for my life.
Literary Matchmaking
FTC Full Disclosure: I received a copy of this book from Little, Brown Books for Young Readers, but got neither a private dance party with Tom Hiddleston nor money in exchange for this review. Seven Faceless Saints will be available Feb. 7.