About the Book
Title:
The Shadow Threat (House of El #1)
Cover Story: Sneaky
BFF Charms: Eventually x2
Talky Talk: Gray Area
Arty Art: Complex
Bonus Factor: Super Parents
Factor: Series Starter
Relationship Status: Intrigued
Cover Story: Sneaky
The two people on this cover 100% know they're not supposed to be holding hands, but they're hoping no one sees them doing it 'cause they're gonna do it regardless.
The Deal:
The planet of Krypton has been having some struggles lately, with earthquakes and unrest amongst the lower classes. But the leaders of the Kryptonian society, the tribunes, assure their citizens that all is right and well.
Zahn-Re isn't sure he can believe them, but as a Re—a member of the higher classes—he's supposed to trust them without question. And Sera-Ur—a member of the lower, soldier class—literally can't question them, given her house's genetic engineering. But not everyone's so inclined to just believe the tribunes, especially when the evidence to the contrary is all around them. And Zahn and Sera might not be as different as their society might want them to believe.
BFF Charms: Eventually x2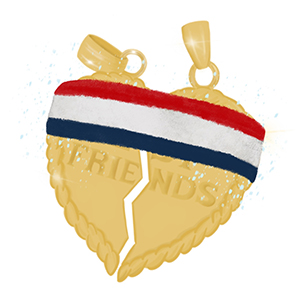 Both Zahn and Sera are interesting individuals and will, in later books in this series (spoiler: this is the first in a trilogy), definitely have a lot of unique traits that I can see will make them good BFF material. But in this book, we don't get to see much of them past their genetically engineered programming, especially Sera. (Zahn's a bit ahead of the curve.) On Krypton, most children are born with their house's standard set of traits, and are therefore somewhat cookie-cutter. I'm going to have to reserve judgement—and my BFF charms—until we all get to know each other a bit better.
Swoonworthy Scale: 4
There's some enemistry a-brewin' between Zahn and Sera, but nothing much in the way of swoon happens in The Shadow Threat. (The cover's very deceptive.)
Talky Talk: Gray Area
Gray has a lot of experience crafting new and inventive stories set with already-known characters or in familiar universes, and The Shadow Threat is another example of her skills. Although it's set on Krypton, the home planet of a very familiar American superhero, the book tells the story of two individuals previously unknown in Superman canon and, through their stories, rounds out the way-backstory of a character we all know well. It's a fascinating look at what came long before Smallville and gives a lot of depth to a world that's often been relegated to just a note on Clark Kent's Wikipedia page. Gray doesn't shy away from drawing parallels from the doomed planet's struggles to our own, specifically with environmental issues, which makes it easier to connect with a story that seems so different from real life. And she also does a killer job of making the reader forget that everyone in the book will eventually die a brutal death, thanks to the tribunes' planetary mismanagement. (Sorry for that cheerful reminder!)
Arty Art: Complex
Page via DC Comics
Krypton is an advanced, technologically complex society, and Zawadzki does a great job of bringing it to life with his art. Rarely is there a panel in The Shadow Threat that isn't terribly detailed. Thankfully, these details, although many, don't detract from the action; they round out the panels and help to drive home the "futuristic sci-fi" feel.
Bonus Factor: Super Parents
Jor-El and Lara, a.k.a. Kal-El's birth parents, are secondary characters in The Shadow Threat, and it's interesting to read about their efforts to turn their planet around before it's too late.
Factor: Series Starter
The Shadow Threat is just the beginning (of the end, heh) of Zahn and Sera's story, and things just start to get good at the end, which makes for a somewhat slow read. But the promise of action to come is definitely there!
Relationship Status: Intrigued
You're a bit of a tease, Book, dragging out your story and not cutting to the chase on our first date. But you've definitely piqued my interest, so I'll stick around for a while and see what else you have to say.
Literary Matchmaking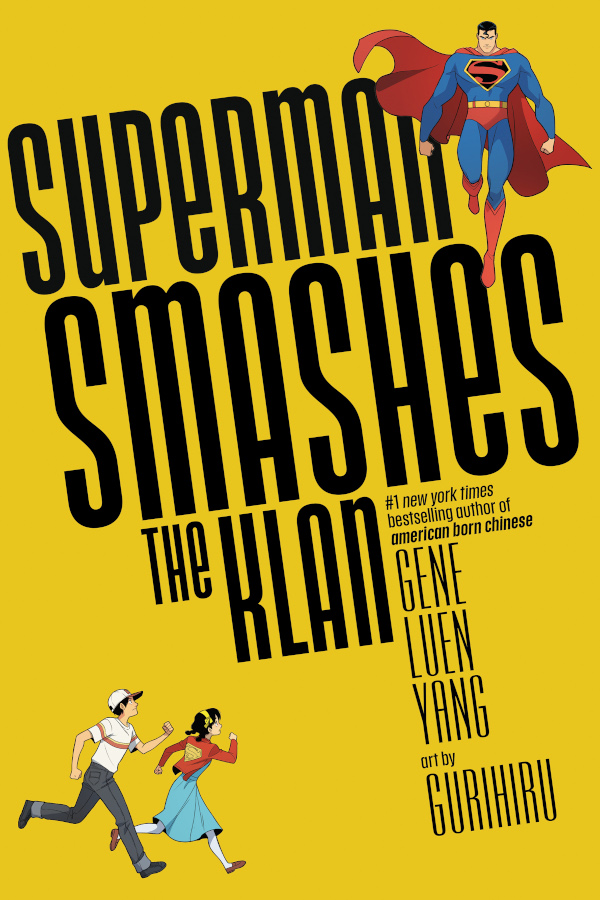 Superman Smashes the Klan
Or Gene Luen Yang and Gurihiru's Superman Smashes the Klan, which also connects nicely (in the smart sense, not so much the pleasant) to current events.
FTC Full Disclosure: I received a copy of this book from DC Comics / Warner Bros., but got neither a private dance party with Tom Hiddleston nor money in exchange for this review. The Shadow Threat is available now.