Cover Story: Cool Stock Photo, Bro
BFF Charm: Eventually
Talky Talk: Straight Up
Bonus Factors: Mom Friends
Relationship Status: Make Me a Mixtape
Cover Story: Cool Stock Photo, Bro
In general, I'm not a fan of Stock Photo Pretty People on the covers of books. It's lazy. And the cover image for Shuffle, Repeat is even lazier because they didn't even have to find models that look like June and Oliver – they just needed two people with the right amount of feet. Plus, this is a book about a girl and a boy who ride to school together every morning, making a playlist of their favorite tunes. So why put your stock photo feet on a stoop? Oliver drives, so the two of them never sit on a stoop together waiting for their ride. I actually like the little car doodle with music notes, and I really wish they'd done an artistic interpretation of that for the cover, rather than a photo. But no one asked me, did they?
The Deal:
June hates high school. She hates pep rallies and football games and popular people, and she can't wait to start her real life after graduation. Oliver loves high school, and he's trying to soak up every moment of his senior year before he has to leave forever. When June's mother buys an old house outside of town, June is going to start senior year with an hour long bus ride to and from school every morning, until their mothers arrange for Oliver to drive June to school. These opposites disagree about everything, but especially about the importance of high school and what constitutes good music. So Oliver and June make a bet: every time one of them can make a point to convince the other that they're right about high school, they get to pick a song for their morning playlist. As their playlist grows, so does their friendship, and suddenly, June and Oliver find their lives overlapping in ways they never expected.
BFF Charm: Eventually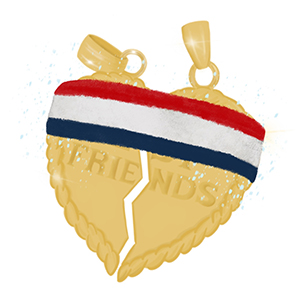 There was a time in my life when I would've really connected with June's high school hatred. Specifically, when I was in high school. So even though I could understand what she was feeling, I couldn't help but feel a little exhausted by the way she sort of saw the worst in everything about high school. She was also quick to stereotype people, especially Oliver. It's 2016, guys! Aren't we enlightened enough yet to know that the popular football player isn't always a villain straight out of a John Hughes movie? Luckily, Oliver was a bit more patient with June than I was, and over the course of the book, he helped her to recognize and overcome her own cynicism. And THAT June I could be friends with.
Swoonworthy Scale: 7
Shuffle, Repeat was billed as "When Harry Met Sally for YA readers" and that description is pretty spot on. The relationship between June and Oliver isn't so much enemistry as opposites attract – because June and Oliver really do become good friends, even if they can't agree on anything. And at first, that's fine just fine, since they're both in relationships with other people at the beginning of the book. But as their friendship with and dependency on one another deepens, so does the swoon. I particularly enjoyed watching happy-go-lucky Oliver make continuous efforts to better himself in an attempt to meet June's high standards. The romance between them is a slow burn for sure, but I love nothing more than a book that really drags out the build up for as long as possible.
And let's just say that, in one scene in particular, Klein will change the way you think about body shots forever. ::fans self::
Talky Talk: Straight Up With a Shot of Angst
Shuffle, Repeat is told entirely from June's POV, and as I mentioned in the BFF category, baby girl has some angst. But she's also a good friend, super smart, and totally cool, and I loved being in her head and seeing the change in both herself and how she saw Oliver. Klein's writing is easy and fun, and she manages to write a book that feels fresh and current without hitting you over the head with trendy pop culture references that will feel dated in a few years.
Bonus Factor: Mom Friends
This may seem strange, but June and Oliver's mothers being BFFs made me realize how rare it is that YA parents are awarded the luxury of friendships. We rarely see a parent character fleshed out enough to enjoy time with friends. The mothers in Shuffle, Repeat not only had each other to call on when things were bad, but they also got to get wine drunk and dance around the living room together. And I liked that, just like June and Oliver, they were also opposites who managed to overcome their differences to be BFFAEs.
Relationship Status: Make Me a Mixtape
Book, you were a mix of all the things I love. The way a good playlist has a mix of old favorite tunes and songs I've never heard, you were sometimes comfortably familiar and other times excitingly new. Some chapters, you were up-tempo and fun like a favorite dance song, and others you were full of emotion like a song I'd want to slow dance to. I will definitely keep you queued up on my iPod.
FTC Full Disclosure: I received a review copy from Random House, but I did not receive money or Girl Scout cookies of any kind (not even the gross cranberry ones) for writing this review. Shuffle, Repeat is available now.