About the Book
Title:
Something Like Normal
Cover Story: Get A Room!
BFF Charm: Hooah
Talky Talk: 2 Legit 2 Quit
Bonus Factors: USMC, Sea Turtle, Tami Taylor Award of Awesome Momhood
Relationship Status: I'll Wait For You
Cover Story: Get A Room!
Man, I totally love the typography and non-pinkness of this cover, but the in-your-face spit swapping is too much for me. This is a book that SHOULD be marketed as a guy book, and I don't want this cover to doom it. I'd like to say no self-respecting soldier would pick it up, but who am I kidding? The Twilight books circulated like wildfire in my husband's company back in Afghanistan a couple of years ago, so there's definitely a chance the well-placed dog tags and promise of hot action will get this book picked up faster than a hot sailor on shore leave.
The Deal
Travis Stephenson is back home on leave after a year in Afghanistan with the Marines. He signed up straight out of high school, more as a "fuck you" to his overbearing ex-pro football player dad than as a patriotic statement. At home, his swanky ex-girlfriend is banging his little brother, his dad still deserves a "fuck you," and his mom — who still embarrasses him — is slowly falling apart. None of them know Travis is falling apart too, until he runs into Harper Gray (or rather, his face runs into her fist), with whom he hasn't spoken since he ruined her reputation in middle school. With Harper, Travis might have a chance to figure out who he is and what to do with his experiences, if he and Harper are willing to take some big chances.
BFF Charm: Hooah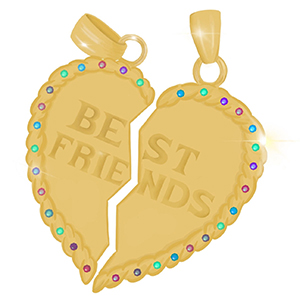 Travis gets my bff charm in a heartbeat. He's sweet and wants to do the right thing, but he's such a boy and makes me laugh. He's one of those kids who's kind of a jackass, but going off to war grew him up and now he's trying to figure out how to BE that grown up guy around people who haven't changed at all. Harper! Oh, Harper, girl. She gets a platinum bff charm. She's a damn role model for military "ones in particular" — she's kind, and patient, and listens, but when she needs to push, she does. Support doesn't mean sitting back and letting Travis screw up his life — it means helping him get where he needs to go.
Swoonworthy Scale: 8
Despite the ickiness of Paige, Travis's ex-girlfriend who keeps jumping his bones, the heat between him and Harper is SMOKIN'. Their history gives their relationship full of tension, and the way they treat each other is sweet and tender as well as HOT.
talky talk: 2 Legit 2 Quit
About 80 pages into this book, I had to stop reading and email Trish to thank her for writing it. There's so much bullshit out there like Army Wives and The Unit, that exploits drama and makes the life look like one scandal after another when it's not. She also nails STRAIGHT UP what redeployment is like — the embarrassing parents, the feeling that no one understands, the constant voyeuristic questions about killing people. She gets the PTSD and fear of stigma, the rage and anger about pettiness of stateside civilian life, the slow return to a normal that's different from before. It reminds me so much of the experiences we've been through, I swear Trish was spying.
Bonus Factor: USMC
My husband's a serviceman, although not a Marine (he'd probably tease me for giving them a bonus factor). Usually, I get caught up in the annoying attributes of the grunts out there — they drive recklessly, their irresponsibility is hard on their families, they play computer games and talk too loudly to each other and on their phones in the library while I'm trying to work. But this book reminded me they're just kids, and real kids with good hearts and stupid jokes and tough, tough, tough lives, and it made me see what it is about these guys that makes my husband love his job so much. It makes me want to go out and adopt all the single servicemen and women out there, and invite them home for dinner and beer, and smile fondly as they horse around and insult each other's moms.
Bonus Factor: Sea Turtles
OMG I LOVE SEA TURTLES SO MUCH. Any time we go to a beach, I drag my family around to all the sea turtle rescues and even adopted a turtle. Harper volunteers with a rescue, and there's a great hatching scene that had me squealing in delight (and fanning guy face, because it was also a fairly HOT scene). Go adopt a sea turtle!
Bonus Factor: The Tami Taylor Award of Awesome Momhood
Charlie's mom isn't Tami Taylor in personality — she's a patchoili-scented, Tao-spouting, lesbian tattoo artist who loved her son unconditionally, and is the best person for Travis at just the right time — because of, not despite, her grief. Travis's mom has a fist-pumping, Tami-channelling moment of her own that gets her an honorable mention.
Relationship Status: I'll Wait For You
This book swept me off my feet. When we met, I wasn't sure I was interested. It was in the military, and that's totally not my thing, but I figured it wouldn't hurt to just have a drink and talk. It was funny and charming and a little crude, but in a good way, and before I knew it, I was head over heels. So when this book ships out, I'll be here waiting for it to come home.
FTC Full Disclosure: I received my review copy from Bloomsbury. I received neither money nor cocktails for writing this review (dammit!). Something Like Normal will be available June 19.