Cover Story: Carrying the Banner
BFF Charm: Big Sister
Talky Talk: Clever Complement
Arty Art: Historical Meets Modern
Bonus Factor: Coach Taylor Award
Relationship Status: Rooting For You
Cover Story: Carrying the Banner
The Deal:
Aiza wants nothing more than to become a Knight—one of the famed protectors of the Bayt-Sajji Empire. Her status as an outsider, as a member of a people subjugated by the Bayt-Saji, however, is a concern to her parents. So when Aiza goes off to train the recruits, she hides who she is—but even though she rises through the ranks quickly and with great success, when her truth comes out, it sheds light on more than just who she is. And she has to decide if the reality of being a Knight is worth it.
BFF Charm: Big Sister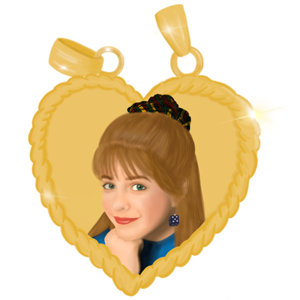 Aiza is a headstrong, passionate young woman with a singular dream. She might be more runt of the litter than most, but she's willing to do what it takes to make her dream a reality. I applaud her confidence, but I also realize that she's not seeing the larger picture. And it really hurts her when she figures that out. I would have loved to be there for her, to help her realize that although her dream might have to change, her passion and her willingness to put in the hard work don't. And both of those traits will treat her well, regardless of where life takes her.
Swoonworthy Scale: 0
Aiza makes friends while at training, but she's not there to find love.
Talky Talk: Clever Complement
The dialogue in this book is a delightful complement to the art, and really makes the characters come to life. It can be hard to create distinct voices for comic characters (without being able to read their thoughts, additional details about the scene, etc.), but Shammas did a great job of making them each individual without breaking the flow of the script.
Arty Art: Historical Meets Modern
Squire is a book that doesn't shy away from tough topics—even though it takes place in a fictional land and is about squires and knights, the themes of the book fit in well with modern-day society. Alfageeh obviously did this on purpose, both in the larger story and through her art. Her characters look like real folk; there are a variety of body types and skin tones that make it feel very diverse. The backgrounds are detailed when it counts, which adds to the action of scenes nicely, but don't ever detract from what's most important in each panel. I also like how she/the team played with angles on the panels themselves; the non-square corners and use of white space really is unique and eye-catching. Plus, the setting and architecture is a great nod to Alfageeh's family culture; it leans toward Middle Eastern without ever getting stereotype-y.
Bonus Factor: Coach Taylor Award
While at training, Aiza received a punishment that has her making a connection with Doruk, a janitor with a mysterious past. She begins training with him in the hours she's not training with the rest of the recruits. He's the perfect mix of grumpy and fatherly, and his guidance helps Aiza in more ways than just sharpening her sword skills.
Relationship Status: Rooting For You
We didn't make the strongest of connections, Book, but you made a lot of really great points. I know your story isn't taking you exactly where you thought it might, but I believe that you can do anything you put your mind to. And I'll support that however I can!
Literary Matchmaking
Pashmina
Nidhi Chanani's graphic novel leans more into the fantasy, but is also about a young woman discovering truths,
The Magic Fish
Trung Le Nguyen's book also takes cues for the art from the author's culture and background.
FTC Full Disclosure: I received a copy of this book from Quill Tree Books, but got neither a private dance party with Tom Hiddleston nor money in exchange for this review. Squire is available now.