Cover Story: Scrapbook
BFF Charm: Eventually x2
Talky Talk: She Said, She Said
Bonus Factors: Sailing, Scavenger Hunts
Relationship Status: Summer Summer Summertime
Cover Story: Scrapbook
Taylor documents the girls' sailing adventure on its own Instagram account, so a cover featuring snaps from the sailboat is a perfect fit. I do think the way the photos are on Polaroids is a little bit Photoshoppy, stock-photo-y looking, but overall, the vibe is right.
The Deal:
Willa, Taylor and Finley were best friends. Well, sort of. Willa and Taylor were both best friends with Finley—but with a shared history full of jealousy and scorn, Willa and Taylor were not best friends with each other. Finley was the glue, and Willa and Taylor loved her more than anything. So when Finley dies from leukemia, Willa and Taylor aren't sure how to move on without her. The three girls had planned to sail from Ohio to Key West together the summer after graduation, and after Finley's death, Willa and Taylor assumed their sailing trip was cancelled.
But when Finley leaves them a video and a list of clues challenging them to take the trip without her, the girls decide to embark on a two-thousand-mile journey together where they must face their grief head-on and decide if their friendship is worth saving without Finley around to keep them together.
BFF Charm: Eventually x2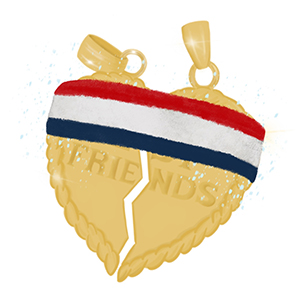 Willa and Taylor are different in many ways and alike in a few. Willa grew up very poor with a not-so-great home life, and when her local Boys and Girls Club teamed up with the Sailing Club from Finley's school, she and Finley learned to sail together and became best friends. Willa is scrappy and resilient and tough, determined to make a better life for herself, but at times can be a little proud. Taylor, meanwhile, grew up in a wealthy, loving family with brothers and parents who loved to sail, though she never really caught the sailing bug. This made her jealous of Willa and Finley's friendship and she tended to lash out at Willa in unfair ways.
At first, I thought I liked Willa but disliked Taylor. But as the story progressed and I got to know these girls more, I realized that they were both capable of being cruel to each other—and not just since Finley's death. They had a history of it and being on the boat only amplified it. Luckily, a two-thousand-mile sailing trip gave them some experience and perspective and I grew to like them more as the story progressed.
Swoonworthy Scale: 5
The girls both have their fair share of crushes and romantic encounters on their sailing journey. Willa has long harbored a crush for Taylor's older brother Campbell, and Campbell has made it pretty clear her feelings are reciprocated. But Cam was always off limits because he was Taylor's brother, and also because Finley had had a crush on him since they were kids. Meanwhile, Taylor is coming to terms with her own complicated set of romantic feelings and must learn to navigate them without her best friend Finley by her side.
Without getting too spoilery, there are plenty of butterfly-inducing swoon situations (swoonutations?) but at the end of the day, this is a book about a friendship, and romance takes a backseat.
Talky Talk: She Said, She Said
The chapters of Start Here alternate between Willa and Taylor while remaining in a close third person perspective. Doller is an extremely accomplished writer, and the prose always toed the line between an easy, breezy summer story and something a little heavier and more profound. But she also would occasionally skip around in time, and between that and the shifting perspective, I sometimes had to reorient myself and figure out where and when the story was happening.
Bonus Factor: Sailing
It's like an epic road trip book, but ON A BOAT. I won't lie: I know nothing about sailing, and Doller does not take it easy on those of us who are unfamiliar with the lingo. I kept having to Google terms like 'v-berth' or watch YouTube videos on how canal locks worked, but reading a book about two girls sailing out on their own was a refreshing change from your typical summer road trip story. (Even if I had a kind of hard time believing that Taylor's parents would let her do this before she turned 18, but that's a very minor critique!)
Bonus Factor: Scavenger Hunts
I'm always on board for a list or scavenger hunt. When I first read a description of this book, I wondered if the whole thing would take place mostly on the sailboat, not realizing that the girls would sail along rivers and lakes—not just on the ocean. Finley's clues get Willa and Taylor off the boat to experience the towns and attractions along their journey, which kept the story from getting to monotonous.
Relationship Status: Summer Summer Summertime
Time to sit back and unwind. This is a perfect book to read on the beach, or on a boat, or for those of us in landlocked states, in the kiddie pool in your backyard. It's sweet, sometimes a little sad, but still a fun and easy read with all the traits I look for in a summery story.
FTC Full Disclosure: This review was originally posted on Kirkus Reviews in exchange for monetary compensation, which did not affect or influence my opinions. Start Here will be available August 13, 2019.