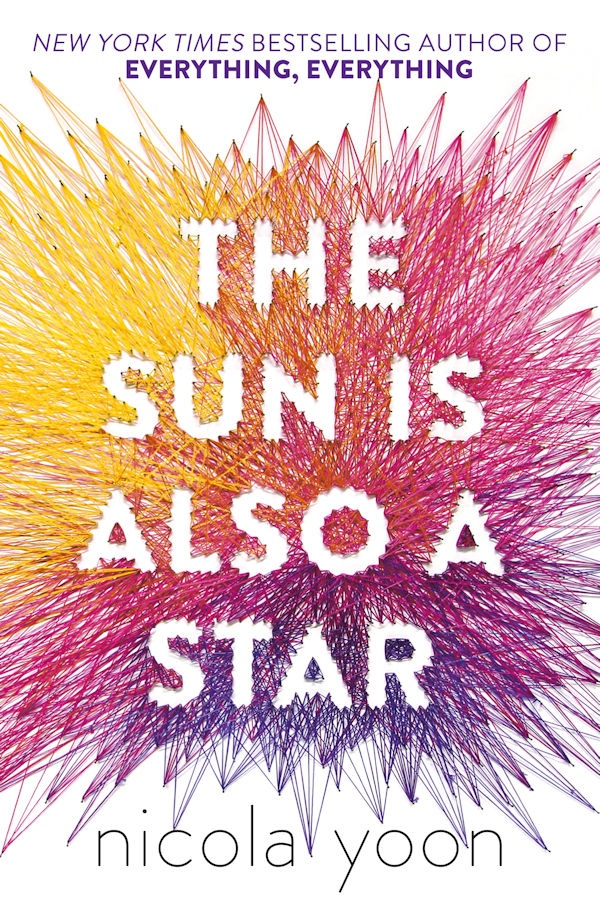 About the Book
Title:
The Sun Is Also a Star
Cover Story: Montell Jordan
BFF Charm: Yay and Love
Talky Talk: Omniscient Narrator
Bonus Factors: Diversity, New York City, Movie Mash-Ups, Karaoke, Chris Cornell
Relationship Status: Hello, Stranger
Cover Story: Montell Jordan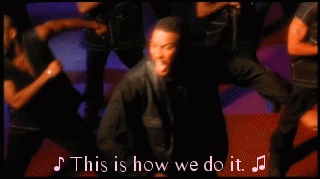 This cover is gorgeous and, no joke, catches my eye every time I see pop up on Goodreads. I would've assumed it was a digital image if I hadn't watched this behind the scenes video showing how the artist used thousands of strands of embroidery string to create it. Major props! Knowing how much work went into it makes me appreciate it that much more.
The Deal:
Today feels like the worst of Natasha's life: it's her last day in the United States. Her family is being deported back to Jamaica because they've been living in the country as undocumented immigrants for years, and now her father has gone and ruined all of her perfectly laid plans. She leaves her house that morning on a mission to make one last-ditch effort to block the deportation.
Daniel has his Yale admission interview today, even though he doesn't really care about being a doctor or getting into a Second Best school. Desperate to avoid his mom's never-ending advice and his asshole brother's taunting, he heads out hours early to get a haircut and write his poems on the subway in peace.
Neither of them expect this day to be what it becomes: magical, heart-breaking, surreal, life-altering.

BFF Charm: Yay and Love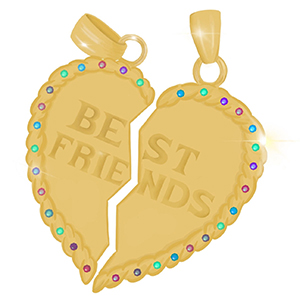 Natasha is the daughter of a dreamer who's been worn down by hit after hit until she clings to practicality for all its worth. She's wicked smart and loves science, and is the type of person who can discuss things like dark matter on the regular. Girl also has good taste in music. I think we could get along if given the chance, but she's probably the kind of person in high school I would've been too intimidated to talk to.
Daniel has the heart of a poet, and the pen of a poet, and, guys, I really don't like poetry. We could hang if he didn't read me his work (I mean, I'd listen to it because I'd want to be supportive, but, really…let's not). But once you get past the poetry and his lackluster interest in a career with a livable wage, Daniel is sweet and funny and deep and sexy. He also spends the entire book in a gray suit with a red tie, and how much I hate poetry can only be measured by how much I love a man in a suit.

Swoonworthy Scale: 7
The entire book takes place over one day, so you're pretty much asking for a certain level of instalove. What else but chemistry is going to keep two strangers hanging around each other all day in NYC, of all places? Luckily, however, Yoon crafts a mostly believable build-up of emotion, so I threw caution to the wind and got myself sucked in. I was rolling my eyes along with Natasha when Daniel would get a bit schmoopy with his talk of "meant to be", but his confidence in what he wanted (see: Natasha) left us both a bit starry-eyed and breathless.

Talky Talk: Omniscient Narrator
If you read Nicola Yoon's first book, Everything Everything, then you're familiar with her very short chapters and random sidebars of related fun facts. She alternates between that and Natasha and Daniel's perspectives (and occasionally other side characters), and it keeps the plot moving forward and the pages turning quickly. I easily devoured the book in a day.
Not surprisingly, there was a lot of conversation about fate versus coincidence and how the tiniest actions we take can create unknown ripples in so many lives. This really doesn't work for every book and has potential to turn cheesy very quickly, but Yoon got it right here, and I was charmed by the opportunity to look outside the very insular setting to learn the histories and outcomes for different characters.
Bonus Factor: Diversity
Daniel is the American-born son of South Korean immigrants and Natasha's family moved from Jamaica when she was eight. Both unique perspectives brought a richness to the story.
Bonus Factor: New York City
NYC is basically its own character at this point. You can tell Yoon has spent a lot of time in the city (she grew up in Brooklyn, according to the author's blurb) because you can really feel the hot air, tinged with garbage and hotdog water, wafting up around you from the sidewalk subway grates. The city is the perfect backdrop for this story (and now I really want to go again, ugh. Release me and allow me to experience other cities of the world, NYC, you mecca of awesomeness!).
Bonus Factor: Movie Mash-Ups
I got strong Before Sunrise and Serendipity vibes from this plot. Both are great movies, so this is definitely a compliment.
Bonus Factor: Karaoke
There's a funny (and steamy!) scene that occurs in a norebang (that's Korean for karaoke). If I ever decided to do karaoke (which still might be this side of never), this would be the kind of place I'd like to go, with private rooms for smaller parties and dim lighting. The description of Daniel doing karaoke might be my favorite part of the book.
Bonus Factor: Chris Cornell
I knew Natasha and I were destined to be friends when she soothed her frazzled nerves with the melodious voice of rock god, Chris Cornell. I'm more of an Audioslave fan than Temple of the Dog, but sexy Jesus-hair Chris Cornell is perfection in whatever he does.

Relationship Status: Hello, Stranger
It's so weird meeting you like this, Book. I don't normally talk to strangers, but there's just something about you that is sweet yet charming. I don't know if I believe in fate, but you make a pretty strong case for it. And, yes, I'll totally blow off work and get a coffee with you. Just lead the way.

FTC Full Disclosure: I purchased my own copy of this book. I received neither money nor peanut butter cups in exchange for this review. The Sun Is Also a Star is available now.