About the Book
Title:
Take Me Home Tonight
Cover Story: Simstastic
BFF Charm: Yes and Eventually
Talky Talk: Comedy of Errors
Bonus Factors: Theatre Kids, Dogs with Human Names, Easter Eggs
Relationship Status: The Ferris to My Cameron
Cover Story: Simstastic
Cute cover but why are these teens and their dog in the dead center of a busy NYC intersection?! That is not the correct way to cross a street! It is actually very dangerous for all parties involved! *old man yells at cloud from Simpsons dot gif* This is actually a perfect introduction to my feelings about this book as a whole, which is that these teens stressed me the HECK out.
The Deal:
Best friends and polar opposites, Kat and Stevie have been in a bit of a rough patch lately. When Stevie's dad cancels their NYC birthday dinner plans, Kat decides to save Stevie's birthday by sneaking out of their suburban homes and spending one amazing night in the city together. It's the perfect plan: they'll go to the restaurant where Stevie's dad had reservations and then they'll go see a play.
But not just any play. Kat and Stevie are both theater kids, and Kat's vying for the role of Cordelia in the upcoming production of King Lear. She's a little obsessed with her theater teacher, and when she finds out that he's appearing in a play at a small NYC theater company that weekend, she figures that showing up to support him will help her land the role.
Using a sleepover with their friend Teri as an alibi, the girls set off for their big night in New York and things immediately go off the rails. They've barely arrived when cell phones are lost, wallets are locked in apartments, and the girls are separated from one another.
BFF Charm: Yes + Eventually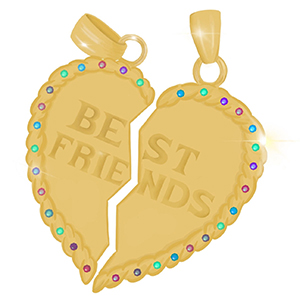 Ever since Stevie's dad remarried, he no longer has the time of day for her. And now, Stevie has stepsiblings to deal with. The first few chapters being from Kat's POV painted Stevie in a bit of a negative light, like she had abandoned her BFF. But once I got to know Stevie, it actually seemed like her problems were legitimate. Stevie is anxious, but not overbearing. She definitely withdraws into herself when things are hard, but I liked her a lot.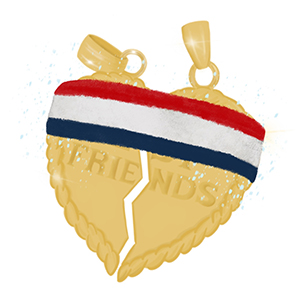 Kat, meanwhile, is a bit of a bulldozer. She's vying for the role of Cordelia in King Lear and will stop at NOTHING to get it. I found her overbearing, and she seemed like sort of a bad friend to Stevie – Kat made everything about herself. What initially seemed like a girl clinging desperately to a friendship quickly turned into a girl who was whiny and too self-absorbed to notice that her friend was going through some stuff. That said, Kat did have enough growth over the course of the story that I won't deny her a BFF charm.
Swoonworthy Scale: 5
Matson is known for her swoony romances, but swoon takes a back seat in this story since there's so much focus on the girls' friendship. That said, there is a sweet romance between Kat and Cary, a cutie with a million odd-jobs who takes her on a tour of the city.
Talky Talk: Comedy of Errors
If you haven't figured it out already, this book is basically a series of unfortunate events. One mishap after the other is thrown at these girls. We get dual POVs between them, since they are separated for most of the book, and I liked getting to hear both sides of the story.
There's a whole side plot with the girls' friend Teri, which I think was an ode to Adventures in Babysitting but didn't quite fit into the book the way I think Matson wanted it to. For one thing, she doesn't introduce Teri's POV until way too late in the book, and even then, the plot of Teri's side quest is just a bit TOO bonkers. Maybe it would've been better as a short story published separately, but it didn't work for me.
Bonus Factor: Theater Kids
Growing up, my mom was a high school theater teacher, so I have a soft spot for theater kids – even the overzealous ones who need to just, like, chill for one minute omg. Kat has a serious obsession with her theater teacher that felt so awkward and inappropriate and cringe, and her wild night in NYC to find him felt like watching a trainwreck.
Bonus Factor: Dogs With Human Names
I have a weird obsession with dogs that have normal human names. It started all the way back in high school when I found out a guy in my class had two chocolate labs named Greg and Derek. WHY IS IT SO FUNNY?! A husky named Phil! A chowchow named Janet! And in this case: a Pomeranian named Brad. And Brad is a really, really good boy.
Bonus Factor: Easter Eggs
Take Me Home Tonight features cameos from Matson's previous books, including a scene featuring Amy from Amy & Roger's Epic Detour that had me grasping my pearls at Matson's CHOICES.
Relationship Status: The Ferris to My Cameron
This book made me feel a lot of things, but more than any of them, it stressed me the h*ck out. Teens sneaking around New York City without their phones, getting mugged, riding motorcycles, trying to track down their unsuspecting teacher on the weekend. I'd chock it up to being old, but the truth is I've been a Cameron Frye since the day I was born and this kind of behavior would have stressed teen me out just the same. But that wouldn't make an exciting book, would it?
Literary Matchmaking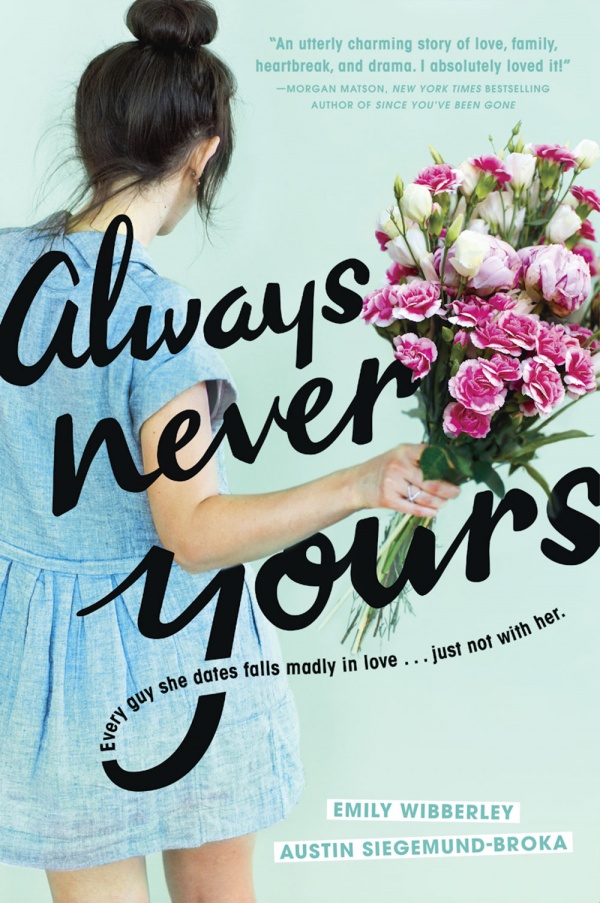 Always Never Yours
Always Never Yours by Emily Wibberley and Austin Siegemund-Broka delivers more theatre kid shenanigans, with a super swoony romance.
Together at Midnight
Jennifer Castle's Together at Midnight features two teens running around NYC in a snowstorm during the holidays!
FTC Full Disclosure: I did not receive money or Girl Scout cookies of any kind (not even the gross cranberry ones) for writing this review. Take Me Home Tonight is available now.