About the Book
Title:
The Crown's Game (The Crown's Game #1)
Cover Story: I've Got The Whole City On My Head
BFF Charm: Natalie Imbruglia
Talky Talk: War and Peace
Bonus Factors: Russia, Magical Duel
Relationship Status: Let's Go Out Again
Cover Story: I've Got The Whole City On My Head
The concept of this cover, with the palatial buildings making up the crown, is really clever—yet there's something about the design on the whole that leaves something to be desired. Maybe it's the choice of colors or the font, but it seems more like a prototype than a finished cover. Still, I'd take this over a Big Face cover any day.
The Deal:
It is 1825, and Russia is under threat of war. The tsar has long since had an Imperial Enchanter who helps protect the nation, but most common people don't recognize magic when it stares them in the face. Thus The Crown's Game, a magical battle between two enchanters, will be fought in secret, and the identities of the enchanters protected at all costs.
The stakes of The Crown's Game are high: win, or die. Vika, raised by her father in isolation, and Nikolai, an orphan taken from the steppes as a child, are pitted against each other. Each of them senses a kindred spirit in the other, and the sparks that fly are a different kind of magic. But in a game that only ends when one of them dies, can anyone really win?
BFF Charm: Natalie Imbruglia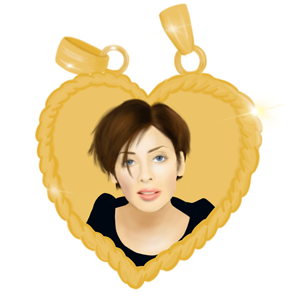 I'm no tsarina, but I can see where it would be insanely useful to have an enchanter at your disposal. As a friend, though, I'm a little torn. Both Vika and Nikolai are fiercely competitive, sometimes at the expense of their personal morality—but you can hardly blame them when the other option is dying a lot faster than you wanted to. Their dangerous game takes a toll on everyone around them, which is when their characters truly start to shine—so yeah, by the end of the book I would happily give either of them my BFF charm, but you can bet that I'm staying on the other side of the globe. I'd like to stay alive, please.
Swoonworthy Scale: 6
This is a big book—not necessarily in length, but in the overall world-building and the feelings within—so where Nikolai and Vika's attraction almost seems like instalove, I'm willing to give it a pass because the overall effect fits in with the themes of violence, betrayal, survival, and vengeance. When other characters fall in love with them, the stakes get higher and the capacity for emotional torment escalates exponentially—which makes for very good drama.
Talky Talk: War and Peace
Skye has a gorgeous flair for writing rich, lush descriptions of a magic-tinged St. Petersburg. The book really hits its stride when the game begins, and Skye's descriptions of magic make for a world that has glorious highs and the darkest lows possible. The dialogue and character descriptions can occasionally be over-the-top, but it's not unwelcome in a book designed to be over-the-top. The Russian literary flavor is evident here, and I think Skye pulls it off to great effect.
Bonus Factor: Russia
The Imperial Russian setting here feels fresh, and makes me want to start planning a trip, stat. If only I had an enchanter to evanesce me and my suitcase across the pond!
Bonus Factor: Magical Duel
One thing I particularly loved about this magical duel was that Vika and Nikolai both have limits to their talent. Vika is best at working with nature, where Nikolai is more mechanically-minded. This is used to great effect at certain points in the book—let's just say they use their limitations in creative ways.
Relationship Status: Let's Go Out Again
Book, when I picked you up, I wondered if you were merely going to be a Russian The Night Circus—but I was transported into a gorgeously-rendered world with high stakes and big emotions. That ending, though—good thing you're a series starter, because I'm ready to go out with you again…as long as you promise not to leave me on a cliffhanger.
FTC Full Disclosure: I received my free review copy from Balzer + Bray. This review was originally posted on Kirkus Reviews in exchange for monetary compensation, which did not affect or influence my opinions. The Crown's Game is available now.