About the Book
Title:
The Dust of 100 Dogs
BFF Charm: Yay!
Talky Talk: Right On
Bonus Factor: Pirates!
Relationship Status: Serious
The Deal:
Saffron Adams is the "genius" child of poor Pennsylvania folk, and she's seen a lot. Like, reincarnated 101 times, a lot. Because in the 1600's, she was born Emer Morrisey, and before she reached her double digits, she watched Cromwell invade Ireland and kill her family, then lived through all manner of terrible things — mistreated by her nasty uncle, being sold as a slave bride, living on the streets of Paris — ultimately leading her to become a pirate (next step, OBVS!). Then, just when she's about to get out of the business, she is killed and cursed with the dust of 100 dogs (ha!). Now that she has lived each one of those hundred lives with her memory in tact, all Emer/Saffron needs is to turn 18 so she can hitch a ride to Jamaica to dig up her treasure.
BFF Charm: Yay!
Okay, um, so while I was reading this book, I kind of wanted to have Saffron's baby. Seriously, the girl was a pirate, then man's best friend ten times ten before being born into the family of losers that made up the Adams. She dealt with her frustrations of being trapped in a little growing body again by imagining treating her teachers, playmates, and even mother as she would have her enemies when she was a pirate, (ie plucking their miserable eyeballs out of their sockets, relieving them of their tongues, feeding them to sharks, and more!) Besides her brain working in a delightfully macabre way, Emer/Saffron is kickass, never letting people tell her what she could or couldn't do. She's not a feminist per se, she's more of a humanist, and a survivor, and I find when trying to describe why I love her so much, I can't really put my finger on it. She's flawed but awesome, and she could be my best friend any day. (Also, that invitation might extend to A.S. King)
Swoonworthy Scale: 4
So the love story in this book is really, really sweet, and kind of reminiscent of a Westley/Buttercup type romance … HOWEVER, I didn't actually FEEL it. It was nice, in that pudding cup sort of way — sweet, but not a real dessert — but it seemed that Ms. King wrote it that way intentionally. The romance totally takes a back seat to Emer's story.
Talky Talk: Right On
This book has led me to a conclusion: A.S. King is kind of awesome. Even though I like my YA with a little more swoon than she was willing to give me, I LOVED how she wrote her heroine(s)! Whether following Emer through her various trials, waiting impatiently with Saffron for her 18th birthday, or imparting wisdom from one of her lives as a dog- and that stuff is HARSH!- her voice smoothly transitions, growing with her characters and driving toward her conclusion. And the history! It's like a little lesson in Cromwellian Ireland! Now about the dog stuff. Seriously dude, there's some violence against dogs that would normally put me off the book entirely, but she didn't linger on it, and she didn't Cormac McCarthy it up, and you do get the warning that she LIVED 100 lives as a dog, as in, they aren't living any more, so I recommend pushing through the tough spots.
Bonus Factor: Pirates!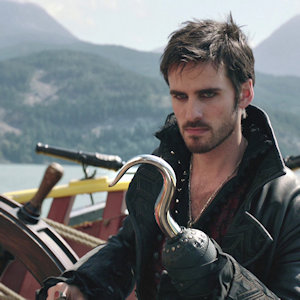 Ah, for the glorious booty of stolen gems, a swig of rum and a hearty Argh! A pirate's life for me….sorry, I just spazzed out there. But c'mon, PIRATES! (unless you're referring to the shoddy Somali kind, because those guys need some help in the swash and buckle department.)
Relationship Status: Serious
So I might be on my way to being the resident fantasy/adventure FYAer, since I only seem to be reading that genre lately, and also since I'm the only one who doesn't hate the Twilight saga completely (shhhh! don't tell!). I might have to write about that conflict within myself another time, but I digress…
I'm serious about this book. If I had read this book when I was younger, it would have become one of my top ten's. For reals. I'll say it again: I love me some Emer/Saffron.
FTC Full Disclosure: I received neither money nor cocktails for writing this review (dammit!). The Dust of 100 Dogs is available now.