About the Book
Title:
The Fixer (The Fixer #1)
Cover Story: X Marks Which Spot?
BFF Charm: Yay!
Talky Talk: Page Turner
Bonus Factors: Scandal, Private School, Family
Relationship Status: Just What I Was Looking For
Cover Story: X Marks Which Spot?
What happens when a cover doesn't want to go full typographical for a book that's difficult to sum up in a single image? A shadowy figure gets plopped against a generic backdrop behind a gigantic X! This cover feels like a missed opportunity, since there are obvi so many recognizable buildings in the book's setting of Washington, D.C.
The Deal:
Having grown up on a ranch in Montana, 16-year-old Tess Kendrick only discovers what her estranged older sister, Ivy, does for a living after the two of them start living together. See, Ivy is D.C.'s top fixer—someone whom politicians turn to when they have a problem that needs, well, fixing.
And this skill for making scandals disappear runs in the family, making Tess' services highly sought after by her new classmates at the prestigious Hardwicke Academy, much to Tess' chagrin. But when one of them has a sitch that goes way beyond typical high school fare—like, government conspiracy big—Tess might finally have come across a problem that she can't fix.
BFF Charm: Yay!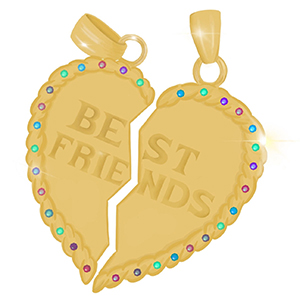 If there was a record for how quickly BFF charms are earned, Tess would def. be in contention for it. In her very first scene, she stands up to a bully of a teacher, and the personal sacrifices she's made to take care of her ailing grandfather become clear soon afterwards. Guided by her senses of justice and responsibility and her knack for reading people, Tess is a take-charge, get-shizz-done kind of gal—aka someone I'd totally want in my corner.
Swoonworthy Scale: 2
Each sister has her own potential love interests, but swoon takes a backseat to way more important matters at hand. Still, the inklings of romantic chemistry provide plenty of groundwork for just about any (age-appropriate) pairing in the future.
Talky Talk: Page Turner
I literally could not put this book down, y'all. Jennifer Lynn Barnes knows how to keep her audience hooked onto her every word. I don't even mind that it's a dreaded series starter, because YES, I want to keep tagging along as these characters unravel more shady conspiracies.
Bonus Factor: Scandal
OBVS. Ivy's world has all the juicy political intrigue of Scandal, minus the eventual overreliance on shock value and the increasingly gross affair with the president. May no lips ever quiver in these books.
Bonus Factor: Private School
With the majority of its student body boasting powerful connections via their parents, Hardwicke Academy is like the offspring edition of D.C.'s political scene, where even the administrators have to abide by whomever holds—or is related to—the most power.
Bonus Factor: Family
Tess and Ivy's sisterly bond might be the centerpiece—and those two have a lot of shizz to hash out—but Ivy also has the family she's built for herself: her friends and fixer-adjacent colleagues, Adam and Bodie*, who are both quick to care for Tess as one of their own. And Tess herself is assembling quite the Scooby Gang of her own at Hardwicke, too.
*Whose names, when put together, never fail to remind me of Seth Cohen and Dave Rygalski. 
Relationship Status: Just What I Was Looking For
I've caught the political thriller bug before, but that pop culture relationship didn't work out for me. Luckily, I've found a new addictive fix (pun completely intentional). We're a much better match, and I can't wait until we're reunited for Round 2.
FTC Full Disclosure: I received my free review copy from Bloomsbury. This review was originally posted on Kirkus Reviews in exchange for monetary compensation, which did not affect or influence my opinions. The Fixer is available now.