Cover Story: Fence-Bird
BFF Charm: Big Sister
Talky Talk: Boyz-N-The Hood
Bonus Factor: Justice
Relationship Status: Gettin' Out Early
Cover Story: Fence-Bird
There's something about this cover that screams "first draft." Well, maybe just whispers. I like the cleverness of the chain link fence pieces breaking free and turning into birds. But after living with the book for some intense days, I decided the illustration is more deserving of a small appreciative smile than a novel cover.
The Deal
Isaac West has just landed himself in juvie for grand theft auto … kinda. He is taking the rap for the crime, including the assault on the vehicle owner, even though that was all Pat Healy, Isaac's 18-year-old GTA partner. Since Isaac is only 16, he would only have to do time at Haverland Juvenile Detention rather than the adult penitentiary. Plus, if he does Pat—and their vocational school teacher slash crime boss Mr. Flannery—this solid, he'll be a valued member of the crew when he gets out. And big-time jobs can bring in big-time cash, which Isaac and his little sister Janelle desperately need if they're ever going to escape life with their mother, an alcoholic and a prostitute. Yeah, it's a pretty light read.
But Isaac's mother is sick and can't "work" anymore, and Isaac is afraid for his sister's safety. If he can just stick to his story and make it successfully through the group therapy program, he can be out in 30 days, get Janelle, and begin his cush life as a professional car thief! Hopefully no crazy shiz happens to prolong that sentence or otherwise put a dent in that plan! Spoiler alert: some crazy shiz happens to prolong that sentence or otherwise put a dent in that plan.
BFF Charm: Big Sister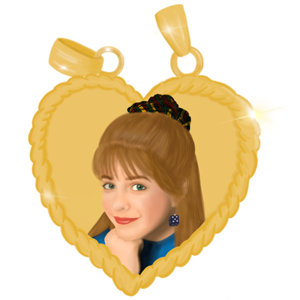 Isaac is a good big brother who has always looked out for Janelle and never thinks he's doing enough for her. He's willing to sacrifice so much more than his freedom for her. The two of them have had a crazy childhood, and it makes me want to rewind time, reach inside the book, and scoop them up with my giant arms (cuz inside the book, they'd all be real small, right?), and take them someplace safe and happy forever.
Swoonworthy Scale: 1
Haverland is co-ed and Isaac is straight, but aside from some drive-by "she's so hot" comments (by Isaac, just to himself), this book is devoid of swoon. Isaac mentions very early on that he's not interested in "fraternizing":
I figure that type of thing must go on, but I for one do not need some pamphlet telling me to keep my hands to myself. There is no part of Isaac West that is getting near any part of these girls. They're as damaged as goods can get.
Whoa, Judgie McJudgerson! Let he without sin, dude! While I appreciate his willingness to follow the detention center rules, I thought that was wildly unfair.
Talky Talk: Boyz-N-The Hood
You can probably imagine what it would sound like to sit and people-watch in a juvenile detention center. Various languages and combinations of languages, all kinds of slang, prison terminology, fightin' words:
My name's Barbie Santiago, and my favorite animal is the ponketo I iced to get in here. 'Coz he dead now.
It must have been quite the literary challenge to come up with such diverse dialogue and capture it on paper, accurately. I kept wondering if McLaughlin spent time working with kids in a center like this, maybe teaching English or supervising the computer lab. I think she did a pretty good job with it, but I'm no expert. I did find it distracting at times, and perhaps a bit heavy-handed. Or maybe that was the intense plot…
Bonus Factor: Justice
Trust me that I'm not spoiling the ending when I say that justice is served in this book. Things don't necessarily work out the way Isaac or the reader expects, but it's always gratifying to see tangible evidence of some good in the world, especially after such a dark tale.
Relationship Status: Gettin' Out Early
Book, I did my time, but I'm glad to be getting out. You taught me a lot, and introduced me to some people I'd otherwise never have met. Still, I'm looking forward to acquainting myself with a nice, greasy burger and a fun, lighthearted read.
FTC Full Disclosure: I was provided a free review copy from SoHo Teen, but I received neither money nor a get-out-of-jail-free card in exchange. The Free is available now.
---
About the Contributor:
It's taken a decade, but Lacey Nadeau has finally decided she misses the beaches of Southern California where she grew up. (It took only about a minute for her to miss the Mexican food.) However, she's pretty committed to the fun and sun of Denver, CO, where she plays with spreadsheets by day, and drinks boozy slushies with her husband and puppy by night. The puppy just pretends.