About the Book
Title:
The Glass Sentence (The Mapmakers Trilogy #1)
Cover Story: The Golden Compass
BFF Charm: Big Little Sister
Swoonworthy Scale: 0.5
Talky Talk: Snippets From Another World
Bonus Factor: Maps
Relationship Status: Same Time, Same Place?
Cover Story: The Golden Compass
Golly, that sure does look like a golden compass there on the cover! What a coincidence that this book is billed as enjoyable for fans of Philip Pullman's His Dark Materials series! Don't get me wrong: I picked this book up BECAUSE it was supposed to be similar to The Golden Compass, and I was not disappointed. Also, that thing on the cover is a compass rose, the symbol on a map that shows which way the map is oriented; and this book is about maps. Very justifiable. You can also see illustrated a few of the events/characters in the book, which is always appropriate. However, the cover of this book pretty much screams "kids' book," so just don't be tryna fool anyone.
The Deal
This is the first book in The Mapmakers Trilogy, and all three books are already out (yay! Patience is overrated). Our heroine is 13-year-old Sophia Tims, and for her, it's 1891. You see, almost 100 years earlier, the world was changed forever by the "Great Disruption," a mysterious event that … well I'll let the prologue explain it:
Spinning freely in different directions, each piece of the world had been flung into a different Age. When the moment passed, the pieces lay scattered, as close to each other in space as they had always been, but hopelessly separated by time.
Crazy, right?! In such a brave new world, there is plenty of need for intrepid explorers, and Sophia herself comes from a family of such voyagers. Now she's about to find out if that sense of adventure is genetic, because her uncle, the famous cartologer Shadrack Elli, is kidnapped—and it's up to Sophia to discover why.
BFF Charm: Big Little Sister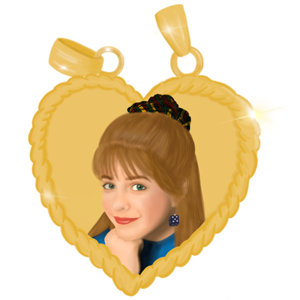 I have just one sibling in real life, and I am the elder by eight years. But my sister is taller than me, so our dad would always refer to her as my "big little sister." This is how I think it would be with Sophia and me. I don't mean she's tall, although she very well could be, but she's really strong and so brave. Her parents went missing during an expedition when she was two, and she's been raised by Shadrack. When he's taken, Sophia embarks on a journey through uncharted territory full of strange languages, different ways of telling time, and dangerous villains. If I were travelling with her, I'm sure I'd be all, "Soph, can't we just go home and wait for Uncle Shadrack to be freed?" And she'd just roll her eyes at me like Lace we talked about this … and I'd whine, "Ugh, why are you so courageous?"
What I'm saying is, Sophia gets the Big Sister charm, and I get the condenscending look Clarissa's giving there.
Swoonworthy Scale: .5
Included in Sophia's ragtag team of adventurers is a boy named Theo with a mysterious past. He is from somewhere in the "Baldlands" (most likely modern-day Mexico), and he's either Sophia's age or a couple years older. There are hints of mutual admiration in this first book, whispers of special feelings and meaning-laden looks, but Sophia and Theo are just good friends. They are really young, after all. I can't help hoping, however, that the next two books have them grow a few years so that we get to see Theo and Sophia become a swoony something.
Talky Talk: Snippets From Another World
Each chapter starts with a quote or a verse from some kind of text: Shadrack's authored histories, his colleague's thesis, dictionaries, songs and even nursery rhymes from various ages. Grove's world building skills are legion.
Bonus Factor: Maps
Sophia's uncle is the foremost mapmaker in this new world. And these aren't your grandma's maps. First of all, they can be made out of almost any material—plants, water, metal, cloth, the titular glass—and most importantly, they are dynamic. That's all I'll say! I don't care* how many sour patch kids you give me!
*I do. Make me a deal.
Relationship Status: Same Time, Same Place?
What can I say, Book? I think you had fun; I know I did. Shall we do it again? I can't wait to see what the future—or past—brings us in the sequel. See ya there!
FTC Full Disclosure: I received my free review copy from Penguin Random House. I received neither money nor a date with Matt Smith for this review. The Glass Sentence is available now.
---
About the Contributor:
It's taken a decade, but Lacey Nadeau has finally decided she misses the beaches of Southern California where she grew up. (It took only about a minute for her to miss the Mexican food.) However, she's pretty committed to the fun and sun of Denver, CO, where she plays with spreadsheets by day, and drinks boozy slushies with her husband and puppy by night. The puppy just pretends.