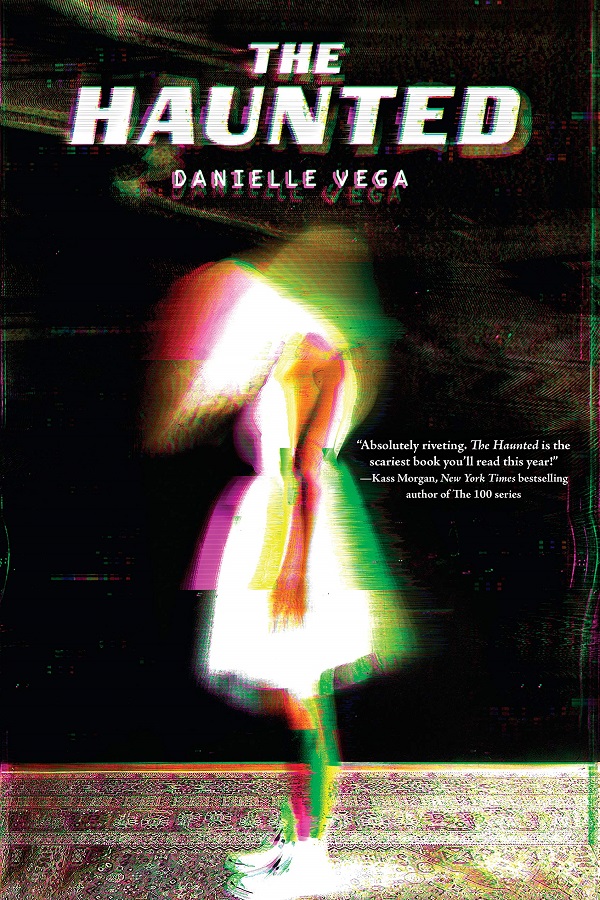 About the Book
Title:
The Haunted (The Haunted #1)
Cover Story: Focus!
Drinking Buddy: You Are The Character Who Drinks
Testosterone Estrogen Level: I Am The Love Interest
Talky Talk: Show, Don't Tell
Bonus Factor: Domestic Violence
Bromance Status: This is a Book That I Read
Cover Story: Focus!
The blurry spirit photography here is an example of what to do on the cover of a horror story. The utterly unimaginative title is an example of what not to do.
The Deal:
After a bad experience with her ex-boyfriend back in Philadelphia, Hendricks Becker-O'Malley's family moves her and her toddler brother to the tiny town of Drearford, New York. Here she can start over with a clean slate. Hendricks is surprised how quickly she makes friends. How hunky Connor almost immediately takes an interest in her. How happy everyone is.
Except, as you can guess from the cover, things aren't all good. Her house has a bad reputation. Nothing anyone can put a finger on. Except that guy who murdered his sister. In the house. And then killed himself. In the house. His creepy, brooding brother, Eddie, is still hanging around. Such a mysterious and angry boy, Hendricks certainly doesn't need to associate with the likes of him.
But odd things begin to happen in the house. Strange noises. Disembodied voices. Things moving. Ominous messages written in blood. This is so totally going to put a damper on the kegger Hendricks's new friends want to throw at her house.
Hendricks must solve the mystery of the Steele House before something bad happens to her or her family.
Drinking Buddy: You Are The Character Who Drinks
The people in Drearford were just a little too perfect. Connor, the handsome, charming jock. Eddie, the compelling, sullen loner. Raven, the goofy artistic girl. Her new friend Portia, who describes herself as 'the queen bee mean girl.' Portia immediately wants to know Hendricks' type so she can figure out where she'll fit in at the new high school. And she also wants to set her up with Connor. Everything was just a little too neat. I was waiting for the town's horrible secret. You've always been the caretaker, Hendricks.
Nope, the author just really liked stock characters.
Also, this book had major Hardy Boys Syndrome, where the teenagers have unlimited free time and resources. Hendricks's parents were worried enough to move her to another state, but every time it would be inconvenient for them to be around, they have to work late or go out of town. Very convenient when you need your heroine to be alone in the creepy house.
Finally, Hendricks Becker-O'Malley is the best YA name I've heard in a long time.
Testosterone Estrogen Level: I Am The Love Interest
Nice, handsome guy, vs. the dark, mysterious loner. Never seen that before. The thing is, Hendricks has been hurt before. She's not exactly looking for a date at the moment.
Talky Talk: Show, Don't Tell
In order to make a successful horror story, less is more. We need the unearthly voices to be whispers, not loud, clear sentences. We need the telekinetic phenomena to be subtle and unnerving, not huge bloody words on the wall. And the heroine's friends and family should be vaguely disquieted, not completely oblivious.
Dad: Your little brother fell out of his crib and broke his leg, poor thing.
Hendricks: He didn't fall! I saw this mysterious creature smash him to the ground!
Dad: Sounds like your old PTSD is acting up again. Well, off to go to a lot of convenient doctor's appointments so we can leave you alone.
*
Portia: You missed Conner's birthday!
Hendricks: I'm either being haunted or I'm losing my mind.
Portia: He likes you, you know.
Still, the overall mystery was a good one, with an ending I did not see coming. And it's a short book, you can breeze through it a day or two. A good light ghost story for people who don't like sleeping with the light on.
Bonus Factor: Dating Violence
Hendricks's family left Pennsylvania when her ex-boyfriend, Grayson, started to get violent and obsessive. People tend to think of domestic violence as a married adult problem, not a teenage problem. In reality, it can happen to anyone, at nearly any age.
Bromance Status: This is a Book That I Read
I didn't hate you, but I didn't love you. I wasn't scared, but I wasn't bored. I had a hard time relating to the characters, but they weren't exactly flawed. So there you go.
Literary Matchmaking
Asylum (Asylum #1)
Another building with a creepy past features is Asylum, by Madeleine Roux.
FTC Full Disclosure: I received a free copy of this book from the publisher, but no money or dark secrets. The Haunted is out now.