About the Book
Title:
The Hawthorne Legacy (The Inheritance Games #2)
Cover Story: Montell Jordan
BFF Charm: Heck Yes
Talky Talk: Mystery Mastery
Bonus Factor: Sassy Best Friend
Anti-Bonus Factor: Love Triangle
Relationship Status: Still Digging (You)
Red alert! The Hawthorne Legacy is the second book in The Inheritance Games series. If you have not read the first book in this series (The Inheritance Games), man your battle stations turn away now, as there might be spoilers in this review. If you're caught up, however, feel free to continue below.
Cover Story: Montell Jordan
Once again, the covers of this series impress. A quick Google didn't turn up anything about this book's cover creation, but I'm hoping it's once again a 3D sculpture rather than something created using a computer. Of course, there's nothing wrong with a digital image, but there's something really compelling about the thought that these covers are physical, tangible pieces.
The Deal:
Avery Grambs has a lot of time left in the year she needs to live in Hawthorne House, and she's already survived one attempt on her life as well as dealing with the various Hawthorne family members—which is a different sort of survival, but survival nonetheless. Some mysteries have been sorted, but even more are waiting to be figured out. Namely: Who is Avery to the Hawthornes? Because she knows deep down that she's more than just a pawn in their game.
BFF Charm: Heck Yes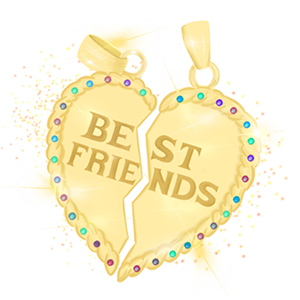 Avery, even after facing her own mortality and trying to come to terms with being the world's youngest billionaire, remains down to earth and caring, even though she's obviously still reeling from the events of The Inheritance Games. She's buckled down some, though, and she's not as willing to just be a part of the Hawthornes' game; she wants to be an active player, and she's actually really good it. She uses the fact that she wasn't born into privilege, her "outsider" status to make conjectures and come up with theories that her rich fellow players might never have thought of. I continue to envy that ingenious mind of hers. And her private jet. (Although, I am more educated on how wasteful and un-environmentally friendly private jets are now, so I'd probably not want to use that perk of our BFF status unless it was an emergency.)
Swoonworthy Scale: 7
As annoying as love triangles can be (more on that below), the truth is that the Hawthorne brothers are all catches in their own right—if you can get past their very Hawthorne natures. Avery's lucky for more reasons than the billions left to her in Tobias the First's will, and two of those happen to be the attentions of both Jameson and Grayson Hawthorne. She has a hard time deciding what her heart wants, but I think she decides by the end of the book who she's meant to be with.
Talky Talk: Mystery Mastery
Barnes would fit right in with Avery and the Hawthornes; anyone who can plot a story like this with all the twists and turns, secret passages, and codes to break would fit right in with the family who's grown up solving mysteries and playing complex games. I am equally as impressed with Barnes's brain as I am Avery's. (Although, since Barnes created Avery, I'm probably just impressed with her.)
There's a feeling of completion to The Hawthorne Legacy that I wasn't quite expecting, however. Although there are more mysteries to solve in the third book, the biggest mystery of the first book is semi-solved in this second one. I suppose that makes it less of a bridge book, but I'm curious to see what new mysteries Barnes introduces in the The Final Gambit that don't feel too rushed to solve in one sitting.
Bonus Factor: Sassy Best Friend
Avery's best friend Max is a welcome addition to the gang in The Hawthorne Legacy. She adds the right amount of "real world" perspective to the whole of the situation, and is delightfully nonplussed about the Hawthornes while in their presence (but does the appropriate amount of squeeing in private). She's also extremely understanding about Avery being MIA for a bit; she knows that the past little while has been overwhelming to an extreme, and although she's not entirely happy about it, she never makes Avery feel (too) bad about being not the best of friends for a while.
Anti-Bonus Factor: Love Triangle
The love triangle between Avery, Grayson, and Jameson is sometimes fun, but mostly just frustrating. (As most love triangles often are.) We don't get to see the chemistry from either of the guys' sides, either, so it's a lot of "in Avery's head" back-and-forth business while she's trying to figure out which her heart really wants.
Relationship Status: Still Digging (You)
Your mysteries continue to entertain, Book, and although I have my complaints about your choices in love interests—mostly that you have too many—I do get the appeal of both of your options. Just, please, make up your mind. I don't know how many more "but this guy, but this guy" conversations in me. (I'm just too old for that drama.)
Literary Matchmaking
We Were Liars
E. Lockhart's We Were Liars also features rich kids, family secrets, and unanswered questions.
Pest
Elizabeth Foscue's Pest features a young woman from a lower-class background trying to compete with her rich classmates.
FTC Full Disclosure: I bought a copy of this book with my own money and got neither a private dance party with Tom Hiddleston nor money in exchange for this review. The Hawthorne Legacy is available now.