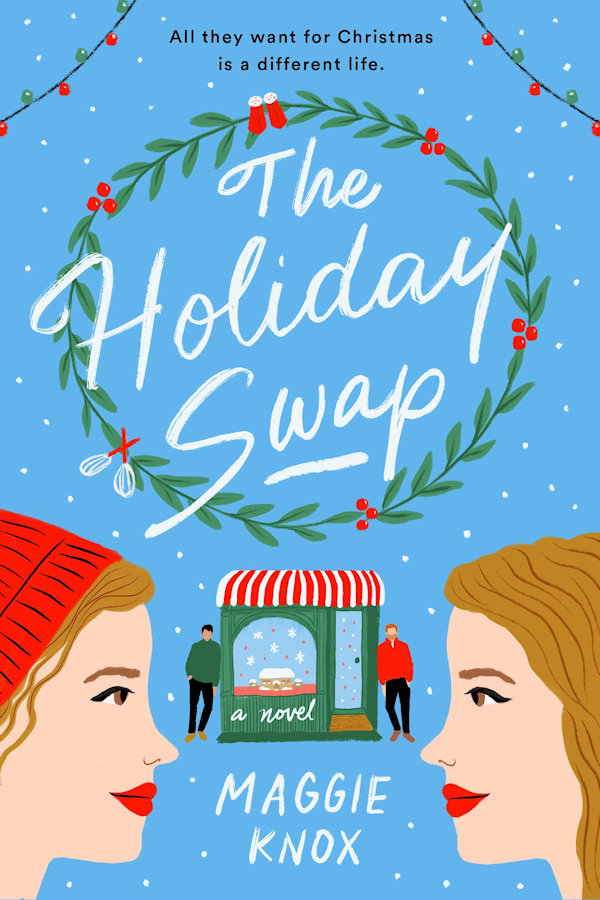 Deck The Halls: Cartoony, But Make It Christmas
Naughty or Nice List: Nice x2
Melt My Marshmallows: Give That Snowman A Scarf
On A Scale from The Grinch to Buddy The Elf: Candyland Confection
After the year(s) we've all had, I think it's time to bring back the dopamine-inducing fun of the Holiday Series! Wherever you find yourself, it's time to cozy up in your favorite sweater or under your softest blanket, get yourself something sweet to nibble on, and spend some time believing in the magic of the holidays.
Deck The Halls: Cartoony, But Make It Christmas
The romance genre outside of historical novels is firmly entrenched in this cartoon cutesy trend, and it works for this book. The only thing they could've improved upon is adding bread or some kind of baked good motif in there somewhere (I know there's the gingerbread house in the store window but it's teeny tiny! The sourdough starter should've gotten a visual shout-out.).
What's Going On In Santa's Workshop
Charlie is co-host of Sweet & Salty, a baking competition show that sounds exhausting, but behind the scenes the competition is really between her and Austin, her manipulative co-host, for a spot on a newer cooking show with an even worse name, Bake My Day. Charlie sees her career aspirations sinking faster than a soufflé when the oven door is opened early after she gets a concussion from a pan to the noggin and realizes she's lost her sense of smell and taste.
In a twist you never saw coming, Jessica Charlie has an identical twin sister, Elizabeth Cass! Cass runs the family bakery back in the small town of Starlight Peak, and she agrees to take over Charlie's life for the week leading up to Christmas while Charlie takes care of the bakery for her because she is a great sister and also needs an excuse to get away from her ex-fiancé who won't accept their break-up.
What will surprise you is that it's not exactly a piece of cake to completely take over someone else's life, especially when your sister keeps losing her phone or forgetting to call you back. Or when a hot dude who thinks you're someone else starts to take interest in you…
Naughty or Nice List: Nice x2
Despite some flakiness and a glaring inability to clearly communicate (OMG LOOK FOR YOUR PHONE WHEN YOU'RE IMPERSONATING YOUR SISTER, CHARLIE.), I suppose both Charlie and Cass can be on the nice list. Theirs is a classic story of figuring out that what you thought you wanted may not be what you actually need out of life. They resolved their issues in the final third of the book with less way drama than I was anticipating. I think I ended up liking Cass's storyline more than Charlie's, but the authors created a nice balance on the back and forth POVs that I never really felt like either dragged for too long.
Melt My Marshmallows: Give That Snowman A Scarf
You can use your fully intact marshmallows to create a little snowman with a jaunty top hat and rest assured that he will last until January because he is in zero danger of melting from any heat coming from these pages. Cass and Charlie's romances are sugary sweet and if anything is in danger, it's your blood sugar about to spike.
The only complications in their romances come from the fact that the women refuse to tell the men they're falling for who they really are, but like…neither guy—a firefighter and a Physician's Assistant—is directly related to Charlie's entertainment job, plus they aren't the types to blast anything on social media or accidentally let it slip. So…why the secrecy except as a lame plot device? (I will say the authors resolved both situations JUST as I was starting to really side-eye my tablet, so thank Rudolph's red nose!)
We Got (Christmas) Spirit, Yes We Do!
This was my first Christmas romance read of 2021 and I think it was a good, uncomplicated choice! It balanced the right amount of saccharine Christmas sentiment with the rest of the story elements and used the most concentrated Christmas scene (the annual Starlight Peak Christmas Eve party in town square) judiciously right at the very end.
Mistletropes
The Goodwins' bakery has an annual tradition of selling special sourdough Christmas bread; Charlie's TV show is doing a Christmas-themed recipe competition; there are plenty of cheery family gatherings and snow-filled scenes to keep you warm and cozy. There's Christmas miracles and baked goods/sweets galore!
On A Scale from The Grinch to Buddy The Elf: Candyland Confection
It's squeaky clean and a super familiar plot—are you in the mood for something like Netflix's The Princess Switch but with less Vanessa Hudgens and royalty?—though the writing was definitely more palatable than the standard, cookie-cutter fare Hallmark has been doling out. Sometimes I just want to mainline a story that leaves me happy, and this one managed to get me invested enough that I found myself smiling at all the right moments.
FTC Full Disclosure: I got this book from the library. I received neither money nor Christmas cookies in exchange for this review. Holiday Swap is available now.