About the Book
Title:
The Impossible Knife of Memory
Cover Story: Shitty Beatles
BFF Charm: Let Me Love You
Talky Talk: Intensity in Ten Cities
Bonus Factor: Non-After School Special
Relationship Status: Serious
Cover Story: Shitty Beatles
The Shitty Beatles isn't just a clever name, and this artwork isn't just a clever cover. It's gorgeously stark and understated, but it's also wonderfully symbolic and even a bit prophetic.
It's always nice when good covers happen to good books.
The Deal:
After years spent on the road, skipping from town to town, Hayley and her father, Andy, have finally returned to her childhood home, where they both hope to reclaim the peace of the distant past. Hayley hasn't been in school for several years, so the transition is tough, especially since most of her classmates seem to be mindless zombies. That is, with the exception of Gracie, her old grade school friend, and Finn, a boy so charming, he might manage to infiltrate Hayley's emotional fortress.
But school is a cakewalk compared to life at home, where Hayley's dad drinks the day away then wrestles in the dark with nightmares. Battered by war injuries and haunted by flashbacks, Captain Andy is a disabled veteran sinking further and further into the hellish quagmire of his own mind, and even the strength of Hayley's love may not be enough to pull him out.
BFF Charm: Let Me Love You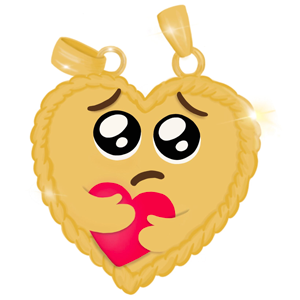 Hayley is a scrappy gal, a fighter who's tough and tenacious. In her 17 years, she's faced enough challenges to fill a century, and yet she continues to move forward with a determination I found to be utterly inspirational. She's broken, but she never stops trying to piece together a life with her dad. I savored the chance to delve into the depths of her emotional complexity while soaking up her wry sense of humor and gritty attitude.
Since she's (understandably) prickly, Hayley probably wouldn't accept the approximately billion hugs I want to give her, but I would settle for a few minutes of her feisty company over a plate of peanut butter and banana sandwiches.
Swoonworthy Scale: 7
When I say that I swimfanned over Finn, I mean that literally, since the dude used to be on the swim team and still has a bangin' bod. But it's not just his abs that make him amazing. He's insanely clever, and his exchange of fictional pasts with Hayley made for some of the best romantic banter I've read in a long time. Thanks to his own family drama, Finn's capacity for feeling is far greater than most boys his age, which makes him equal to the task of loving Hayley.
Also? He's really great at planning first dates.
Talky Talk: Intensity in Ten Cities
If you've read any of Laurie Halse Anderson's books, then you already know that girlfriend does NOT mess around. She tackles serious issues with the delicate precision of a surgeon, her words slicing through the page and straight into your heart. Bold and powerful, Hayley's voice rings with authenticity, and her thoughts are weighty while still fluttering with adolescence. Her father's demons breathe a harrowing amount of tension into the story, but thankfully, there's snatches of playfulness that give you space to breathe.
Bonus Factor: Non-After School Special
In addition to PTSD and alcoholism, this novel also deals with drug addiction, divorce, the pressure of college applications and the lack of care given to veterans in this country. It sounds overwhelming, but Anderson, guided by her own personal experience, carefully weaves each element into the story in a way that feels natural and intimate.
This book is a hard read, to be sure, but it's also a surprisingly enjoyable one.
Relationship Status: Serious
There's no way to keep it casual with this book, but why would you want to? It only took a few pages for me to get completely attached to Hayley's story, and by the end, I was ready to say "I love you." Things between us got real fast, but our connection, forged in a fire of raw emotion and brutal honesty, is genuine, and it won't be fading any time soon.
FTC Full Disclosure: I received my free review copy from Viking Books. This review was originally posted on Kirkus Reviews in exchange for monetary compensation, which did not affect or influence my opinions.