About the Book
Title:
The Love That Split the World
Cover Story: Montell Jordan
BFF Charm: Platinum Edition
Talky Talk: Story Time
Bonus Factors: Time Travel, Adoption, Supporting Cast
Relationship Status: Honeymoon Stage
Cover Story: Montell Jordan
Do you ever wish that books received similar treatment as TV or movies? Not only in public adoration and recognition (because omg there can never be enough IRL friends to chat books with), but with their covers being made into poster prints. I wish I had an illustrator credit for this, because HOLY SHIZZ—this is gorgeous and memorable and MORE YA COVERS LIKE THIS, PLEASE.
The Deal:
It's the summer before college-bound Natalie Cleary leaves her Kentucky hometown. But then she starts seeing things: changes in details that no one else seems to notice—including the return of a seemingly all-knowing woman that she only knows as Grandmother, who has a simple message to deliver: "You have three months to save him." But who does Natalie need to save? And why does he need saving?
BFF Charm: Platinum Edition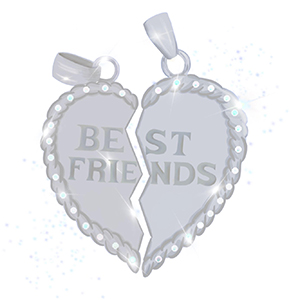 Splendidly sarcastic and fiercely feminist, I'd be jealous of how wise Natalie is if I wasn't so IN AWE. Girlfriend has a better understanding of gender politics than many before her that have taken more years to reach the same conclusion. And she isn't afraid to defend her beliefs, even if her own friends are the ones on the other side. You keep doing you, Nat!
Swoonworthy Scale: 6
Natalie's on friendly terms with her ex, Matt,* but it's new arrival Mysterious Loner Dude Beau Wilkes that's caught her attention. A football-playing hottie that knows his way around around a beer bottle, Beau Wilkes contains hidden depths and totally deserves full-name status. (The latter which he also imparts onto Natalie Cleary, because he's correct in recognizing her awesomeness.)
*Although it's uncertain if they've ever discussed handbags.
Talky Talk: Story Time
Between the actual plot itself and Natalie's recollections of Grandmother's folk tales, this book does a fairly good job of relaying a lot of exposition. Some portions do pack quite a bit of information to keep track of, but the writing still commands attention. This is a strong debut from a gifted storyteller, and I only wish my review copy had included any possible author's notes or insight into her writing process, esp. with regards to research on the Native American legends that were mentioned in the book.
Bonus Factor: Time Travel
This form of time travel more resembles visiting alternate dimensions, but it's abundantly clear that great care went into establishing its rules.
Bonus Factor: Adoption
Born to a Native American woman, Natalie was adopted into a white family shortly after her birth. As much as Natalie loves her family, it's understandable for her to be curious about her biological roots as well. In addition to Natalie's discovery of her cultural identity, this book touches upon the painful history of adopting Native American children away from their biological families and severing their ties to their heritage.
Bonus Factor: Supporting Cast
I could go on with bonus factors for almost everyone else in the cast. Emily Henry has populated the story with lively and engaging characters, like Natalie's sister-from-another-mister BFF Megan, and the blunt and prickly researcher, Alice. 
Relationship Status: Honeymoon Stage
I've liked the book from afar for a while, so I was eager to finally take it out on a long-anticipated date. Much to my relief, it dazzled me with its plentiful smarts and sneaky humor. Sure, we weren't on the same page for everything, but I'm too busy basking in our love to care right now.
FTC Full Disclosure: I received my free review copy from Razorbill. This review was originally posted on Kirkus Reviews in exchange for monetary compensation, which did not affect or influence my opinions. The Love That Split the World is available now.