About the Book
Title:
The Midnight Star (The Young Elites #3)
Cover Story: Save the Best for Last
BFF Charm: Caution!
Talky Talk: Absolute
Bonus Factors: Fatal Flaw, United in Crisis, An Eye for an Eye…
Relationship Status: MISS YOU ALREADY
Spoiler Alert: This is Book 3 of the Young Elites series. Spoilers ahead for Books 1 and 2!
Cover Story: Save the Best for Last
I could just be partial to majestic mountain ranges, but these fantasy covers may have finally won me over. Although the combination of the title, colour scheme, and curved geometry gives off major cover déjà vu of another 2016 series finale, Pierce Brown's Morning Star.
The Deal:
After seizing the throne in Kenettra, Adelina finally has everything she wants. Well, except that her sister, Violetta, has left her side, conceding that Adelina's been lost to darkness. And that her reign's been pretty violatile so far, given all the uprisings against and assassination attempts on her.
OK, so maybe things haven't been so peachy for Adelina. But she's not the only Elite in trubs. In fact, they all are — against a threat much bigger than any of them alone. For Adelina to hang onto her empire, she'll have work together with her former friends in the Dagger Society. If they don't try to take her down first or vice versa, that is.
BFF Charm: Caution!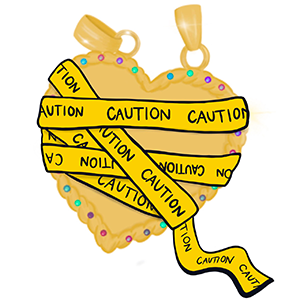 It probably speaks to my utter lack of survival instincts that I still stan for Adelina. Girlfriend is getting scarier and scarier, with her newly-minted queenhood and estrangement from Violetta. But I can't help wishing for a Monsters, Inc.-esque epiphany for her ability to be fueled by joy instead of fear, if only for the remnants of the abused and powerless girl who I have to believe isn't beyond saving.
Swoonworthy Scale: 10
Adelina cares for Magiano more than she lets on — UNDERSTANDABLE, since the swashbuckling thief has been stealing hearts since he first appeared. I'll admit to wondering why he's still with her sometimes, so it thrilled me to no end that omg the book actually addresses this. As for the dramatic leap on the swoonworthy scale, there's no way I could give Adelina and Magiano anything less with what they do to MY HEART.
Talky Talk: Absolute
From the very first page, Lu sets a bone-chilling stage for unleashing Adelina's wrath. The evolution of her rise and rule over these three books culminates in my favourite descent into villainy since Breaking Bad. As she's already proven with the Legend series, Lu is masterful at finales, so it's long overdue that she gets her own Talky Talk category.
And y'all, as someone who rarely cries over entertainment, I mean serious business with the DNRIP tag. I usually only get as far as the tears swelling stage, but this had me FULL-ON BAWLING. REPEATEDLY. (Fortunately, I hadn't been reading in public when the waterworks started. But, uh, thanks for gifting me the indelible memory of silently sobbing in a hotel room in Shanghai, Marie Lu.)
Bonus Factor: Fatal Flaw
I'm a fan of superpowers — although who isn't? — but especially when they come with a weakness. Something to balance out these extraordinary abilities, you know? (Or Newton's Third Law, if you want to get all nerdy about it — and I do.) And the Elites are each rapidly discovering the price of theirs.
Bonus Factor: United in Crisis
Hero or villain, this affliction affects all Elites. And they'll have to work together for any hope of surviving it. A reluctant alliance between Adelina and the Daggers is SUCH a Magneto/X-Men team-up.
Bonus Factor: An Eye for an Eye…
The tragedy of Adelina's rage has always been evident:
I am tired of being used, hurt, and tossed aside.

It is my turn to use. My turn to hurt.

My turn.

The Young Elites
It must be so tempting, Adelina, to reciprocate the cruelty that's been inflicted upon you. Why shouldn't they suffer, as you had at their hands? Why do you have to rise above? But vengeance is not justice. Nor is it without its cost. Ultimately, do you sacrifice your own humanity to begin the vicious cycle anew? Or do you hang onto it dearly to try to forge a better path? The high road isn't an easy one (sometimes so, so, SO not easy), and Adelina has long since made her choice. But now the tables have turned completely, with her at the height of her power. And with great power comes great… destruction?
Casting Call:
Whyyyyyyy has there been no progress on the potential film adaptation? Get your shit together, Hollywood. (Although to rain on my own parade: a studio buying film rights doesn't guarantee that it'll get made, and I'd rather they take time to get it right because OMGGGG IT COULD BE SO GREAT.)
Relationship Status: MISS YOU ALREADY
Book, you wrecked me in the best way possible; my heart aches at the mere thought of you. I know all good things must come to an end, but in the words of the bad Michael Bolton, TELL ME HOW AM I SUPPOSED TO LIVE WITHOUT YOUUUU?!?! Can I just stay in a TEABS coma until the next Marie Lu book comes out?
FTC Full Disclosure: I received my free review copy from G.P. Putnam's Sons Books for Young Readers. I received neither money nor gelato for writing this review (dammit!). The Midnight Star is available now.