About the Book
Title:
The Names They Gave Us
Cover Story: Daily Devotional
BFF Charm: Big Sister
Talky Talk: Lord Almighty
Bonus Factors: Summer Camp, Group Dynamic
Relationship Status: Summer Lovin'
Cover Story: Daily Devotional
This cover is a parts vs whole situation for me. I like the parts separately – the blues and greens, the watercolor, the tree are all lovely. But combined, they remind me of one of those devotional workbooks you'd buy at a Christian bookstore. And actually, that's not all that off base since Christianity plays a large part in this book. I definitely prefer the UK version which sticks to the same watercolor/tree combo but feels less like something your preacher would give you as a graduation gift. (Also it's rainbow and has METALLIC STARS which is taken straight out of the book.)
The Deal:
Lucy Hansson is preparing for another summer of hanging out with her perfect boyfriend and working at her parents' Bible camp when life throws her a few curveballs. Her mother's breast cancer rears its ugly head for the second time, and her boyfriend puts their relationship "on pause." At her mother's urging, Lucy makes a last minute change of plans and signs up to be a counselor at Daybreak, the camp for troubled kids that's located across the lake from her family's camp. She worries she'll be spending her summer surrounded by heathens and anarchists, but what she finds is a group of people facing their own problems in ways she's never considered. As bonds are formed and family secrets are revealed, Lucy begins to realize that there's much more gray area than her black-and-white views of the world had previously led her to believe.
BFF Charm: Big Sister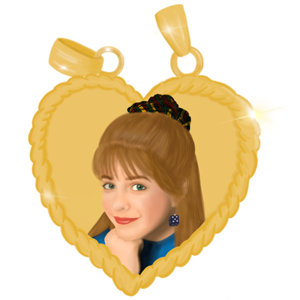 Ah, Lucy. Sweet, naive Lucy. Our girl could really have used a big sister to teach her a few life lessons. Lucy is a preacher's kid, and a very good one at that. She goes to church, she listens to Christian music on the radio, she assumes that her parents are (and thus she should be) against everything that is considered "bad." When the book begins, Lucy's brand of religion has little wiggle room. She isn't judgmental or mean-spirited, she's just…uptight. I did the whole church camp/youth group thing in high school, and though my church wasn't as…churchy as Lucy's, I recognized a bit of my high school self in her. But as an adult who no longer goes to church, I found myself getting frustrated with her naivete. Like, babe, there are lots of really good people who don't go to church every Sunday. They aren't all devil worshipers.
Thankfully, being at Daybreak allows her to meet people who open her mind a bit. And as the story unfolds, Lucy realizes that maybe she's spent her life wrongly assuming that her parents' views were as black and white as her own. Once Lucy learns to relax a little, she becomes someone I'd happily hand a BFF charm over to.
Swoonworthy Scale: 5
Shortly after Lucy arrives at Daybreak, she meets her fellow camp counselors, including the adorable, trumpet playing Henry Jones. If you've never read an Emery Lord book, let me go ahead and tell you: the girl can write a cute boy. Henry is no exception. He's sweet, well-dressed, talented, funny, great with the camp kids, and totally into Lucy. Their swoon is innocent and slow-burning, but like a handful of books I've read lately, Henry fell into the trap of being a little TOO perfect. I know we should all have high standards when it comes to the guys we date (because women are queens who deserve the best LET'S BE REAL), but I found myself wishing that Henry was a little more flawed, or that their relationship had to overcome more conflict than the standard trope of bad communication/keeping secrets from each other.
Talky Talk: Lord Almighty
Emery Lord is one of my favorite contemprorary YA writers for good reason. She manages to write characters that are fun and funny – people you'd want to be friends with – while simultaneously infusing her stories with so much emotion, you're certain to cry at least once in the story. This has felt like a consistent theme in all four of her books, and she delivers again in The Names They Gave Us. She also tackled religion in this one, which can be a hard subject to broach, especially the way Lucy questions her own faith with her mother's cancer diagnosis. All of this to say, this book never felt like a Jesus book. Lucy's struggle felt very real without feeling like Lord was trying to convert her readers.
Bonus Factor: Summer Camp
Summer camp books always make me feel so nostalgic. I'm a firm believer in the idea of a summer camp for adults. Cabins and lakes and mess halls and arts-and-crafts and bonfires. Sign me up!
Bonus Factor: Ensemble Cast
I love a good group of friends and The Names They Gave Us features a truly great supporting cast. In addition to Lucy and Henry, we get Keely, Anna and Mohan. The gang spends Friday evenings drinking bad liquor and eating s'mores around a bonfire in the woods. They're always there to support each other, and they all, each in their own way, help to open Lucy's eyes to the world around her.
Relationship Status: Summer Lovin'
Book, we really bonded in the short time we spent together and no matter what happens when camp is over and we go back to school, I'll always have fond memories of our nights around the bonfire.
FTC Full Disclosure: I received a copy of this book from Bloomsbury, I did not receive money or Girl Scout cookies of any kind (not even the gross cranberry ones) for writing this review. The Names They Gave Us is available now.