About the Book
Title:
The Ones We're Meant to Find
Cover Story: Bizarre Beauty
BFF Charms: Yay, Caution
Talky Talk: Dreamy Dystopia
Bonus Factor: Sisters
Anti-Bonus Factor: Humanity
Relationship Status: Hung Over
Cover Story: Bizarre Beauty
At first glance, this cover, and the girls on it, is simply lovely. The painting-like quality of the art, the softness of their hair, and the expressions on their faces: all beautiful. But then you realize that the heads are just kind of floating in the sea? Are there bodies attached? Are they giants, or are the waves small? Thinking about this one too hard leaves me unsettled. But it's still really, really pretty.
The Deal:
For three years, Cee's been trying to get home to her sister, Kay. The island she's been living on, alone, since being lost at sea provides enough of what she needs to survive, but the urge to leave and find Kay grows stronger with the day.
On another sort of island—a city in the sky meant to serve as humanity's new home after they've basically destroyed the planet—Kacey misses her sister Celia, who went missing at sea three months prior. Although most have given up on finding Celia, Kacey decides to try and retrace Celia's last moments to figure out what happened.
BFF Charms: Yay, Caution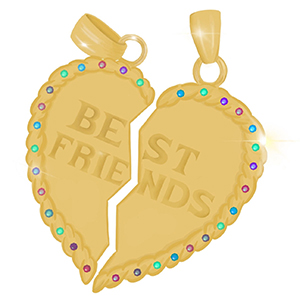 Cee is a sweet, determined, headstrong young woman with a plan. And I really like that about her. She doesn't remember much of her past, and what she does remember doesn't always match the person she is in the present, but together all of the parts combine to make someone who would very much be worthy of a BFF charm … if you could manage to come between her and her quest to find Kay.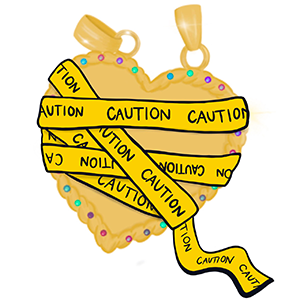 Kacey, on the other hand, would be a tough nut to crack. She's … different … and not always in a way that makes me feel safe. Her brain works differently than others, and she occasionally veered awful close to psychopath territory with her lack of emotions and general disregard for societal norms. But she's undeniably smart and likely the only person who can get the job (of saving the world) done, so I would certainly try to be her friend, if for purely self-preservation purposes.
Swoonworthy Scale: 7
Cee's extremely surprised when a body washes up onshore. And even more so when the boy, which belongs to a boy, tries to kill her. But when he wakes the next morning and doesn't remember anything, Cee begins to warm to him because of her own experiences. And when you're the only two people around, it's easy to get swept up in feelings, even if there's an underlying mistrust to the whole situation.
Talky Talk: Dreamy Dystopia
It took me a while to fully grasp what was going on in The Ones We're Meant to Find, but the confusion surrounding Cee's story and how it connected to Kacey's didn't detract from my enjoyment of the book. In fact, it heightened the intrigue of the reading experience and made me pay more attention to what I was reading. (Pandemic brain is real!)
He's writing is at times sparse, forcing the reader to fill in details for themselves, but at others lush, letting the reader get swept up in the flow of the pages, which works really well for a story divided into two very different POVs. It's a little frightening, to be honest, at how well He captured Kacey's atypical (and slightly terrifying) personality but also was able to write the super relatable Cee. Kudos to her! (I don't want to get on her bad side!)
Bonus Factor: Sisters
Both Cee and Kacey's connection to their sisters, the lengths to which they'd go for them, was really lovely to read. As an only child, it's hard for me to fully grasp what it means to have blood siblings, but The Ones We're Meant to Find gave me really strong insight into one such relationship.
Anti-Bonus Factor: Humanity
Every time I read a cli-fi novel (climate fiction, or books that deal with climate change and the environment) I am shamed by the lengths humanity will go to not change their ways in the slightest even if it would make everything better and only involve a little inconvenience. (Myself included. I know I can do better, and the Earth 100% deserves that.)
Relationship Status: Hung Over
You were not at all what I was expecting of you, Book, and you took me places I'm not sure I wanted to go. But I quickly got caught up in your story, and even when I got uncomfortable, I kept reading because I had to know where things ended up. You're going to stick with me for a long time to come!
Literary Matchmaking
The Vanishing Deep
Astrid Scholte's The Vanishing Deep is another dystopian novel about sisters and the sea.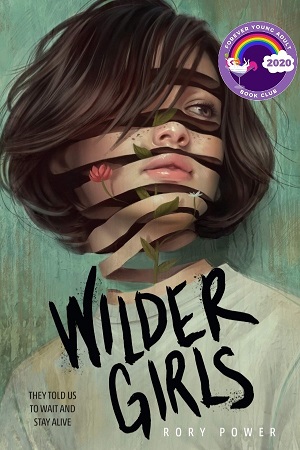 Wilder Girls
Cee's time on the island reminded me some (minus the body horror) of Rory Powers's Wilder Girls.
FTC Full Disclosure: I received a copy of this book from Roaring Brook Press, but got neither a private dance party with Tom Hiddleston nor money in exchange for this review. The Ones We're Meant to Find is available now.