About the Book
Title:
The Otto Digmore Decision (Otto Digmore #2)
Cover Story: More Mature
Drinking Buddy: Champagne
MPAA Rating: R (nudity, adult situations, strong language)
Talky Talk: Power Bottom
Bonus Factors: Movie Making, Disfigurement
Bromance Status: Digital Nomads
Cover Story: More Mature
This series used to be conspicuous for its hunky cover models, but as Otto and Russel approach 30, we're getting a much more grown up vibe. I like it.
The Deal:
Aspiring actor Otto Digmore is wondering if he'll ever get that big break. A man with bad facial scars, he often finds his offered roles skewing toward the horror genre. To make things worse, when a mature movie calls for a disfigured actor, they usually just CGI someone unscarred. Otto managed to land a role on a college drama TV show, but it was cancelled. At 29, Otto worries his best roles may be behind him.
But wait! Russel Middlebrook, Otto's ex and an aspiring screenwriter, has just sold a script, Blackburn Castle. It's a heist movie set in the Middle Ages, and best of all, there's a character with bad facial scars that would be perfect for Otto.
When Otto is cast, it's his every dream come true. Filming in England and Malta! Hobnobbing with some major celebrities! And getting his face out there for the world to see!
Except, the course of cinema never did run smooth. It didn't occur to Otto at the time, but Russel used every bit of influence he had to get Otto into this movie. That smacks of nepotism to the people involved in the production. To make things worse, the movie people treat the actors to first class accommodations: limos, hotels, and dining. Russel, on the other hand, is a writer, who is barely considered human. He's allowed on the set, but he's forced to take taxis, stay in mid-grade hotels, and eat on his own. This obviously makes things awkward for Otto, who tries to hide how much better he's being treated.
Finally, there's the director, Gabriel. Gabe is enthusiastic, fun loving, and absolutely incompetent. He wants to cast Otto as a pathetic figure rather than an angry, sexy one. He misrepresents Russel's entire vision. He wants to make this a slapstick film! He's going to ruin everything. Blackburn Castle is going to be a flop. And there's nothing Otto and Russel can do.
Or is there?
Drinking Buddy: Champagne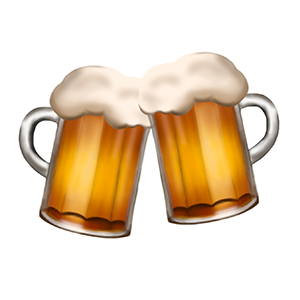 Otto and Russel feel they are on the cusp of greatness, if only those in charge weren't trying to change their creative dream (hmm, why does that sound familiar?). Disfigured Otto knows that he could be a sex symbol if the director would let him play the character the way Otto sees him. Does Otto speak up and voice his concerns, knowing the director might start thinking of him as a prima donna who can't take direction? Or does he just do as he's told, knowing Russel's movie, which has the potential to be a blockbuster, is going to be a huge bomb?
MPAA Rating: R (nudity, adult situations, strong language)
While Otto is happily dating his agent, Greg, he still thinks of his friend Russel as the one who got away. Russel is married to a guy named Kevin now, and I have to say that Greg and Kevin are the most understanding and trusting partners I've seen in literature. But Otto always is a gentleman.
That being said, Otto is doing a nude scene in the movie, and he's determined to make the most of it. He's a good looking guy, and it's about time the world realizes that. He's going to show the audience that a disfigured person can still be sexy. The problem is that the director doesn't see things like that and is determined to make this watershed scene brief. Very brief. The director denies it, but it's clear he thinks the audience doesn't want to see this gross scarred up guy get naked.
Talky Talk: Power Bottom
Otto and Russel are in a very precarious position. They're the new guys in an industry where a thousand people would gladly step in and take their places. Otto knows that he should just toe the line and hope that Blackburn Castle might be a stepping stone to something better. But he can't just let Gabriel screw up Russel's script. And as much as Otto wants that Oscar, he wants Russel to be a success even more. And that's what makes this book beautiful. Otto wants to be a star, but even more so, he wants Russel to be a success.
One of the actresses in the film sees Otto's predicament and suggests a strategy, using a gay relationship analogy: Otto should become a power bottom. He'll act submissive, while secretly running things through subtle, behind the scenes actions. But could this work in real life?
Bonus Factor: Movie Making
Now if Otto and Russel were the only ones who doubted the director's skill, it would be one thing. But as the filming progresses, Otto realizes that almost the entire cast and crew think Gabriel is screwing up the movie. This includes some big name actors. But filming isn't a democracy, and one can only make so many suggestions. Then they hit upon a plan.
Say, if some actors and crew members hung around the set after the filming was complete. And say they reshoot some of the scenes the right way. And what if those takes wound up in the dailies (the clips they send back to the studio after each day's filming)? Maybe the producers will insist that the good clips be used when the editing starts.
A risky plan? Certainly. I think everyone has always fantasized about working in the movies, either in front of or behind the camera. Once Gabriel finds what everyone has been doing, he's not going to be happy, even if this film is a success. And this is one of the few industries where 'You'll never work in this town again,' is a legitimate threat.
The lead actors can get away with a stunt like this. But for people like Otto and Russel, they're gambling with their entire career. At what price art?
Bonus Factor: Disfigurement
Otto is attempting to make it in an industry where being fifteen pounds overweight is a career ender, and if you haven't made it by 30, you'll never make it. Otto has missed out on a lot of good roles because of his face. Casting agents simply find it too distracting. He could probably make some dough if he wanted to reinvent himself as a horror movie villain, but he aims higher. Blackburn Castle may be his only opportunity to make it big. Is it worth breaking the rules?
Bromance Status: Digital Nomads
In the sequel, Russel plans on becoming a digital nomad (much like the author and his husband). I can't wait to read their further adventures.
Literary Matchmaking Scream All Night
In Scream All Night, by Derek Milman, we find another incompetent director and a disaster-plagued production.
FTC Full Disclosure: I received a free copy of this book from the author, but no money or first class airline tickets. The book comes out January 15.