Cover Story: Sunny and Sheddy
BFF Charm: Make It Rain
Talky Talk: Southern Tragic
Trigger Warnings: Physical and Mental Abuse, Bullying, Severe Depression
Bonus Factors: Outcasts, Keith Mars Award for Awesome Dadhood, Church of God with Signs Following
Anti-Bonus Factor: Dan Scott Award for Awful Parenting
Relationship Status: Considering the L Word
Cover Story: Sunny and Sheddy
The background image on this cover is pretty idyllic—kids sitting on a structure watching the sun set. It makes me think of summer nights, being a kid with few cares in the world, and spending time with the people who mean the most. The styling of the title, however, adds a bit of an ominous feeling while working well with the title itself; it both looks like snakeskin shedding and a chain link fence, hinting that perhaps all isn't as perfect as it might seem.
The Deal:
Dill Early is the son of a disgraced preacher—one whose whole life is based around the Bible verse Mark 16:18 ("They shall take up serpents; and if they drink any deadly thing, it shall not hurt them; they shall lay hands on the sick, and they shall recover.") Dill struggles with his faith, but finds solace in music.
Lydia Blankenship is the daughter of a successful dentist and realtor who've raised her to be a smart, successful, open-minded woman. She wants nothing more than to escape the tiny town she grew up in, and has already started down that path with her popular fashion blog Dollywould.
Travis Bohannan is the son of a man who peaked in high school and likes to take his frustration with adult life out on his family; thankfully, Travis has learned from his father's mistakes. He would much rather get lost in a Game of Thrones-like fantasy world than spend time with real people (other than Dill and Lydia).
The three have been best friends since the start of high school, and the bubble they've created for themselves is impenetrable to even the worst of their classmates. But now that senior year has begun, the future—and the changes it brings—is looming, and it's got a very sharp point.
BFF Charm: Make It Rain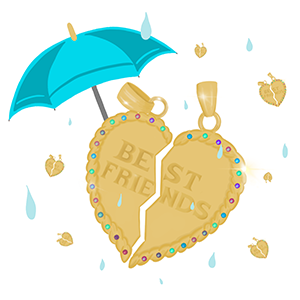 Even though I was a bit of a nerd in high school, and hung out mostly with the drama and music kids, I never really felt like much of an outcast. (TL;DR—I had an unusual high school experience.) Had I gone to Forrestville High School with Dill, Lydia and Travis, however, I would have definitely gravitated toward the three. They each have aspects of their personalities that I find appealing: Dill's an attractive and MLD-ish musician, Lydia's a sassy and outspoken fashion fiend, Travis is obsessed with fantasy books. None of them are perfect, of course; they have their flaws just like everyone else (particularly teenagers), and two of the three are dealing with some heavy shizz in their family lives. But overall, they're all just so darn cool.
Swoonworthy Scale: 8
I didn't expect to rate The Serpent King so high in this category; there's a lack of romance in most of the book, but it doesn't detract from the story in any way. However, I was pleasantly surprised by the influx of swoon in the last quarter of the book, and promise you that it's not just shoehorned in for swoon's sake.
Talky Talk: Southern Tragic
The small town of Forrestville, Tennessee, is a pretty typical southern town, full of true characters—in the unusual and unique person sense of the word—and the kind of events that only happen in small towns. Having grown up in a rural area, albeit not in the south, the world that Jeff Zentner built for The Serpent King feels familiar. Don't let that deter those of you who're from big cities, however—Zentner's worldbuilding is excellent, and it should be easy for anyone to lose themselves in this story.
His characters are also fully realized individuals, each with their own quirks and emotions. The chapters of The Serpent King bounce between focusing on Dill, Lydia and Travis, but it never gets confusing as to who's who. I will admit to being worried at first that Lydia was veering too far into Manic Pixie Dream Girl territory, but Zentner pulls her back before she becomes a cliche.
Trigger Warnings: Physical and Mental Abuse, Bullying, Severe Depression
There are depictions of abuse in this book that some might find triggering—and all will find horrifying and uncomfortable. The bullying is more of the typical teenage variety, but that's not excusing it. And the severe depression stems from all of the above, as well as the aftermath of grieving a death.
(But please, don't let any of this dissuade you from reading this book.)
Bonus Factor: Outcasts
I touched on this in BFF Charm, above, but all three of the book's main characters are seen as outcasts by their peers—and all the better for it. They're the kind of outcasts that make you hope to all that is holy that you were more like them in high school, rather than the "cool" kids.
Bonus Factor: Keith Mars Award for Awesome Dadhood
There are a lot of terrible adults in this book (see Dan Scott Award, below), but there are a few pretty awesome ones, too. Particularly Lydia's dad, Dr. Blankenship. He's a caring, witty man who can see beyond words into Lydia's true feelings. He gives good, dadly advice, and can be stern about some things, but he's never patronizing or forceful. He also steps in as a surrogate father to Dill when Dill needs him the most, and doesn't expect anything in return.
Bonus Factor: Church of God with Signs Following
Although I'd heard of this sort of faith previously, I didn't know much about the real-life church that uses snakes and poison in their ministry. It was fascinating reading about it, even if it was just snippets. (And yes, that is the real name of the church.)
Anti-Bonus Factor: Dan Scott Award for Awful Parenting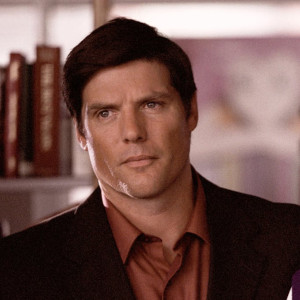 Both Dill and Travis are burdened with terrible fathers. Fathers who are abusive, both physically and mentally, and who blame their sons for their personal failures. Dill's mom is also a sycophant who blames her son for things that are in absolutely no way his fault, and guilts him into making life choices "for the good of the family" rather than for the good of Dill. The most horrible thing about these so-called parents is the fact that they seem like real individuals, and I'm sure there are people in the world exactly like them.
Relationship Status: Considering the L Word
From your very first chapter, Book, I was drawn deep into your story. I laughed, I cried—literally, and more than once—I cheered. It was a rollercoaster ride, but one I'm so glad I went on, and one I'd be totally willing to go on again. Those are definitely hearts you see in my eyes.
FTC Full Disclosure: I received a copy of this book from Crown Books, but got neither a private dance party with Tom Hiddleston nor money in exchange for this review. The Serpent King is available now.