About the Book
Title:
Everybody Sees the Ants
Cover Story: Fan-Freaking-Tastic
BFF Charm: Platinum Edition
Talky Talk: A.S. King, Mofo's
Bonus Factors: Dreams, POW/MIA, The Ants
Relationship Status: This Book and I Will Be Kindess Ninjas-In-Arms
Cover Story: Fan-freaking-tastic!
I LOVE THIS. Love it, do you hear me, publishers? If Little, Brown can recognize that simple, bold artwork catches the eye, why can't the rest of you, hmmm? And look! It's a partial face! And I don't even care, because it looks cool!
The Deal:
This book review took me HOURS to write. I agonized over how to adequately sum up its parts in a way that would do it justice, without just going all OMG GO OUT AND BUY THIS BOOK RIGHT NOW!!!! But do that. Trust, bruv.
Lucky Lindermann is anything but. In fact, he's victim to some pretty horrifying bullying, and there's no one who'll help him. His dad's too distant emotionally — plus, he's always at work — and his mom never stands up for herself, much less Lucky, burying her head and swimming a few more laps.
But his dream life is a different story. Because every night, Lucky travels to the jungles of Vietnam, where his grandfather went MIA years and years ago. There, Lucky can actually fight back, and each morning when he wakes there's something tangible that suggests his dreams are REAL. So Lucky is determined to bring his Granddad back home, somehow. Because maybe if his own father had his dad around, he'd learn how to be a dad himself. Maybe if Lucky could rescue his grandfather, he'd be able to rescue himself.
BFF Charm: Platinum Edition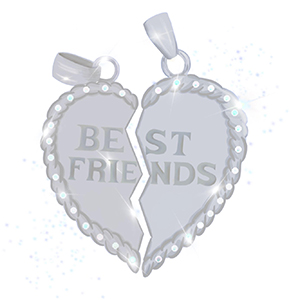 Oh, Lucky. I'm sorry, dude. I really am sorry that you've had to go through all these years of bullying. And I'm sorry about that misunderstanding with the school board over your social studies project. It's not fair, and it's not right, and if I could take it all away, I would. Except all of your experiences have blended together to make you who you are, and THAT, my recipient of a platinum BFF charm, is a fantastic kid with a heart full of both kindness and tolerance, combined with a wicked sense of humor. Here's an example:
It's hard to believe that technically, only a few hours ago, I was getting my ass kicked by Nader McMillan outside the men's room at the Freddy pool. After a while, I get up and inspect my scab in the guest room mirror for the first time. It's dried into a sore, ugly, rucked-up plateau. Parts are cut more deeply than others. I swear he nearly revealed the peak of my cheekbone. No doubt I'll scar and remember Nader every day of my life when I look in the mirror.

On a lighter note it's the exact shape of Ohio. Like — identical. My eyeball is floating lazily on Lake Erie. It's thinking of going water-skiing later.
And Ginny? You rock. I'd offer you a charm, too, but I know you don't need it, because you already have a group of the best girlfriends anyone could ask for.
Swoonworthy Scale: 4
In this story about friendship and family and finding the strength to reach inside yourself to define your place in this world, romance is not the central focus. Still, Lucky is a teenage boy, and King delivers a satisfying mix of boner talk and sweet tingly moments.
Talky Talk: A.S. King, Mofo's
Yes, I'm giving A.S. King her own talky talk category. Why? Because in this, her third book, she strikes a tone yet again that is specifically her own. (See reviews of The Dust of 100 Dogs and Printz Honor Book Please Ignore Vera Dietz.) She also wins the honor of being one of only two YA authors my husband will read — no questions asked. Her writing is real and believable and often-times raw — in a way that makes the voice of her characters tangible — while always dipping a toe in the fantastical. She can tackle ISSUES — Everybody Sees The Ants is timely with its subject matter of bullying, as well as other topics many people are afraid to touch — that inspire the reader to be a better person, to not let old wounds or dysfunctional parents or mean people define us. And she does it in a way that is both heartfelt and humorous, woven so deeply into the story itself, that it never once feels sanctimonious and preachy.
Bonus Factor: Dreams
I love dreams. I love how they can represent so many aspects of your life and what you're going through on a day to day basis — and they can also mean nothing at all. When I was a kid, I used to keep a dream diary of my favorite (or most bizarre) dreams, and today, one of the first things my husband and I do in the morning is tell each other whatever we dreamed about the previous night.
Bonus Factor: POW/MIA
When I was an adolescent, I spent about two years obsessed with the Vietnam War, which mostly meant I read every book on the subject I could get my hands on, watched a lot of Tour of Duty — Lt. Myron Goldman, I L U! — and tried to pass off a research paper on Agent Orange and its effects as a Science Fair project. But in that time, I was made aware of the number of POWs who never returned, not only from that conflict, but previous wars as well. So I saved my pennies and signed up for a bracelet with the name of a young private, who'd been missing since 1969. (My little brother coveted it, and I eventually gave it to him.) This story contains a lot of interesting facts about POWs, as well as the draft system used in 1970.
And that bracelet? My brother still wears it today.
Bonus Factor: The Ants
I'll let the ants speak for themselves:
Jodi chews a bit of her burger and says, "You know, maybe God sent us Lori and Lucky because he knew we had to learn to take care of ourselves better."

Oh. I get it now. God had Nader beat my ass and my mom leave my dad just so Jodi could learn how to chop onions and use a propane grill. Great. Awesome. The ants hold a protest on Dave and Jodi's side of the table, complete with picket signs that read: AUNT AND UNCLE FAIL. THESE PEOPLE SUCK. I'M WITH STUPID.
Relationship Status: This Book and I Will Be Kindess Ninjas-In-Arms
Every once in a while, I meet a book, and it changes my life. It might be in little ways, or it might be a mind-bomb that completely blows my whole perspective wide open. Either way, it changes me forever. This book did that. It reminded me not only of who I am, but who I want to be. It left me full of hope and determination, so I'll leave off with the immortal stylings of Kevin (what the hell happened?) Costner as Elliot Ness:
"Let's do some good."
FTC FULL DISCLOSURE: I received my review copy from the author. I received neither money nor cocktails for this review (damnit!). Everybody Sees The Ants is available now.