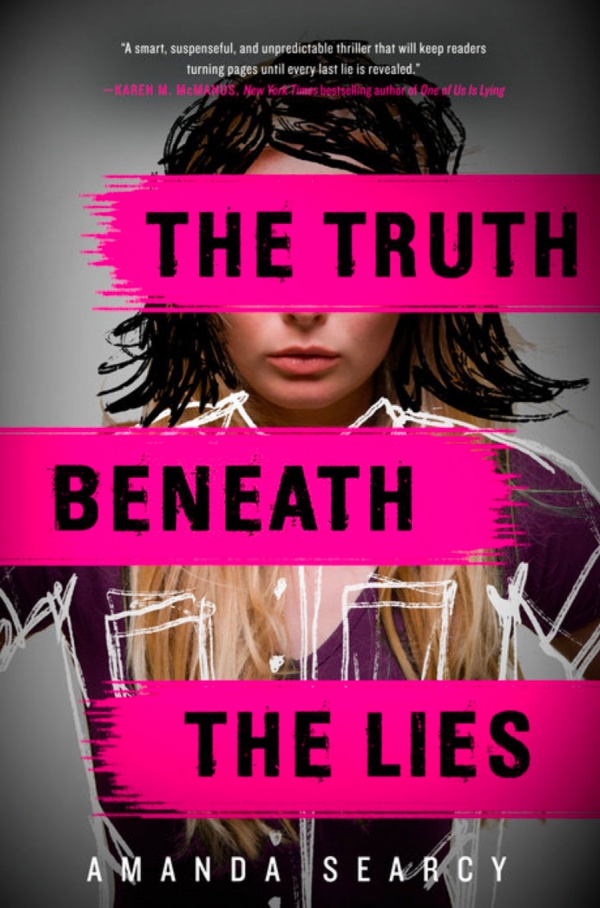 About the Book
Title:
The Truth Beneath the Lies
Cover Story: Scary Paper Dolls
BFF Charm: Meh + Nay
Talky Talk: Thriller Nights
Bonus Factor: Mysteries!
Relationship Status: Not My Type
Cover Story: Scary Paper Dolls
Well, hello there, Psycho Barbie! While I get that this cover is illustrating the two girls whose stories we're reading, and the execution is all scritchy-scratchy because, like, THRILLERS, the result left a little to be desired for me personally.
The Deal:
Kayla has lived a textbook definition hard knock life. She spent her childhood in and out of foster care while her mother was on and off drugs, and now that her mom is clean, she lives with her in a seedy complex in an even seedier part of town. And to make matters worse, there's a serial killer on the loose in her neighborhood, targeting girls her age. All Kayla wants is to escape her own life, and she's worked for years to make that dream a reality. But when she meets the charming and mysterious Jordan, she gets swept up in something bigger than herself, and the future she dreams about starts to change.
Betsy is on the run. She's hiding out in El Paso with her mother, trying to blend in and start a new school, make a few new friends. But there's a cell phone under her bed, and if she doesn't answer when He calls, she could get her family and friends killed. Betsy befriends Happy, a pregnant girl in her class, and starts spending time with Happy's family, including Adrian, the cute, quiet boy who may or may not be working for the man on the other side of that cell phone.
Both girls just want to survive, but when fate brings them together, only one girl will make it out the other side.
BFF Charm: Meh + Nay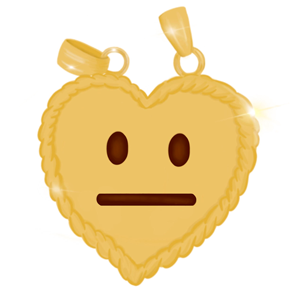 Despite Kayla's many misfortunes, she's managed to pull herself up by her bootstraps—she's got friends on the dance team at school, a part time job, and she's working hard to escape her terrible life as soon as she graduates high school. All of this would earn her a BFF Charm from me. But as soon as I realized she was about to throw it all away for a dude she barely knows, I wanted to snatch that BFF Charm back. (More on this below.)
Betsy is clearly suffering from some sort of PTSD. We don't know what happened to her, but we know it screwed her up big time. But it wasn't actually the PTSD that keeps me from giving her a BFF Charm. A large part of Betsy's story depended on her own…willful ignorance? Willful blindness? I'm not sure what the correct way to describe it is, but once Betsy decides something is true, she causes a lot of trouble sticking to that assumption, no matter how much evidence to the contrary she gets. I was constantly rolling my eyes and muttering "you idiot" under my breath.
Swoonworthy Scale: NOPE
Oh Kayla…Kayla, Kayla, Kayla. Sit down, girl, we need to have a heart-to-heart. Jordan is a living, breathing, walking, talking RED FLAG, HUNNY. He is one million red flags cobbled together, formed into a human shape and turned sentient, buying Kayla McDonalds coffees on her work breaks. And to make matters worse, not only does she fall for him, she falls in INSTA-LOVE with him. She is willing to throw away her future and safety for a guy she knows nothing about. SHE IS WILLING TO GET MATCHING TATTOOS WITH HIM. He ain't worth it girl, you betta run!
Betsy's chapters had a tinge of romantic plotline, but any spark of swoon there might've been was smothered by the dumpster fire that is Kayla-and-Jordan.
Talky Talk: Thriller Nights
The Truth Beneath The Lies alternates between Kayla and Betsy's POVs, and not knowing how or when these two girls' stories would come together should make the book a page-turner. Searcy's prose is quick and to the point, and she wastes little time on flowery descriptions to keep the story tumbling in forward motion toward its conclusion. I think for a lot of people, this will definitely be the case. That said, I never felt connected enough to the characters – major or minor – to feel any real anxiety over how things would turn out for them, and that caused the book to drag a little for me.
Bonus Factor: Mysteries!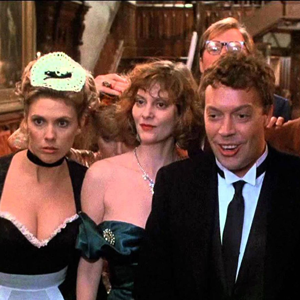 If you, like me, are a little Nancy Drew who loves to read or listen to or watch mysteries so you can look for clues and put pieces together and try to figure out the mystery before the ending: this book is for you!
Relationship Status: Not My Type
Book, you are certainly complex and intriguing, but you run with a bad crowd, and I don't want to get dragged into all your drama. You made for a fun, quick fling, but I was onto your game pretty early on, and when it comes right down to it, you just aren't my type.
FTC Full Disclosure: I did not receive money or Girl Scout cookies of any kind (not even the gross cranberry ones) for writing this review. The Truth Beneath The Lies is available now.