About the Book
Title:
The Way You Make Me Feel
Cover Story: Fuc(hsia) Yeah?
BFF Charm: Eventually
Talky Talk: Straight Up Diverse
Bonus Factors: East Asian Diaspora, Family, Tasty Business
Relationship Status: Can We Have a Do-Over?
Cover Story: Fuc(hsia) Yeah?
I'm loving that the model looks like Clara and she's rocking KoBra food truck merch (not to mention her great eyebrows), but I don't know what's going on with the pose? It's like a Top Model challenge in which Tyra asks for embarrassed but pretty. Although between this and I Believe in a Thing Called Love, I am here for the musical journey that is now Maurene Goo's bibliography. 
The Deal:
When Clara Shin pulls off an elaborate prank at junior prom and gets into a fight with high-strung goody-goody Rose Carver, both girls must spend the summer working at Clara's dad's food truck, the KoBra. It's a nightmare, obvs. Until it kind of isn't? Maybe Clara even likes hanging out with Rose and giving a shizz about her dad's business or, like, anything? Could this lifelong slacker be turning over a new leaf?
BFF Charm: Eventually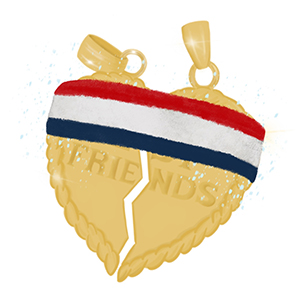 It's not that I wouldn't be friends with Clara, but she wouldn't want to be friends with me. She starts off in that too-cool-for-school crowd, whereas I'm pretty much twinsies with her overachieving nemesis, Rose, so we wouldn't be a compatible hang right out of the gate. Although maybe I can fast tracked into friendship when Clara and I bond over misanthropy and feminist rage. (And get a discount at the KoBra, right?)
Swoonworthy Scale: 4
Genuine and sweet, Hamlet Wong (yes, I know, and he does, too) has a heart of gold and abs of steel. And I should have been all for that, except I, um, shipped a couple that turned out to be not romantic at all. Blame the platonic enemistry (frienemistry?) between Clara and Rose!
Talky Talk: Straight Up Diverse
Clara's corner of Los Angeles provides a delightful and diverse kickoff to any summer reading list. (I swear, YA books keep making me want to go to Hollywood Forever.) But fun doesn't have to mean frivolous; Clara's gradual character development feels earned, and this book drops so many truths that my e-copy has as many highlights as an '00s pop star's hairstyle. 
Bonus Factor: East Asian Diaspora
Clara's parents were both Brazilian-born Koreans, and Hamlet grew up in Beijing, where his parents still reside, so the Shins and the Wongs represent for* both immigrants and Asians from outside of North America. (And the Asian squat in YA, omggggg I DIE.)
Also, I'd like to thank Maurene Goo for opening my eyes to something that I had previously assumed everybody did the same way, much like putting on a bra, with her use of "an FOB" ('eff oh bee' vs. my preference of 'fob' for 'fresh off the boat'). We contain multitudes! 
*Not to be confused for 'are representative of', duh.
Bonus Factor: Family
Almost all the family members in this book are kind of awesome: Adrian's a young DILF dad who has been raising Clara on his own; Rose's parents are like alternate universe Obamas who kept practicing law instead of going into politics, and her little brother is an adorable munchkin; and Hamlet's surrogate grandparents are a cantankerous match made in heaven. Not so much pulling their own weight are Clara's social media influencer mom and Hamlet's absentee parents, whose absences make for complicated relationships with their respective kids.
Bonus Factor: Tasty Business
SO MUCH TASTY FOOD, with Adrian's Korean-Brazilian fusion food truck, the KoBra, being the main source of noms. Clara and Rose also get tons of experience with running the KoBra, for those who are as curious about food truck logistics as I am.
Relationship Status: Can We Have a Do-Over?
So, this is a bit awkward. Not about spending time with your compelling characters on the KoBra, Book, but I was totally distracted by things that weren't there. I kept looking for signs for what I thought was going on rather than paying attention to what actually existed. But now that I know what the deal is, we should try this again so that I can give you a fair shake. 
FTC Full Disclosure: I received my free review copy from Farrar, Straus and Giroux. This review was originally posted on Kirkus Reviews in exchange for monetary compensation, which did not affect or influence my opinions. The Way You Make Me Feel is available now.