Cover Story: Plain Jane
BFF Charm: We'll Get There!
Talky Talk: LiveJournal
Bonus Factor: Sketchbook
Relationship Status: Just Friends (But In a Good Way!)
Cover Story: Plain Jane
I'm kind of bummed out by this cover. It just seems a bit lazy. Sure, you've got the titular Happyface, but it's too bright and boring. With a talented author/artist at your disposal, why wouldn't you have him create something interesting and exciting for the cover?
The Deal:
Before he became Happyface, our protagonist was a perpetually shy nerd, spending his time on the internet, with his comics and drawings and his one friend. But after his family falls apart, he enrolls in a new school and our anonymous high schooler becomes Happyface. Happyface is full of smiles, makes people laugh and has friends and even fans. But even being Happyface doesn't mean high school is easy.
BFF Charm: We'll Get There!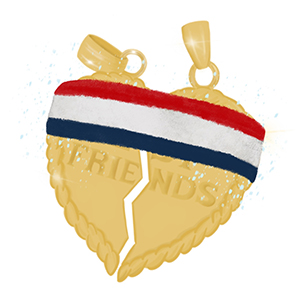 Oh, Happyface. Being a socially awkward 16-17 year old is never easy and he certainly has it harder than most. His family has split up under mysterious circumstances, his financial situation is far from ideal, he's no longer speaking to his best friend and he has just started at a brand new school. He's transformed himself from a social outcast into a guy that students laugh with and want to get to know. But in creating his new identity, he's been willing to abandon important parts of himself. Probably once the most important thing in his life, he has kept his drawing and art skills a secret from others. He no longer cares about his school work and has more or less given up on his family. His relationships with first Chloe and then Gretchen are both unhealthy and uneven. But at the same time, I find his mistakes so relatable and understandable. I like Happyface and root for him and I am pretty sure we could be friends very soon. So while I'm invested in his story and his progress, I wouldn't want to be a participant in his emotional growing pains. It would be like being friends with 16 year old Megan No H.
Alternatively, I am not a fan of some of Happyface's friends. While I thought they were all interesting and very real, that realness comes out in how flakey they were. They were too quick to dump or betray Happyface, though it did feel like an all-too-real representation of what high school friends are often like.
Swoonworthy Scale: 1
There is a bit of young love in our story, but unfortunately most of it is unrequited by Happyface. Happyface's crushes are all too familiar. There's a combination of:
being unable/unwilling to reveal your feelings,
the self-deprecating "This person will never like me, I'm so lame and they are so great,"
the angry "Wait, why DOESN'T this person like me, they freaking should,"
the disbelieving "Why would they date THIS person and NOT me,"
the unhealthy/uneven friendship you have with someone you also have a crush on,
and the horribly mixed signals.
Even though Happyface is a boy, I couldn't help but relate to his dating troubles when I thought of my own high school experience. So while the relationships are accurate, realistic and may hit a little too close to home, they're also not what a reader swoons over.
Talky Talk: LiveJournal
This book is written as Happy's personal journal/sketchbook but it still gives me a bit of the LJ vibe since there is a fair bit of wallowing and self-pity and there is a good deal of pages dedicated to talking about the girls he likes. Happy's narrative is understandably a bit angsty but really rings true to me. And while I was never a teenage boy, I can easily see some of them feeling and thinking the exact same things.
Bonus Factor: Sketchbook
Happyface is not quite a graphic novel, yet it's certainly not your typical narrative. It doesn't have the paneling and bubble speech of a true graphic novel, yet every page contains a drawing or a sketch. Some pages are almost entirely filled with the diary-like narrative, while others are focus on Happy's drawings. It's like Blankets and The Absolutely True Diary of a Part-Time Indian had an illegitimate love child and the results are awesome. It's the kind of hybrid sure to please both those who love graphic stories and even those who don't.
Relationship Status: Just Friends (But In a Good Way!)
Just as Happyface learns, sometimes being just friends is a good thing. So while I don't want to be making the sexy times with this book, I still think it's great and want to hang out with it, watch movies, play games, introduce it to other books (and people) I like and generally just be super great friends. When I was first told about this book, I didn't know much about it and wasn't quite sure what it's deal was or if we'd get along. Now I know and I'm really glad I asked to be introduced.
FTC Full Disclosure: I received my review copy from Little, Brown. I received neither money nor cocktails for writing this review (dammit!). Happyface is currently available in hardcover and will be released in paperback on 14 June.