About the Book
Title:
There Will Come a Darkness (The Age of Darkness #1)
Cover Story: Dark and Handsome
BFF Charm: Mixed Bag
Talky Talk: Dystopian Fantasy
Bonus Factors: Magic, Identity Crises
Relationship Status: There Might Come a Connection
Cover Story: Dark and Handsome
I really like this cover. It's simple but ornate. Red, white, and black is always a powerful color combination, and the focus on the flaming lighthouse really draws the eye. The reason I didn't Montell Jordan this cover, however, is the disconnect between the figures at the top and the lighthouse. Although I dig the figures—their minimalism is very appealing—the way they're divided from the lighthouse just seems odd. Like they're gods, floating above it all?
The Deal:
It's been more than a hundred years since the last of the Seven Prophets disappeared, leaving behind them a world that's floundered in their absence. There's one prophecy left to be completed, but whether it foretells the end of everything or a new beginning remains to be seen.
BFF Charm: Mixed Bag
There Will Come a Darkness is told through five different and distinct POVs: a prince, a vigilante, a soldier, a con artist, and a dying girl. Some are more interesting than others, and some only get interesting when they interact with some of the others. I'm not sure that I'd actually want to be friends with any of them, at least not at the beginning, except for the dying girl. (And that sort of relationship can be very hard to dive into, given the situation.) It's not that I don't like them, because I do—or, at least, I liked reading about them. They just seem like they have a lot going on, and not a lot of time to make new friends.
Swoonworthy Scale: 4
The five different main characters in There Will Come a Darkness are all going through quite different things. A couple of them find themselves in swoony situations, but others have near negative swoon in their lives (sadly). So I had to average it all out.
Talky Talk: Dystopian Fantasy
On the surface, There Will Come a Darkness is a pretty standard fantasy story—not that that's a bad thing. But as I read the book, I got a sense of something more, under the surface. The depictions of the way the world used to be, versus the way the world is now, have a distinctly dystopian flavor. Basically: The world has gone to crap after the Seven Prophets disappeared. There's not a specific moment in which the world changed (i.e, no apocalyptic event that divides things into the Before and After), but the gradual slide into depravity certainly echoes dystopian themes.
I also particularly enjoyed the way Pool practices sleight of hand in her writing. A few of the book's twists were pretty obvious to everyone but the characters, but others caught me totally off guard.
Bonus Factor: Magic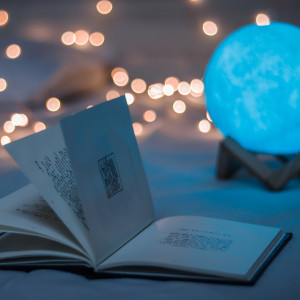 The magical system Pool sets up for those in the world with the gifts—or Graces, as they're called—is interesting. I'm not sure I quite understand how it all works, but there are four basic types of magic: superhuman abilities like super strength/speed/hearing, healing abilities (that can also be used to kill?), the ability to infuse inanimate objects with power, and a sort of second sight that sometimes manifests in prophetic visions.
Bonus Factor: Identity Crises
Everyone in There Will Come a Darkness is going through personal changes in addition to the outward problems they're facing. Sibling issues, identity issues, confidence issues—they're all so relatable, even when they're mixed with the more fantastical elements of the book.
Relationship Status: There Might Come a Connection
We didn't hit it off as well as I'd hoped we would, Book, but I'm not going to write you off completely. I'm interested in getting together again to see if we ignite any sparks, but this might turn out to be a "better as friends" situation.
Literary Matchmaking
Truthwitch (The Witchlands #1)
Susan Dennard's The Witchlands series also features a variety of characters on a race to save the world and figure out their places in it.
Six of Crows (Six of Crows #1)
And Leigh Bardugo's Six of Crows duology is by far my favorite "misfit group of young people Dealing With Things while also trying to save the world" series.
FTC Full Disclosure: I received a copy of this book from Henry Holt Books for Young Readers, but got neither a private dance party with Tom Hiddleston nor money in exchange for this review. There Will Come a Darkness is available now.