About the Book
Title:
Emily of New Moon (Emily #1)
Cover Story: Awkward Phase
BFF Charm: Platinum
Talky Talky: Flowery Goodness
Bonus Factors: PEI, Cats, Writing
Relationship Status: The Kindred Spirit I Took WAY Too Long To Meet
Cover Story: Awkward Phase
Okay, so this cover is sort of dorky, but also kind of sweet. And I really like that all the most recent L.M. Montgomery paperback covers have same font and general look to them. What can I say, I like consistency! Also, this cover highlights two of Emily's (and my!) favorite things — reading and cats.
The Deal:
Emily Starr is living a quiet, secluded life with her doting father. Not even attending school, Emily doesn't have any friends her own age. So when her father dies of consumption, she becomes an orphan and has no other option than living with her dead mother's estranged family — the Murrays of Blair Water, PEI. The Murrays are well known for their pride and never forgave Emily's mother for running off with Emily's father. Emily ends up residing with her two spinster aunts (strict Aunt Elizabeth and kind Aunt Laura) and Cousin Jimmy, at New Moon farm. Emily is unsure of this new life, but begins attending school for the first time, soon starts to make great friends, begins to pursue her dream of becoming a famous poetess and learns what it means to grow up.
BFF Charm: Platinum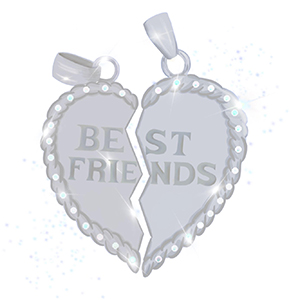 A thousand times yes! Emily is a classic LMM heroine — smart, opinionated, fiery and yet a total dreamer. She is a fiercely loyal friend. She is always willing to come to the defense of people she cares about, especially her wild friend Ilse and Cousin Jimmy. Now this might be pure blasphemy, but I think I (gasp) love Emily even more than Anne Shirley. I know, I know, sacrilege, but it needed to be said so you can all understand how serious I am about loving Emily.
I also want to hand out BFF charms to plenty of other residents of Blair Water — Ilse Burnley, Teddy Kent, PERRY FREAKING MILLER, Cousin Jimmy, even Mr. Carpenter!
Swoonworthy Scale: 3 and -1,000
Emily is much too young for there to be any swoon going on, but that doesn't mean I can't do some pre-swooning for her! Since I am new to this series, I cannot wait to find out how Emily's two best guys friends (Teddy and Perry!) grow up. Because even though they're young, I adore them both so much! Will Emily end up with one of them, neither of them? I seriously cannot wait to find out.
The negative score is dedicated to Emily's cousin (in law) "Jarback" Priest. He is immediately smitten with Emily even though she is 12 and he is 36. And everything he says to her is creepy and full of innuendos. In fact, I almost didn't finish this book because I had to put it down during his scene because I was so disgusted by everything he said to her. But (obviously) every time I picked it back up, he was still at it! I understand this is a product of its time, but whatever, I don't care, gross, bah!
Talky Talky: Flowery Goodness
L.M. Montgomery is certainly well known for her flowery prose and detailed descriptions. Depending on my mood, sometimes they can be a bit much. Other times, they are so beautiful that I am overwhelmed with the desire to leave my miserable work desk or cramped one bedroom apartment immediately and run away to PEI, live in the woods forever and never come back. This description of some woods near New Moon farm is classic LMM:
She felt that, before she went back, she must slip along the pasture fence and explore a certain path which she saw entering the grove of spruce and maple further down. She did–and found that it led straight into Fairyland–along the bank of a wide, lovely brook–a wild, dear, little path with lady-ferns beckoning and blowing along it, the shyest of elfin June-bells under the firs, and little whims of loveliness at every curve. She breathed in the tang of fir-balsam and saw the shimmer of gossamers high up in the boughs, and everywhere the frolic of elfin lights and shadows. Here and there the young maple branches interlaced as if to make a screen for dryad faces–Emily knew all about dryads, thanks to her father–and the great sheets of moss under the trees were meet for Titania's couch. "This is one of the places where dreams grow," said Emily happily.
Also, LMM just gets growing up. The joys, the sorrows, the bittersweetness of it all. Sometimes she'll write something that will hit you right in your gut:
This sort of thing was happening frequently now. Every time she read her little hoard of manuscripts over she found some of which the fairy gold had unaccountably turned to withered leaves, fit only for the burning. Emily burned them–but it hurt her a little. Outgrowing things we love is never a pleasant process.
Bonus Factor: PEI
LMM has made me want to go to Prince Edward Island with ALL OF MY HEART AND SOUL.
Bonus Factor: Cats
Emily loves cats like I love cats. She wants to cuddle them and kiss them and talk about them in a way that other people probably find slightly creepy. She honestly cannot understand why everyone wouldn't want a cat.
Bonus Factor: Writing
Emily loves to write both stories and poetry. But it's different than for those of us (like myself) who occasionally consider writing a chore. She needs to write, whether it is in letters to her deceased father or descriptions of things and people in her Jimmy book. When Aunt Elizabeth tells Emily to stop writing, Emily refuses to do so and refuses to lie about it, because writing is just too important to who she is. She cannot live without writing and I think Emily's feelings will really resonate with anyone who grew up having a gift or artistic pursuit that meant everything to them.
Relationship Status: The Kindred Spirit I Took WAY Too Long To Meet
I ADORED this book. I love Emily and all I can think of is WHY DID IT TAKE ME SO LONG TO READ THIS? I think Emily would have been a wonderful friend to have had growing up, but better late than never, and I am happy this book is part of my life now. And I cannot wait to join Emily for two more books and join her and her friends on even more adventures.
FTC Full Disclosure: I purchased my own copy of this book. I received neither money nor cocktails for writing this review (dammit!). Emily of New Moon is available now.