About the Book
Title:
Things I Should Have Known
Cover Story: Double-Speak
BFF Charm: Big Sister
Talky Talk: Authentic
Bonus Factors: Issues, Siblings, Frozen Yogurt
Relationship Status: Double Date
Cover Story: Double-Speak
The cover is pretty simple, just text and bold colors, but I like use of crossing out certain areas to reveal an alternative phrase. I'm not sure it will grab the random passerby's attention, but that would be their loss, because what's inside is worth reading.

The Deal:

When Chloe's autistic older sister, Ivy, expresses an interest in pursuing a romantic relationship, Chloe jumps at the chance to help her connect with more people outside of their family (which consists of a mom paralyzed by her own adulthood and an overbearing new step-dad). She finds the perfect candidate in Ivy's class: Ethan, a movie-obsessed fast talker and avid Rotten Tomatoes reader.
In order to help Ivy become more comfortable with the idea of dating, Chloe volunteers to tag along and somehow ends up in a double-dating situation with the most sarcastic, most annoying person from her high school: David—who just so happens to be Ethan's brother. Will David drive Chloe insane before love can blossom between Ethan and Ivy, or will Chloe end up finding the perfect confidant in the most unexpected place?
BFF Charm: Big Sister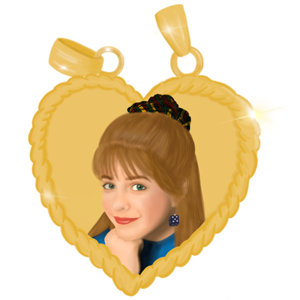 Ivy is three years Chloe's senior, but because of her autism Chloe has always felt like the oldest sibling. Some days she feels sixteen-going-on-sixty when the responsibility of caring for her sister weighs her down, or when she sees people treating Ivy like something diseased in public. Chloe is a wonderful sister, but she could use more support than what her mom and step-dad provide. If I was Chloe and Ivy's older sister, we could trade off on things like picking Ivy up from school, and I could be Chloe's sounding board when she needs a sympathetic and judgement-free ear. She tries her best to hold everything together, but she doesn't let people in easily.
Swoonworthy Scale: 6
Chloe is dating a Clark Kent lookalike at the beginning of the novel, and they are super into PDAs. David earns Chloe's ire from his mockery of their relationship and from his know-it-all 'tude during classes. But as they're forced to get to know each other because of their siblings, they both realize there's more to each other than meets the eye.
I also appreciated how shame-free LaZebnik was about Chloe's dating history. She's no stranger to boyfriends and casual making out, but it's portrayed without comment or degradation.

Talky Talk: Authentic
This is my fourth read from LaZebnik, and there's just something about her writing that keeps me coming back. Her characters have fully realized lives; she strikes a great balance in her stories between the romantic and the familial. This is the first of hers I've read that isn't a retelling, but it's clear she's still pulling inspiration from somewhere: in this case, first-hand experience as the mom of an autistic child. I am no expert on autism, but the portrayal of Ivy felt authentic and like she was being treated with respect. Chloe, Ivy, Ethan, and David are just living their lives the best they can, with good and bad days, like anyone.
A fun fact I learned about Ms. LeZebnik: her husband is a writer for The Simpsons and has written at least two episodes based on his family: the one where Smithers comes out as gay (based on one of their son's experiences) and where Marge decides to stop dying her gray hair (based on Claire herself). Guess that old adage "write what you know" really works for the LaZebniks!

Bonus Factor: Issues
Obviously this a book heavily featuring autistic characters, but it doesn't devolve into schmaltz or Very Special territory. LaZebnik explained she wanted to write this book to explore all sorts of diversity and promote understanding, because when you can sneak a peek into someone else's existence it can expand your own mind.
Bonus Factor: Siblings
I am an only child, so there will always be something about the sibling relationship that is lost on me. But I've seen it in action many times, and it seems like it can be a messy, wonderful, awful, deeply rewarding experience. The author explores particularly complicated sibling relationships here, and does so in a way you can feel, in equal parts, the devotion and frustration leaping off the page.
Bonus Factor: Frozen Yogurt
You may want to have your favorite fro-yo on hand, because with the amount of times they talk about it…you are going to need to have some.
Relationship Status: Double Date
If you asked me out on a date, Book, I would definitely say yes. We could bring our friends along just to make sure we have others there in case we get nervous, but I think we'll get along just fine.
FTC Full Disclosure: I received my free review copy from Houghton Mifflin Harcourt. I received neither money nor peanut butter cups in exchange for this review. Things I Should Have Known is available now.