About the Book
Title:
Things Jolie Needs To Do Before She Bites It
Cover Story: Montell Jordan
BFF Charm: Big Sister
Talky Talk: Straight Up
Bonus Factors: Deep Dive, Theatre Kids
Relationship Status: Kiss Me
Cover Story: Montell Jordan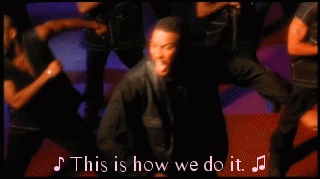 Heck to the yes, y'all. I know it's only July, but I feel pretty strongly that this might be my favorite book cover of the year. It's SO COOL and also gets its point across using simple design. No Big Faces of Bad Stock Photography needed.
The Deal:
Her entire life, Jolie has dealt with having mandibular prognathism – the medical term for underbite. It means chewing can be difficult, she's prone to headaches, and, probably most importantly to Jolie, it means she is not and never has been pretty. But that's all about to change, because after the end of junior year, Jolie is undergoing surgery to fix her underbite for good and she'll finally have a "normal" face.
Unfortch, her mother and pregnant older sister love nothing more than sitting at home watching worst-case-scenario TV shows – you know, the true crime/hospital docu-series about doctors who leave towels inside their patients after surgery and the like. Jolie, suddenly afraid of the worst happening under the knife, enlists her best friends Evelyn and Derek to help her create a bucket list of things she needs to accomplish in case she doesn't make it out of surgery alive. Things like ride in a convertible and kiss her crush, Noah Reed. But as Jolie starts to think long and hard about what she wants to do before she dies, she begins to realize her priorities aren't quite what she thought they were.
BFF Charm: Big Sister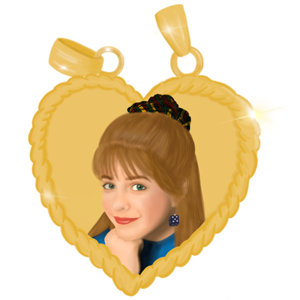 Despite being a totally cool, fun chick, Jolie needs some major confidence boosting. She has this idea in her head that she's hideous because of her mandibular prognathism, and that she should do everything she can to blend in. She wears stylish but neutral clothing and has a good haircut, and she keeps mostly to herself and only hangs out with her two best friends. But it is CRYSTAL CLEAR to everyone around her that Jolie is not nearly as hideous as she thinks – and even if she were, she still so fun and cool that it wouldn't matter. I wanted to sit her down and give her a big sister pep talk multiple times. Luckily, she already has a big sister to do it for me.
Swoonworthy Scale: 6
One of the biggest items on Jolie's checklist is to kiss her crush, Noah Reed, and when Jolie gets cast in the school musical with Noah, she gets the opportunity to grow a little closer to him. It's cute and sweet, and Noah is totally deserving of being Jolie's crush, but lately, Jolie's been noticing her lifelong best friend Derek. Has he gotten sort of….hot all of a sudden? And is she possibly….attracted to him? And more importantly, is Derek….maybe….attracted to Jolie? And what does it mean for their friendship?
The unfolding of these questions, and the way the answers come rolling in one by one, is a wonderful sort of slow-burn swoon that will have you both hoping that Derek and Jolie get together and also scared of what might happen if they do.
Talky Talk: Straight Up
Kerry Winfrey always delivers books that are extremely readable, characters that are extremely relatable, and stories with just the right amount of heart and humor. Things Jolie Needs To Do Before She Bites it is no exception. Winfrey used to write about YA for Hello Giggles so she knows her audience, and writes contemporary stand-alone stories that are consistently enjoyable.
Bonus Factor: Deep Dive
Jolie's best friend Derek hosts a podcast called Deep Dive, in which he chooses a random, sometimes obscure topic and does all the research he can on it. The whole time I was reading about it, I kept thinking that was a podcast I wanted to listen to IRL.
Bonus Factor: Theatre Kids
I'm always here for a story about a girl trying out for the school play, because I love the way the build-up to opening night adds a bit of nervous tension and forward momentum to a story. Also, theatre kids are brilliant weirdos and my mom was a high school theatre teacher, so I grew up in the wings.
Relationship Status: Kiss Me
I had such a fun time with you book. Things might not have been hot'n'heavy between us, but you were a super fun summer fling nonetheless. And now that you've had your corrective surgery, pucker up baby!
FTC Full Disclosure: I did not receive money or Girl Scout cookies of any kind (not even the gross cranberry ones) for writing this review. Things Jolie Needs To Do Before She Bites It is available now.