About the Book
Title:
Things We Know by Heart
Cover Story: Heart To Heart
BFF Charm: Big Sister
Talky Talk: The School Of Sarah Dessen
Bonus Factors: The Human Heart, The Great Outdoors
Relationship Status: Summer Romance
Cover Story: Heart To Heart
At first glance, this cover seems a little twee, but if you look closer, you'll notice that the blobs in the background are actually organ-style hearts morphing into cartoon-style hearts. I like the subtlety of the artwork, and the detail on the organ hearts is really cool:
Somebody get this print on some wrapping paper* STAT and then put it on Etsy so I can buy it.
*J/K. I am way too lazy to wrap gifts.
The Deal:
It's been over a year since Quinn's boyfriend, Trent, died after being hit by a car while jogging down their neighborhood road. Crippled by grief, Quinn is finally beginning to grope her way out of the darkness by communicating with the various recipients of Trent's organs. After her letter to the new owner of his heart remains unanswered, she takes matters into her own hands and tracks him down to Shelter Cove, a nearby beach town. All Quinn wants to do is see him– Colton Thomas, the boy whose life was saved by Trent's death. But then she finds herself meeting him and talking to him and, all too quickly, falling for him. Being with Colton feels like a new beginning, yet Quinn's inability to tell him the truth threatens to bring everything to a heartbreaking end.**
**Sorry, it's really hard to avoid puns when you're talking about a romance involving a heart transplant.
BFF Charm: Big Sister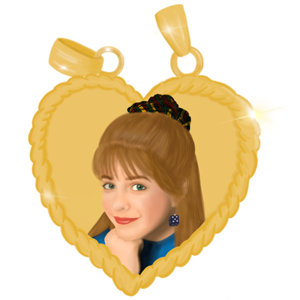 Quinn has an understandably massive amount of baggage, and bearing that weight has left her paralyzed. Initially, I wanted to give her my Sassy Gay Friend charm, because I needed her to MOVE ON ALREADY. (And also because I'm a bad person.) But as Quinn began to take charge of her own recovery, I started rooting for her to heal, and my impatience turned to affection. She's a wonderfully sensitive soul, a girl learning to live in the moment, and her burgeoning courage is inspiring to behold.
I found myself giving her the same advice as her big sister (who kicks ass, by the way), especially when it came to TELLING COLTON THE TRUTH ALREADY, and I like to think that my exasperation stemmed from a place of caring rather than a place of being way too old for this shizz.
Swoonworthy Scale: 6
With his green eyes and vibrant charisma, Colton is a handsome ray of sunshine, and his magnetism makes it easy to see why Quinn is suddenly jolted out of her depression. Their chemistry is sweet rather than sexy, which compliments the tone of the story, but I was left wanting a few more fireworks.
Talky Talk: The School Of Sarah Dessen
Jessi Kirby tackles intense subject material with a tender, subtle hand, infusing Quinn's voice with shades of emotion that feel raw but never severe. There's an engaging sincerity to her words, an openness that embraces the reader instantly. While a few contrivances threatened to disengage me from the story, Kirby has learned a lot about avoiding saccharine pitfalls since In Honor, and passages like this one demonstrate that she's one step closer to that Dessen mastery of storytelling with a heart.**
And there's this current running between us, building and growing in our quiet moments, and in the laugh-out-loud ones, too. I see it when our eyes catch and he smiles, hear it in the way he says my name. I feel it whenever our hands or shoulders or legs brush up against each other. I think he does too, but there's something holding him back. I don't know if it's for my sake or his, but we dance around each other, Colton and I, despite the magnets in our centers, the full-of-life beating ones that pull us closer every day.
**Dang it! See my footnote above.
Bonus Factor: The Human Heart
Each chapter in the book begins with a quote about the human heart. Some are excerpts from medical articles, and others are lyrical lines from Emerson or Byron, but they all offer insight into the power and magic of this most singular organ.
Bonus Factor: The Great Outdoors
When it comes to roughing it, I'm more of the Phyllis Nefler type, but Quinn's outdoor adventures with Colton (whose family owns a kayak rental shop) beckoned to me with sparkling water, secret caves and stunning landscapes.
Relationship Status: Summer Romance
This book is too serious for a fling but not heavy enough for a long-term commitment, which is why it makes the perfect companion for sunny days and somber sunsets. Fun but far from frivolous, the story breezed through me with gentle gusts of emotion, leaving a pleasant, if temporary, afterglow.
FTC Full Disclosure: I received my free review copy from HarperTeen. I received neither money nor cocktails for writing this review (dammit!).