Cover Story: Dainty Florals 
BFF Charm:  Let Me Love You
Talky Talk: Mysterious
Bonus Factor: True Crime
Relationship Status: Family > Everything
Cover Story: Dainty Florals
I love the simple, dainty cover. Also, whoever named this book is a genius. Is This Golden State referring to California, where Poppy and her family end up running to, or is it giving a nod to an euphoric feeling?
The Deal:
The Winslow family – not their real name – is on the run. Poppy has never known permanence in her short life. At the age of 17, she's been a number of names and lived in dozens of places, and whenever her father gets a bad feeling, they pick up and leave again. Her parents are cryptic about what they are running from, and Poppy and her sister never learn why they are always swapping identities and hair colors. When the Winslows make their way to California, Poppy does the unthinkable: she swabs her cheek in a DNA test and mails it off, to try to learn where she comes from and who she really is. What she uncovers may doom her family despite her best intentions.
BFF Charm: Let Me Love You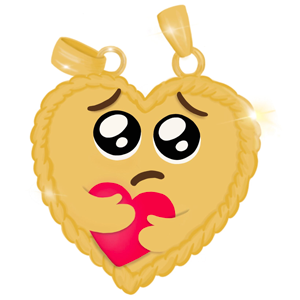 I feel for Poppy. It's hard to live your entire life with no friends except your sister, a flip phone that can barely text (T9, baby!), no internet, and the mystery of your parents' identities – which they keep mum about, always. Poppy doesn't even have an idea of what her future will look like past high school – will she always be on the run? When will she have a semblance of a normal life?! And then, as soon as she lands in California, she messes it all up for her family by taking the equivalent of a 23andMe test and landing them all in hot water. It's the WORST.
Swoonworthy Scale: 5
Poppy meets Harry and sparks instantly fly. Harry is a skateboarder, cute, and people whisper about him when he enters a room – because his mom's an important politician and he was in the tabloids when he got into trouble. He doesn't want anything permanent, which is great, because Poppy is unsure whether she's going to even be here tomorrow. Thinking Poppy is a homeschooled weirdo, he's understanding about her very strict parents and offers her breaths of fresh air in his sports car, lets her use his computer to research, and oh yeah, they kiss a lot. It's hot.
Talky Talk: Intensity in Ten Cities
I wanted to know what mystery surrounded the Winslow family so much that I read this in one sitting. What could Poppy's parents possibly have done to make them so skittish? Worse, what is going to happen to Poppy once she turns 18 and doesn't have any semblance of a future? By giving Poppy only tiny slivers of time to research her family tree, caging her in a world where she is only allowed internet at clueless Harry's or in five-minute increments at the library, Weisenberg carefully constructs a world where we are invested in Poppy's plight.
Bonus Factor: True Crime
This book is perfect for Murderinos and people who are interested in cold cases. I won't say anything else because I don't want to spoil, but suffice it to say that Poppy's parents are wanted for a good reason and their case is infamous.
Relationship Status: Family
Poppy loves her family more than anything – almost. She wants her freedom. We feel her wanting her freedom too. How far would you go to be independent if you loved your family immensely? If your family is all you know of the world? That is the question this book poses for us readers. I liked that Poppy was headstrong and curious enough to take her future into her own hands.
Literary Matchmaking
Allegedly
For the story of another girl stuck in a life that might not have a future, pick up Allegedly by Tiffany D. Jackson.
FTC Full Disclosure: I purchased this book with my own money. I received neither money nor cupcakes for writing this review.