About the Book
Title:
Balthazar (Evernight #5)
Cover Story: BIG FACE
BFF Charm: Yay!
Talky Talk: Fun Fantasy
Bonus Factor: Strong Female, History
Relationship Status: The Ex I Still Hook Up With
Cover Story: BIG FACE
The one thing I can say about the covers of Gray's books, is that at least they're always in subdued colors, so maybe the big face doesn't jump out at you so much. However, the fantasy-romance script leaves no doubt as to what you're reading.
The Deal:
This book is the Angel to Gray's Buffy — The Evernight Series — something fans have been asking her for since the beginning: that Balthazar get his own book. There will be a few spoilers for that series below.
Skye (the girl Bianca was a teensy bit jealous of in the last Evernight Academy book) is back home in upstate New York, where she's been left with a "gift" from her experience with the wraiths. As if that isn't bad enough, said "gift" has made her a target for some pretty nasty vampires. Lucky for her, Balthazar happens by, and is determined to keep her safe, until he figures out what it is the vampires are after, which would be a terrible burden if it weren't for the whole thing where they KIND OF have a crush on each other.
BFF Charm: Yay!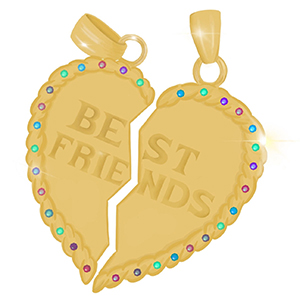 I'm giving this charm to Skye. Balthazar is swoony and all, if you go for the tall, dark and beefcakey, but Skye would be the one I'd want to invite over to watch movies with. She's strong and brave and determined, which are all qualities I like in a heroine AND a best friend.
Swoonworthy Scale: 6
Ah, two unsupervised teenagers in a life threatening situation! That automatically scores a few points on the swoon worthy scale. Add in some undercover action to that action under the covers and you've got a win. And the mythology addresses the centuries-old teenager issue in a way that satisfied my usual age-appropriate dating question.
Talky Talk: Fun Fantasy
Gray writes the type of fantasy that I pick up begrudgingly, and then can't put down. Her pacing is furious and her characters develop just quickly enough to make me want to know more. She writes the kind of satisfying, smart fantasy romance that is a perfect fun escape.
Bonus Factor: Strong Female
Since they're often lacking, I love it when a fantasy romance has a strong female lead, and much like Bianca, Skye is fun to read. She doesn't wilt away when Balthazar tries to make decisions regarding their relationship for her; she's like, "Oh, okay. That's the way you're gonna be, buddy? You're no good for me? Alright, fine. See ya." And I kind of wanted to applaud.
Bonus Factor: History
Gray uses flashbacks and school as a tool to give this book a historical novel feel — and her opinions about the Puritans? Fantastic.
Relationship Status: The Ex I Still Hook Up With
When I first started reading YA, I LOVED the escape that was fantasy books. I mean, they required so little of me, and were thrilling to be around! But like any relationships based only on surface stuff, I burned through them pretty quickly, and found myself chanting the "No more musicians" mantra. That said, every once in a while there was one that had something special. Maybe they were smarter than the others, or seemed more deep. Balthazar is one of those, so while I'm still not interested in dating it, I still have its number programmed into my phone…
FTC FULL DISCLOSURE: I received my review copy from Harper Collins. I received neither money nor cocktails for this review (damnit!). Balthazar is available now.