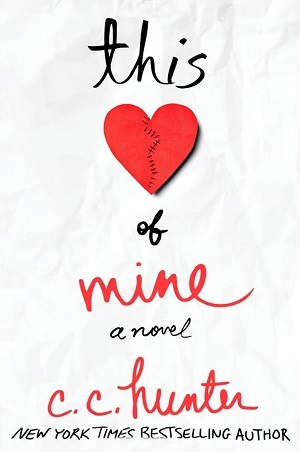 About the Book
Title:
This Heart of Mine
Cover Story: Cop Out
BFF Charm: Okay
Talky Talk: How Do You Do, Fellow Kids?
Bonus Factors: Safety First, Book Club
Relationship Status: Not My Blood Type
Cover Story: Cop Out
While I will always appreciate a cover that steers clear of Big Faces or Generic Stock Photos, this one feels a bit lazy. Any cute points earned by the little stitched up heart are immediately subtracted for the crumpled paper clip art background, which is both bad and irrelevant to the story.
The Deal:
Leah McKenzie has been carting around a backpack that contains her artificial heart ever since a virus killed her real one. She's only got a few years to live unless she can miraculously get a heart transplant – something that feels nearly impossible with her rare blood type. When football star Matt Kenner shows up at Leah's house to tutor her one afternoon, the pair share a moment – and a steamy kiss – that Leah hopes will lead to more. But those hopes are derailed when Matt's twin brother Eric dies and Leah becomes the recipient of his heart. Things get complicated quickly, for Leah, who has to learn to live with someone else's heart and convince her own body not to reject it; and for Matt, who doesn't believe the police when they tell him his brother committed suicide.
As Leah and Matt begin to share strange dreams, they both think that the dreams could be clues to what happened to Eric, and they have to work together to find out.
BFF Charm: Destiny's Child
At first, I really liked Leah! She had survived all these heart surgeries, and seemed to have held on to her sense of humor despite life throwing her a lot of really shitty curveballs. She started a book club at her school and loves to read, which, hello, girl after my own heart (pun!). But she fell into some all too common YA protagonist traps: thinks she's not particularly popular or pretty or cool, even though the hot, popular football captain has had a crush on her forever. She also gets so caught up in her new romance with said football captain that she loses all interest in anything else, including her book club and friends. I mean, I totally get that a heart transplant would shake up your priorities, but I felt like the surgery only intensified her zest for Matt, and not so much her zest for life. THAT SAID, if Leah was like, "Rosemary, can I have your BFF Charm?" I wouldn't NOT give it to her. She's had a bunch of heart surgeries! What kind of person would I be if I denied her my friendship?
Swoonworthy Scale: 5
While the build up of Leah and Matt's get together had some definitely swoony moments, I felt that it came all too quickly. And once these two were together, their romance smelled a bit insta-lovey, and overshadowed the actual murder mystery, which felt to me like it should've been the focus of the story.
Talky Talk: How Do You Do, Fellow Kids?
This Heart of Mine is a contemporary that alternates between Leah's first-person narrative and a close third person narration from Matt, which was an interesting arrangement that I actually preferred to skipping back and forth between two first person POVs. However, so much of this book felt like someone's mom had read Twilight and wanted to write her own YA book. I know this isn't the case, as C.C. Hunter is a New York Times bestseller. But the dialogue felt dated, and certainly unlike the way teens would ever actually talk to each other, and the references were also dated. At one point, she references a song by Natasha Bedingfield playing, and Natasha hasn't released an album in ten years. All in all, the book felt like a greatest hits of what someone who isn't totally familiar with YA contemporaries thinks a YA contemporary should be. The murder mystery portion of the book was the most interesting part, but it took a major backseat to the romance.
Bonus Factor: Safety First
Having lived so close to death for so long, Leah doesn't want to miss out on anything now, and that includes having sex with her boyfriend. But she also wants to make sure she does it right, including going to the gynecologist, getting birth control, buying condoms, and all the while talking openly and honestly to her mother about it. I appreciated this approach, since it's not something you see nearly enough in YA lit (even if the actual sex is a fade-to-black situation).
Bonus Factor: Book Clubs
Leah is the founder of her book club, and y'all know how we feel about book clubs 'round these parts.
Relationship Status: Not My Blood Type
Book, you have a lot of great things going for you, and I know you'll find your perfect match – probably lots of perfect matches. But you just weren't my type, so I can't fully give you my heart.
Literary Matchmaking
Things We Know by Heart
For more relationships between a heart transplant recipient and the donor's loved ones, check out Things We Know By Heart by Jessi Kirby. Every Breath (Every #1)
If you like to follow along as teen detective types uncover their feelings for each other while hunting the killer in a murder mystery, give the ultra swoony Every Breath series by Ellie Marnie a try.
Fangirl
For another story about twins, check out Rainbow Rowell's Fangirl.
FTC Full Disclosure: I did not receive money or Girl Scout cookies of any kind (not even the gross cranberry ones) for writing this review. This Heart of Mine is available now.