About the Book
Title:
This Time It's Real
Cover Story: You Can Stand Under My Umbrella
BFF Charm: Big Sister
Talky Talk: House of Han
Bonus Factors: Beijing, Precocious Little Sister
Factor: Aspiring Writer
Relationship Status: Rebound
Cover Story: You Can Stand Under My Umbrella
It's probably a byproduct of not reviewing very many books in the last few years, but I'm not sick of illustrated covers yet — especially when they're as great as Kanith Thailamthong's jacket art and Maeve Norton's jacket design!
I love how the Central Radio & TV Tower and the distinctive China Central Television Headquarters make the setting unambiguously Beijing. The bright blue colour has a significance, although I actually don't remember an umbrella scene (and I don't have an e-copy for a quick search lol), but who cares when the cover looks this charming?!?!
The Deal
Eliza Lin is in love. Soon after her family arrived in Beijing three months ago, Eliza met the boy of her dreams. He's as adventurous as he is romantic; he'll take her on a motorcycle ride or slow-dance with her in a grocery store on a whim. He's everything she wants, he's everything she needs, and he says all the right things at exactly the right time.
… except none of that is, how you say, TRUE. (Plus, that last part is from a 1999 classic.) Yes, her family did just move to Beijing, but Eliza doesn't even have any friends, let alone a boyfriend. She just made it all up for a personal essay assignment, which was posted on her school's blog and has now gone viral. Eliza's newfound internet fame also catches the attention of her writing idol, who's offering her an internship… to write about her relationship. The relationship that EVERYONE wants to know more about. You know, the relationship that doesn't exist.
Luckily for Eliza, she enters into a mutually beneficial arrangement with her classmate, Caz Song, who's also conveniently a dreamy teen actor: Eliza will help Caz with his college applications if Caz pretends to be her boyfriend. But the more they get to know each other and the more the lie snowballs, the more difficult it is to remember that none of it is real. Because none of it is real, right?
BFF Charm: Big Sister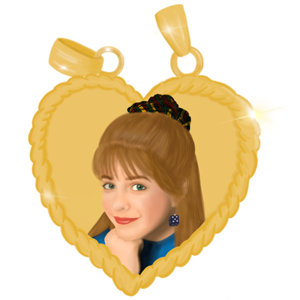 Eliza is the quintessential Type A overachiever who thinks any problem can be solved with a good PowerPoint presentation. I can relate to those control freak tendencies and that feeling of not belonging anywhere, which isn't helped by her family constantly moving internationally for her mother's job: too foreign for China, and too Chinese for everywhere else.
With genuine connections being so difficult to make and maintain, I get why Eliza is pinning all her hopes and dreams on this writing internship. But, girl — you're 17 years old with no bills to pay! Why do you want to labour so much?!? JUST ENJOY YOUR CAREFREE YOUTH. (I'd also have plenty of tips to share about preserving long-distance friendships. Then again, I did form most of mine through blogging, so maybe she's on the right track after all.)
Swoonworthy Scale: 5
I MEAN. Caz Song is a motorcycle-riding teen heartthrob who's leaning against a wall in his very first appearance. (Also, his name is Caz.) TEXTBOOK Mysterious Loner Dude, even though he does have a circle of friends, but those relationships don't really get explored.
Eliza mostly spends time with Caz one-on-one, or third wheeling when he becomes fast friends with her little sister. Eliza isn't immune to Caz's charms, either. But she resists her feelings to the point of unfairly characterizing Caz as shallow and vapid, even when she's seen evidence to the contrary, which makes shipping difficult when I'm questioning whether she even respects him as a person.
Talky Talk: House of Han
A novel with an Asian girl protagonist, fake dating, and the love interest endearing himself to the little sister — OBVIOUSLY, I couldn't help being reminded of the blueprint, Jenny Han's To All the Boys I've Loved Before. (It may not have been the first to do all that, but it's arguably had the biggest impact in YA so far.) However, This Time It's Real has enough of its own distinct identity that reinforces a particularly relatable feeling: similarity does not mean interchangeability.
This novel's dedication touts itself as being for cynics who are secret romantics, but I actually think it's stronger with the com than the rom; it legit got snortworthy laughter from me on multiple occasions. And despite the larger-than-life setup, the plot stays fairly grounded, relative to the potential dramz that could have been.
Realism doesn't always work in the book's favour, though. I'm personally in favour of including IRL details in contemporary fiction, since the setting has a specificity in time as well as place. Sometimes it doesn't work out for reasons beyond the writer's control, like a certain social media platform being decimated by its crybaby billionaire owner. But then there are instances that don't make sense, like a couple of American teenagers sending each other Facebook memes in 2023, or how a gay romance between C-drama stars wouldn't be a HUGE FREAKING DEAL.
Bonus Factor: Beijing
In an age of heightened anti-Asian hate and Sinophobia, it's just nice to have Chinese culture being celebrated and a vibrant city like Beijing being prominently featured in a North American release. (Although author Ann Liang is actually Chinese Australian. And a Bangswiftie, based on the references she drops!)
Bonus Factor: Precocious Little Sister
Nine-year-old Emily has the personality of a grandma, and she can be easily swayed with free food. HONESTLY, SAME.
Factor: Aspiring Writer
This is definitely not the only YA book with a protagonist who wants to be a writer, so I'm not trying to single this book out for a common occurrence. I can understand the inclination for "write what you know", but there are just SO MANY WANNABE WRITER CHARACTERS IN YA.
Also, it probably says more about me than the book that I found a romance with a C-drama teen actor more plausible than a viral blog post being life-changing. (In this economy?! GET REAL.)
Relationship Status: Rebound
Even though the comparisons to my forever love were inevitable, This Time It's Real put its own spin on a familiar premise. This book scratches the same itch and it was fun while it lasted, but my heart shelves still belong to another.
Literary Matchmaking
I Believe in a Thing Called Love
I've already made the comp to To All the Boys, but this book is also spiritually close to I Believe in a Thing Called Love by Maurene Goo.
Enter Title Here
Naomi Kanakia's heroine in Enter Title Here is another aspiring writer with an unorthodox approach to a school-related submission.
FTC Full Disclosure: I received my free review copy from Scholastic Press. I received neither money nor gelato for writing this review (dammit!). This Time It's Real is available now.