About the Book
Title:
This Wicked Fate (This Poison Heart #2)
Cover Story: Montell Jordan
BFF Charm: Platinum
Talky Talk: Black Girl Mythology
Bonus Factors: Gods and Goddesses, Treasure Hunt
Relationship Status: Red Roses
Red alert! This Wicked Fate is the second book in the This Poison Heart duology. If you have not read the first book in this series (This Poison Heart), man your battle stations turn away now, as there might be spoilers in this review. If you're caught up, however, feel free to continue below.
Cover Story: Montell Jordan
This cover is equally as good as the cover of the first book, and the addition of Marie standing behind/alongside Bri makes it doubly lovely; they're both super pretty. Her addition is a tad bit deceptive because, to me, it indicates that Marie becomes a main character in this book (she doesn't), but the cover is no less powerful because of that.
The Deal:
Briseis is reeling. Karter and his mother have betrayed her, forcing her to create the Living Elixer and killing her mom. After her plants took care of Mrs. Redmond, Hecate and her dog appeared and gave Bri a month to bring all of the pieces of the Absytrus Heart together. Her aunt, Circe, is back from the dead and isn't at all happy that Bri is wrapped up in the family drama.
Bri's barely holding it together, but she knows that she'll do whatever it takes to meet Hecate's deadline and get her mom back, even if it seems like an impossible task.
BFF Charm: Platinum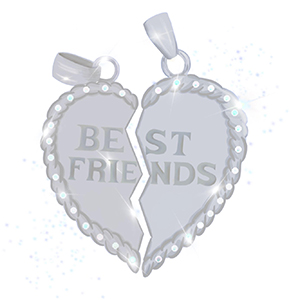 My heart broke for Bri at the end of This Poison Heart, and since This Wicked Fate picks up right after, neither of us had time to really regroup and start to heal. She didn't ask to be thrown into the situation she finds herself in, and it's taken a toll. That said, she's a brilliant, insanely strong young woman, and if anyone can figure out how to make the impossible happen, it's her. So you bet she gets an upgraded BFF Charm this time around. And a massive hug, too.
Swoonworthy Scale: 4
There's even less time to focus on relationships in This Wicked Fate, what with the rush to meet Hecate's deadline, but the swoon between Bri and Marie is still sweet. (For those of you wondering how the age difference works out, let's just say there's a fix for that by the end of the book.)
Talky Talk: Black Girl Mythology
Where This Poison Heart merely hints at the mythology surrounding Bri's birth family, This Wicked Heart leans much harder into it. (Honestly? Not as hard as I might have liked, but too much more would have made for a different story.) It's a magical book filled with fierce Black female characters, and Bayron writes them all with a variety that's laudable. This is an important book (and duology) for that alone; young Black women deserve to see people like themselves—or the people they might one day become—in books.
Bonus Factor: Gods and Goddesses
I touched on this above, but I loved how Bayron pulled from some of the lesser-known mythological stories (Hecate, Medea) while connecting them to more familiar ones (the gods of Mount Olympus) to help those who only know the basics. But even then, she makes sure to tell the truth of the stories she's including, such as the fact that Hercules has to complete his feats after he kills his wife and children. (Disney Herc would never.) And when Bri has run-ins with certain gods, they're not the benevolent and all-knowing deities they're sometimes portrayed to be; they have faults and foibles just like the rest of us, and their immortality hasn't made them as perfect as they might like humanity to believe. (Gods, they're just like us!)
Bonus Factor: Treasure Hunt
I've always wanted to go on a complex treasure hunt a la National Treasure, The DaVinci Code, etc. Bri's quest to bring the pieces of the Absytrus Heart together is one such adventure, and while I liked reading about it, I would have liked even more to go with her.
Relationship Status: Red Roses
I confessed my blossoming feelings to you last time, Book, but now I'm telling you that my feelings are here to last. We make such a good team and the future is looking bright (and filled with flowers)!
Literary Matchmaking
Ophelia After All
Although there are no gods in Racquel Marie's book, there is a young bisexual woman who loves flowers. FTC Full Disclosure: I received a copy of this book from Bloomsbury YA, but got neither a private dance party with Tom Hiddleston nor money in exchange for this review. This Wicked Fate is available now.