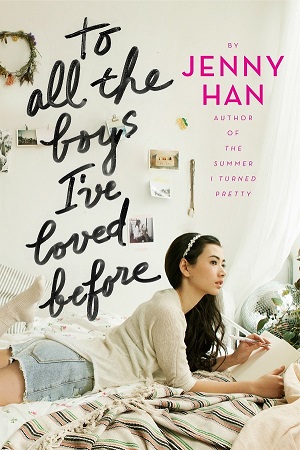 About the Book
Title:
To All the Boys I've Loved Before (To All the Boys I've Loved Before #1)
Cover Story: Picture Perfect
BFF Charm: Platinum Edition
Talky Talk: Mindy Major
Bonus Factors: Love Letters, Widower Father of Three Daughters, Diversity
Relationship Status: Hopelessly Devoted to You
Cover Story: Picture Perfect
Between this book and her Burn for Burn series with karaoke superstar Siobhan Vivian, Jenny Han is amassing quite an enviable collection of covers. Yeah, it's undeniably YA — not that there's nothing wrong with that — but it's a gorgeous photo and it's completely spot-on, right down to the dreamy-eyed Lara Jean. Even if I don't recall her being a distressed jorts enthusiast.
The Deal:
When Lara Jean's getting over a crush, she writes down everything she's been holding back about him. And she does so without fear of her thoughts ever being read, because these cathartic letters go directly to a hiding spot only she knows about… or so she thinks. Because her letters have def. found their way to all the boys she's loved before. (See what I did there?)
BFF Charm: Platinum Edition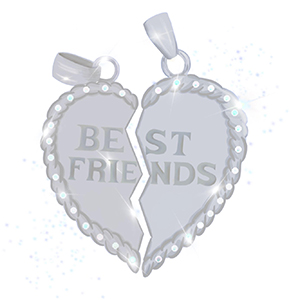 Hey, Lara Jean? Are you me back in high school? Beyond the superficiality of us both being short and Asian, you're a goody-goody without being bland, you bottle up your feelings, you have anxiety about driving, and you have paradoxical inclinations for both overthinking and impulsiveness. Your general inexperience still makes you a bit naive, but not obliviously or cloyingly so.
But lest you, dear reader, think I'm a vanity monster* for loving someone so similar to my younger self, Lara Jean's more like the friend who I'd get unfavourably compared to by my parents, but I wouldn't even complain because IT'S TRUE — she's awesome! She steps up to help out more at home and isn't even a brat about it. I'd gladly be a homebody and geek out over Hogwarts with Lara Jean any day.
*I mean, I am one. But just not in this context.
Swoonworthy Scale: 8
In the interest of avoiding spoilers, I'm going to be super vague about le swoon. But trust — there's PLENTY of it. Like, I could easily hand out Bonus Factors only pertaining to the boys in this book. And yes, boys as in multiple, but not in an obnoxious love geometry way. Lara Jean finds herself attracted to them against her better judgement — and so did I. It's been a while since I've shipped a couple this hard, and I'm v. glad there's going to be a sequel** 'cause I need MOAR.
**Not a trilogy, though. But ACK, another year to wait! [Edit 2021/11/17: Narrator: It was a trilogy.]
Talky Talk: Mindy Major
It took a short while for me to get into this book. But once I did, I was HOOKED. If it weren't for the pesky breaks I had to take for work and food, I would have devoured this in one sitting. Jenny Han's writing is so vibrant and fun and swoony, but she can also seamlessly weave some wisdom into it, too.***
In that regard, this book actually reminds me of The Mindy Project. And this is not a comparison I make lightly, 'cause y'all know how I feel about Mindy Kaling. To All the Boys I've Loved Before is deceptively lighthearted with a layer of poignancy that sets it apart from a typical summer read.
***As anyone who's read her Heck YA, Diversity piece for us already knows.
Bonus Factor: Love Letters
I LOVE mail in general, but I hadn't ever given much thought to love letters before. (Maybe because I've yet to receive one, SOB.) But now I'm totally hoping love letters make a comeback.
Bonus Factor: Widower Father of Three Daughters
Well, I don't mean this is a bonus as in "Yay, dead mom!". And this family doesn't get into a lot of wacky hijinks with zany uncles or anything. But dammit, if there's an opportunity to make a Full House reference, I will take it EVERY.SINGLE.TIME.
Anyway, I just love Lara Jean's entire family. OK, maybe not so much her older sister, Margot, since she's mostly away for school (at Saint Andrews, the alma mater of a certain FYA writer!). But even then, the sisterly bond between them feels so genuine; I wouldn't be surprised if Han drew from her own relationship with her sister. Then there's Lara Jean and Margot's younger sister, the clever and whip-smart Kitty, who's def. not an afterthought unlike some other fictional younger sister named Kitty.
As awesome as the Power of Three is, I had to upgrade this shout-out to include their dad. He's raising three girls on his own, trying the best he can and very nearly earning a Keith Mars Award for Awesome Dadhood for doing so. The girls also all work together to keep the family unit afloat, and SIGH there's just so much love in this family. And even though she's been gone for six years, their mother is still a presence — or, rather, an absence — in their lives.
Bonus Factor: Diversity
Lara Jean and her sisters are biracial, and their white dad makes sure to incorporate the girls' Korean heritage into all of their lives, even if his attempt at bo ssam is sometimes less than successful. Although Lara Jean hasn't ever encountered Big Massive Issues because of her ethnicity, it still has a subtle effect on her life — which, speaking from experience, feels pretty dang accurate.
Relationship Status: Hopelessly Devoted to You
Confession: I've been crushing on this book from afar for a long time. And it's always scary to enter a new relationship with those kind of unintentional expectations. But — CHEESE ALERT — sometimes opening your heart to fall head-over-heels in love is a risk worth taking. It certainly was for me and this book, 'cause I am SMITTEN, y'all. I'm already eagerly awaiting our next date, however long it'll take! (But, um, don't take that long, mmkay? I NEED YOU BACK IN MY LIFE ASAP.)
FTC Full Disclosure: I received my review copy from my local library. I received neither money nor Tart and Tangy froyo for writing this review (dammit!). To All the Boys I've Loved Before is available now.