About the Book
Title:
The Truth About Happily Ever After
Cover Story: Say It With Glitter
BFF Charm: Yay
Talky Talk: Bubbly
Bonus Factors: New Adult, Behind The Mouse, Drako The Dragon, Tasty Business
Factors: I'm Friends With Cinderella, Sororities
Relationship Status: Can I Have A Hug?
Cover Story: Say It With Glitter
A trail of glitter is precisely what you'd be leaving behind you if you wore that glitter-encrusted shoe. Say it with me: Glitter is the herpes of craft supplies. The cover is a little more staid than I would've expected, but it also means you might be a slightly less embarrassed to read it on the train.
The Deal:
If you ask Alyssa, she will tell you, unabashedly, that she has the best job in the whole world: dressing up as Cinderella for the happiest place on earth, Disney World Enchanted Enterprises. She'll also tell you that she has the best boyfriend in the world, Jake, who "rescued" her the year before in a moment worthy of Prince Charming. So to say that she's looking forward to this summer, when she can do her favorite job and spend every day with her long-distance boyfriend, would be a complete understatement.
But it's immediately clear that this is not shaping up to be anything like her previous perfect summer. It's hard work maintaining that Princess physique, there's an unofficial war going on between the face characters and fur characters, and Jake is acting very un-Prince Charming like. Is Alyssa's happily ever after about to go poof?
BFF Charm: Yay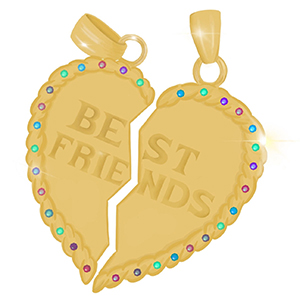 I'm going to be honest with y'all – I was pre-judging Alyssa hard when we first met. She's blonde and beautiful and bubbly; our very first conversation was about calories and exercise; and, to top it all off, she's in a sorority (sorry, readers who are in a sorority. I'm sure you are all lovely people, but we've all met those ones). I will freely admit that I have some personal preconceived notions that I need to overcome. But because I know I have these biases I try my best to give everyone the benefit of the doubt and I am so glad I did with Alyssa. She's like an onion; she's got layers underneath all the makeup and crinoline.
Some will find her positive attitude annoying or fake, like others in the book (looking at you, Yael). But there is something to be said for those that can keep the magic alive within themselves long after childhood, and Alyssa's generosity and enthusiasm are traits that would make her a great BFF. I may roll my eyes at her occasionally, but I'd take a chronically happy friend over a chronically cynical one any time.
Swoonworthy Scale: 5
Jake is a pre-med student with aspirations to be a pediatrician. He's been an EMT since he was seventeen, and he only decided to work at Enchanted Enterprises because of his aunt. He's unlike most guys Alyssa has met (serious, scholarly, and goal-oriented), and she's already dreaming of a future where they get married. But Jake is acting super weird and it's making Alyssa super paranoid.
I won't go into any more detail, except to say that those Swoonworthy points definitely aren't because of him.
Talky Talk: Bubbly
We're in Alyssa's head, and she is trying her hardest to live her life like an Enchanted Princess, so there are times when the writing is relentlessly bubbly and upbeat. It had me a little worried that there wouldn't be much substance to the story, but as Alyssa grows and changes, the writing plays along. I found myself finishing this novel with a smile on my face. Things aren't all sunshine and roses, but it never gets too dark, and I think Cozzo found the exact right balance between the magical and realistic. I devoured the book on a long plane ride, and I think it's a perfectly light, fun summer read that still brings the heart.
Bonus Factor: New Adult
Alyssa is, gasp, in college and twenty years old, so this book probably belongs in the New Adult category more than Young Adult, but I think it still embodies what we've come to expect from a well-made YA story.
Bonus Factor: Behind The Mouse
I live in Orlando, have Disney passes, and know plenty of people who have worked for The Mouse (including my husband's aunt has worked there since she was sixteen, so she's seen some stuff). So I was completely unable to resist when I read the synopsis for this book.
If you are a Disney-lover, like Cozzo seems to be, I think you'll enjoy a look beyond the carefully sculpted topiary gardens at things like the underground tunnels, what really happens during parades, and the partying that goes on at the summer internship apartments (though, to be honest, it seemed way tamer here than in real life). I also love that she set the park in Tallahassee instead of Kissimmee as a nod to Walt's original idea to put Disney World there instead of the swamps of Orlando.
Bonus Factor: Drako the Dragon
Instead of Mickey Mouse, EE's seminal cartoon character is Drako the Dragon, which is probably a more inspired choice for a fantasy park than a mouse. Drako plays a major role in the final few chapters, which features an employee ball at the Diamond Palace, natch.
Bonus Factor: Tasty Business
Every EE employee gets one free pass a year to make a last-minute reservation at the restaurant within the Diamond Palace, a place where you typically need to schedule reservations at least six months in advance (I still have yet to check out the Be Our Guest restaurant in MK's Fantasyland due to poor planning!). The restaurant is broken up into different "pods", one for each of the princesses within the EE franchise, and the décor and menus are coordinated. Alyssa takes her ZTA sisters to Rapunzel's tower, where you get a 360 degree rotating view of the park, but there's also awesome sounding things like the floor-to-ceiling fish tanks in The Little Mermaid's pod (where you eat sushi, naturally), or the Aladdin's Princess pod, where you can dine on Middle Eastern food on the floor with your fingers.
Factor: I'm Friends With Cinderella
(Fun Real-Life Fact: Cast members who "play" a character generally aren't allowed to tell people they portray that character; to preserve the magic, they have to say "I'm friends with so-and-so.")
Aside from getting to play dress up, what Alyssa loves most about playing Cinderella is bringing joy to the little girls and boys who visit the park. But there is a somewhat darker side to playing a face character, as she has to go through "look-overs" every few weeks to ensure her teeth are still white enough, that she doesn't have acne, and that she's within her required weight to fit into the costumes. She drinks hot coffee through a straw and meticulously counts calories, which sounds exhausting. It's understandable that a company would want their all their face characters to look a certain way, but it's also uncomfortable to read about such close corporate scrutiny into a person's looks. This is apparently also something Disney does, but their look-overs are limited to once a year.
Factor: Sororities
Alyssa's college sorority, Zeta Tau Alpha, is mentioned quite a bit, and it plays a part in her backstory and motivations. The Greek system was fairly benign at the college I went to, but I know there are some where it's extremely pervasive, and it's gone through its own positive and negative media blitzes. I appreciate that Cozzo treats it with a fairly even hand here: She points out some of the whacked bits and doesn't excuse them, but she also highlights the things that Alyssa has gained from her "sisters".
Relationship Status: Can I Have A Hug?
You really embody the contemporary YA spirit, Book, and I find your pursuit of happiness infectious. Would you mind posing for a photo and signing my autograph book?
FTC Full Disclosure: I received my free review copy from Swoon Reads. I received neither money nor peanut butter cups in exchange for this review. The Truth About Happily Ever After is available now.