Cover Story: PDAA
BFF Charm: Make It Rain
Talky Talk:  Whimsically Weighty
Bonus Factors: Diversity, World Record, YA Inside Joke
Relationship Status: Revolutionary
Cover Story: PDAA
Normally, when I see two people kissing on a cover, I consider it a defacement of the YA section. It's like, GET A ROOM ALREADY. But this book turns that cliche on its head, resulting in some major PDAA (Public Display of Awesome Affection). Unlike other kissing covers, I would proudly display this book face forward on my bookshelf.
The Deal:
It's not just a clever title—this book really is about two boys kissing. It's about Craig and Henry, kissing because they want to make a statement (and set a world record in the process). It's about Avery and Ryan, kissing because they just discovered each other, and now they've got a lot of exploring to do. It's about Peter and Neil, kissing to affirm their relationship and make it even deeper. And it's about Cooper, kissing in the virtual world and desperately wondering if it will ever feel real.
Now here's where it gets especially David Levithan-y: Looking down upon all of these boys and their kissing is the collective consciousness of gay men who died from AIDS. It's a chorus of voices who fought and cried and danced their way through the darkness so that their light could shine down upon a generation and guide them one step closer to freedom.
BFF Charm: Make It Rain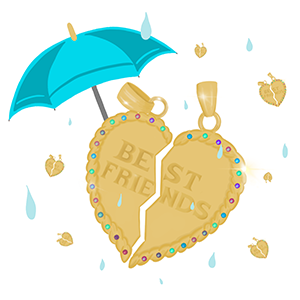 Are you kidding me? Of COURSE I want to be besties with every single boy in this book. Each one is at a different stage of his identity development, but it's clear that they all have the potential to be amazing human beings, and I would be honored to accompany them on their journey to adulthood.
My heart especially went out to Cooper, because he's the only one without the safety net of a supportive friend or partner, and it KILLED me to think of him alone with his pain and confusion. Coops (can I call you Coops?), I wish I had your address so I could send you a bouquet of firm hugs and "You Matter"s.
I was also partial to Avery, who is navigating the transgender waters with incredible courage, stunning grace and delightfully pink hair.
Swoonworthy Scale: 6
There are a ton of relationships happening in this book (like, we're talking Love, Actually levels), and they span the spectrum of love, from singles to crushes to boyfriends to heartbreak. It was tough to derive a number from the shifting scales of swoon, because for every scene full of tingles and starry eyes, there was a page shredded by alienation and ignorance. Moreover, the presence of the narrators (for lack of a better term, I'll call them the Gay Collective) adds a degree of separation between the reader and the characters, resulting in a fainter sense of intimacy.
Talky Talk: Whimsically Weighty
No one writes quite like David Levithan. His words have the wonderfully contradictory effect of feeling absolutely familiar while surprising the hell out of you. He writes sentences that you read, and then re-read, and then read again, because the power of their truth is so potent, it will knock you out unless you absorb it slowly.
The narration of the Gay Collective offers a unique twist and an incredible depth of history, but it also removed me a bit from the characters, like a pane of glass filtering the intensity of emotion. I appreciated their insight, but in some ways, the echoes of their perspective detracted from the immediacy of the characters.
Even with that said, I seriously thought about labeling Levithan's style as "Dog Eared," because I folded down the corners of soooooo many pages.
Bonus Factor: Diversity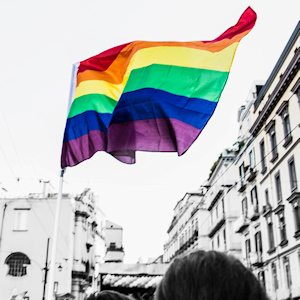 In the YA section of every library and bookstore, there should be a shelf called "The Important Books Shelf." And I don't mean that in an AP-Reading-List kind of way. I mean that in a Save-Your-Life kind of way.
Every single one of Levithan's books should be on that shelf, but this one most of all. It tackles so many vital issues of adolescence through the lens of sexual identity, and it's a testament to the ongoing battle for tolerance and equality.
And actually, forget what I just said about the shelf not being an AP Reading List. Because this book should be a required part of the curriculum in every single school across America.
Bonus Factor: World Record
Back in the day, I bought an impossibly fat paperback copy of the Guinness Book of World Records at my elementary school book fair and quickly became obsessed. With its creepy photos of fingernails and body hair and piercings, this record of human eccentricity never ceased to thrill me. And that's why I love the idea of Craig and Henry trying to set their own world record, since the challenge (and inherent grossness) of doing something for the sake of a world record is just ridiculous…ly awesome.
(Pro-tip: Don't Google "Guinness World Record" if you have a weak stomach.)
Bonus Factor: YA Inside Joke
I won't spoil it for you, but there's a scene in a bookstore between Peter and Neil that made me totally nerdgasm.
Relationship Status: Revolutionary
I am honored to call this book a friend. It educated me, it impacted me and most of all, it inspired me. I stand with this book, but I also stand in awe of this book, and we're not so much comrades as we are comrades-in-arms. Although I wish I had the opportunity to make more of a connection with the individual storylines, I'm thankful that I experienced the message of this book, since it's a message that needs to be spread and shared and broadcast until it coats the universe in sublime understanding.
FTC Full Disclosure: I received my free review copy from Knopf. This review was originally posted on Kirkus Reviews in exchange for monetary compensation, which did not affect or influence my opinions. Two Boys Kissing is available now.