About the Book
Title:
Under Rose-Tainted Skies
Cover Story: Pretty in Pink
BFF Charm: Yay
Talky Talk: Right at Home
Bonus Factor: Tami Taylor Award for Amazing Motherhood
Relationship Status: Let's Cozy Up
Trigger Warning: While Under Rose-Tainted Skies deals with a broad range of mental health issues, including anxiety, agoraphobia, OCD and depression, it's mostly done in a relatable, realistic way that rarely feels too heavy. There is, however, a scene that involves cutting that might be triggering for some readers.
Cover Story: Pretty in Pink
I love the watercolor treatment on this cover, and the bird in its cage is a perfect representation of Norah both feeling trapped in her own home but afraid to leave it as well. Certainly not a book you have to be afraid of reading in public.
The Deal:
Norah battles agoraphobia and OCD, so even the smallest thing – something like stepping outside her house – is hugely difficult for her. When the grocery delivery boy leaves her groceries on the front porch while Norah's mother is out of town, Norah's got to get creative or go hungry. As she's trying to snag the bags, she meets Luke, the new boy who just moved in next door. The two slowly grow closer, and Norah realizes she might've met the perfect boy without ever leaving her house (lucky!). She feels herself getting better bit by bit, but when the unthinkable happens, can a blossoming romance survive Norah's setback?
BFF Charm: Yay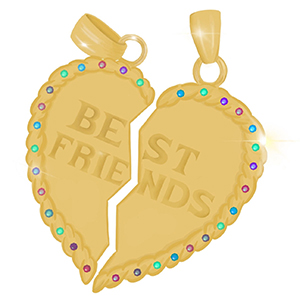 Agoraphobia and OCD are no joke. Literally. Liking a clean house doesn't make you OCD, and loving Netflix doesn't make you agoraphobic. Norah's struggles are HARD, and there were so many times during this book when I couldn't help but think "Man, if I were in Norah's shoes, I would be terrible to be around." But Norah was great! She was funny and fun. She liked to read and watch horror movies. And even when things were sometimes really hard for her, she never gave up, no matter how much she might've wanted to. Our biggest BFF hurdle would be the fact that I constantly just wanted to hug this sweet baby girl, and Norah hates to be touched.
Swoonworthy Scale: 5
When Luke moves in next door, Norah assumes they'll never meet beyond a passing wave through the window. But Luke is friendly and persistant, and eventually coaxes Norah into a few conversations – albeit from her doorway. I liked that rather than Luke pressuring Norah to get better, Luke is the catalyst that makes Norah want to work on getting better. But this swoon score comes with a warning: this is not a kissing book. Norah has OCD and if she'd started swapping sloppy kisses right from the get-go, it would not have been as meaningful or true to life. These two grow close slowly and sweetly in a way that feels natural for them both.
Talky Talk: Right at Home
I worried, when I read the description of this book, that an entire book told from Norah's perspective meant an entire book that takes place inside her house. And while this turned out to be mostly true, Under Rose-Tainted Skies never felt cramped or claustrophobic. Norah and her mother created a home that felt cozy, and that was reflected in Gornall's prose. I deeply felt Norah's frustration about her own anxiety and agoraphobia, and at times depression, but I also felt the times when she was content, happy and curious about the world outside her house.
Bonus Factor: Tami Taylor Award for Amazing Motherhood
Even though Norah's mother leaves town on a business trip and is thus absent for a big chunk of the book, I LOVED her. She was vivacious and fun but also knew exactly what to do when Norah needed her.
Honorable mention to Norah's therapist Dr. Reeves, who was also a kick ass adult lady.
Relationship Status: Let's Cozy Up
Book, I really felt like I could be myself around you. Take off my shoes, get cozy, and enjoy your company. You trusted me with your secrets and now I feel like we're closer than ever.
FTC Full Disclosure: I received a review copy from Clarion Books, but I did not receive money or Girl Scout cookies of any kind (not even the gross cranberry ones) for writing this review. Under Rose-Tainted Skies is available now.