Cover Story: Big Backpack
BFF Charm: Let Me Love You
Talky Talk: Self-Help
Bonus Factors: Book Club, Family Secrets, Awesome Grownups
Relationship Status: Support Group Buddies
Cover Story: Big Backpack
This feels like an accidental photo someone took of the girl waiting in front of them at the bus depot because they thought they'd flipped their camera around to take a selfie. It evokes the idea of being at a crossroads and wanting to run, but there isn't much to really catch your eye.

The Deal:
An isolated cabin on a quiet lake is just what Maggie needs right now. At the end of her freshman year in college, Maggie was brutally raped by several members of the football team. She spoke out and pressed charges that didn't go anywhere (though the guys did get expelled, big whoop), but her small college town, the place where she spent her whole life and was so proud to be from, has continually punished her for it. So Maggie is taking some time off to figure out her next steps, and spending time alone with her artistic aunt Wren is just what she needs. Then she gets an email from another rape survivor from her school looking for advice. Is Maggie strong enough to support someone else when she feels so completely broken? Is isolating herself really the best option?
BFF Charm: Let Me Love You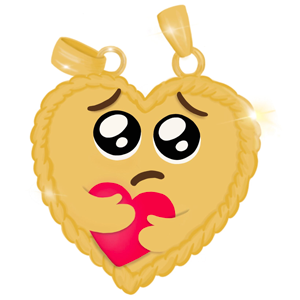 Maggie needs a million big, supportive hugs. She's survived several horrible experiences (not only the rapes, but the awful public aftermath) at such a tender age, feels betrayed by the friend who left her at the party, and has no clue how she goes back to being "okay" after this. She'll feel stronger one day and then something triggers her and she spends the next week in bed. You take as long as you need, bebe, because underneath the trauma is a resilient spirit with a passion for learning and an open mind. I'd definitely give Maggie my BFF charm when she feels strong enough to let someone new in.

Swoonworthy Scale: 0
After what Maggie went through, she's not sure she wants anyone to touch her ever again, and who could blame her? She's in no place right now to worry about anyone's emotional wellbeing but her own, even if there may be an interested party.

Talky Talk: Self-Help
This book is very much about healing and finding your emotional strength. Ostrom doesn't dwell on the violent act or even the immediate aftermath; all of that is behind Maggie, and what we focus on is the long-term road to a new normal. Despite wanting to be alone, Maggie finds herself connecting with her aunt's neighbors/employees, people like Sam, the young father and aspiring artist who helps out in Wren's art studio, who has his own set of complications in his needy daughter, Kate, and her addict mother, Linnie. Ostrom did a great job bringing multi-faceted characters to life. Linnie is—by no stretch of the imagination—a hot, hot mess, but at the same time I kind of loved her and completely understood how she got to where she did.
Ostrom's first novel, The Beloved Wild, is very different in tone from Unleaving, but there is a similar theme of nature: the importance of being surrounded by it and the love the author has for it. Maggie spends a lot of time outside looking for sea glass and wandering the lake shore, or enjoying the breeze on a quiet drive through farmland and rolling hills. The idea of "being one with nature" may sound hokey, but many people do find a kind of inner peace when they take the effort to connect with the outdoors.

Bonus Factor: Book Club
Maggie somewhat unwillingly joins a book club after she stumbles into one of their meetings at a local bookstore, and she uses the opportunity to reinvent herself without being seen as a victim. We at FYA know the power of a good book club, and I kept urging Maggie to open up to her new friends.
Bonus Factor: Family Secrets
Aunt Wren and Maggie's mom are twin sisters who only recently reconnected after years of estrangement. Wren is also a potter and sculptor, and the pieces she's been struggling to finish before her showing have the potential to cause their family a lot of pain. I liked the insight into the family dynamics.
Bonus Factor: Awesome Grownups
Kudos to Maggie's parents for being by her side every step of the way, and knowing when she needs space or support. I also have to give it up to Aunt Wren for being the cool aunt who's willing to let a virtual stranger stay with her (as Maggie hasn't seen her since she was little due to the estrangement). Even Sam's dad, Thomas, is a great role model who supports his son and granddaughter as best he can.

Relationship Status: Support Group Buddies
I know how tough it was to share your story, Book, and I commend you for being so raw and open. I'll be here if you want to talk.
FTC Full Disclosure: I received my free review copy from Feiwel & Friends. I received neither money nor peanut butter cups in exchange for this review. Unleaving is available now.